Beat the heat with a cool tea
View(s):

It's tea time this week on Take 3! Ceylon was once synonymous with magnificent tea and we set out to look for a modern take on an old classic. The teas we've been sampling are anything but ordinary, they're deliciously cold and utterly refreshing – just what you're looking for to take the edge off the summer heat.  Here's what you need to know.

Bubble Queen | 225/C, Galle Road, Colombo 4. Tel: 011 7207938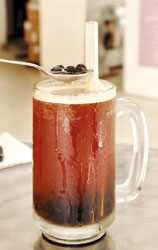 You'll find the 'bubbles' in this tea lurking at the bottom of your glass. They're black and gleaming and aren't particularly inviting to look at but in your mouth they go all soft and chewy, and as it turns out, are great with tea. We tried the red apple tea (Rs.210 for a regular) which was sweet and fruity and were instantly fans.
Bubble Queen has quite a wide range of drinks – you can drop those bubbles into Milo, jasmine (made with real jasmine juice from Taiwan) or chocolate tea or into fruit flavoured teas like green apple, peach or passion fruit among several other flavours. The bubbles themselves are made of tapioca and are imported along with most of their other ingredients from Taiwan.
Also available are bowls of 'snow ice' – colourful desserts made with various combinations of shaved ice, syrup, jam, fruit, and bubbles – and bowls of 'fire ice' a.ka. fried ice cream for Rs. 140. Prices for the teas range from between Rs.120 to Rs.180 for a regular tea and from Rs.180 to Rs.260 for the smaller size. The only downside is that the teas are served super sweet – if you don't have a sweet tooth, ask for less sugar in yours.
Heladiv Tea Club | 8, The Courtyard, Old Dutch Hospital Building, Colombo 1. Tel: 0115753377
Billing themselves as a tea salon, dessert bar and boutique, the Heladiv Tea Club offers quite an extensive range of teas. There are teas from India and several varieties of green tea, the most tempting of which is the famous Gen Maicha (Rs.350).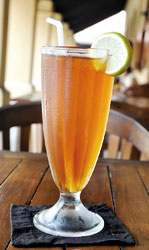 The tea incorporates toasted brown rice and is supposed to pack so much energy in that people who are fasting find it helps compensate for missing a meal. But with the afternoon heating up, we're going to pass on green tea this time in favour of something colder. (Come in a gang and you can order an 'ice jug' of tea that serves 6 and costs Rs.1000.)
We're torn between a glass of Blue Fire (Rs.220), which the menu tells us is an exotic blend of kiwi fruit, ginseng, guava, rose hip and corn flowers, said to boost your metabolism and stamina or the Sunset Soother made with almonds, vanilla, ranawara flowers and cinnamon.
On the recommendation of a waiter, we go with the latter. When it comes, our glass of Sunset Soother smells great and looks good but doesn't really deliver on taste. The flavours are so subtle that they're easily overwhelmed by any sugar you add.
The Dilmah t-bar | Hilton, 2, Sir Chittampalam A Gardiner Mawatha Colombo 2. Tel: 11 2 492492
One of the things that sets this t-bar apart is the food. A page of the menu is dedicated to intriguing tea and food pairings: sample the deliciously aromatic Italian almond tea served with a crème brulee or the pairing of pure chamomile with a slice of apple pie. On the savoury side, the chef recommends a cup of Earl Grey with the Szechuan style chilli chicken and broccoli or the Ceylon Souchong tea with smoked chicken and peaches with apple and celery (all priced at Rs. 600). They do interesting things with teas here including mixing it with alcohol to create signature tea cocktails.
Firmly at the heart of the menu, the hot teas come in a varied selection – even though we wince at the Rs. 460 a cup price tag on the handmade white tea. (Less exclusive teas are generally more moderately priced at Rs.260 a cup.) What we're looking for though is something tall and chilled.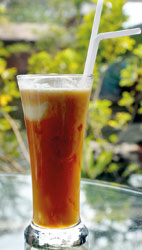 Among those that fit the bill are the clear teas – natural vanilla, ginger fizz, cinnamon, Moroccan mint and peppermint, all Rs.320 – and the creamy t-shakes. We make a good choice when we order the cinnamon t-shake that comes with a dollop of vanilla ice cream.
Rich with the flavour of cinnamon, it's a thin drink until you mix the ice cream in and turn it into a rich, thick shake – a lovely, liquid reminder that some of the best teas and cinnamon are sourced in Sri Lanka. The price? Rs. 340.
They're three of a kind, but which is the best? Our column has us traipsing across Colombo in pursuit of our favourite things. We're talking food and drink, massages and clothes, essential services and places to party: there's nothing we won't have an opinion on. We'd like to hear from you: what would you like to read about? Have a recommendation to share or a suggestion on how we can improve? Write in to take3colombo@gmail.com.
Follow @timesonlinelk
comments powered by

Disqus