The unsuccessful Peace Treaty
View(s):

This article is part of a continuing series on the 'Mahavamsa,' the recorded chronicle of Sri Lankan history

The rebels surrendered. Kuruppuarachchi made peace with Azavedo. King Vimaladharmasuriya decided to have nothing to do with the Portuguese. Due to the requests from the brave Sinhala people of the Four Korales, he tried again to chase the Portuguese. He gathered a huge army. He encouraged the people by building fortresses in places like Mottappuliya and Kiriwallapitiya. He set up camp at Thalampitiya. The people who rose up against the Portuguese, set fire to the Portuguese camps at Pantanigoda and destroyed it.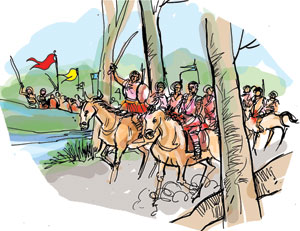 These protests were not an obstacle for the Portuguese army in their march against the king. The corrupt mercenary army, while fighting under the Portuguese, changed sides, left the Portuguese and joined King Vimaladharmasuriya. The Portuguese fought a severe and long battle and chased the army of the king. Puswella left the king and joined the Portuguese. He is responsible for a lot of damage in the Four Korales. At the end of all this, a person who was very close to him, betrayed him by reporting the matter. Puswella was killed.
King Vimala Dharmasuriya was sad about the losses he had to suffer. He forwarded a peace treaty to the General. He set free Lopes de Souza, Souza's son and a number of priests whom he had imprisoned. Despite all this, Azavedo who was keen to conquer the Kandyan Kingdom, made arrangements to march to Kandy. There were signs that he would be successful.
The Viceroy in Goa promised Azavedo to send supplementary armies to help him. Furthermore, the Viceroy was happy they were marching to punish Vimaladharmasuriya. He had once been in their favour as Don Juan and turned against them to become King of Kandy as Vimaladharmasuriya. Azavedo set up camp at Menikkadawara and awaited the supplementary armies from Goa.
In the meantime, he constructed roads to come to the Four Korales and the Seven Korales. King Vimaladharmasuriya appealed to the subjects of the area he conquered to rise up against Azavedo.
By Halaliye Karunathilake, Edited and translated by Kamala Silva, Illustrated by Saman Kalubowila.
Follow @timesonlinelk
comments powered by

Disqus