Crisis after crisis: C'wealth, Geneva and anti-Muslim campaign
View(s):
Human Rights chief takes Lankan issue to UN Security Council, tough US resolution drafted and ready
External Affairs Ministry mess up CHOGM issue; Ministerial Action Group may reconsider venue
G.L. Peiris wants Commonwealth SG to use good offices to prevent Lanka going fefore CMAG
By Our Political Editor
It was one time Mayor of Colombo and now senior Minister Al Haj Abdul Hameed Mohamed Fowzie who gave an interpretation of the two words that Muslims throughout the world are familiar with in their daily lives. One is Halal or action permissible under Islamic law. The other is Haram, any act or action forbidden by the same law.
"If I sleep with my wife, it is Halal. However, if I sleep with another woman it is Haram," he told his cabinet colleagues at last Thursday's weekly meeting. That discourse on religious jurisprudence evoked laughter to an otherwise serious and sometimes heated discussion. Adding to the humour was President Mahinda Rajapaksa who declared, "Minister Fowzie, I am sure you did not mention this for our benefit. You said it for the Minister of Justice (Rauff Hakeem)." He quickly added that it was not only for him but for many others too. That provoked more laughter.
Other than those humorous distractions, the issue was one of serious concern. It was over rising tensions between sections of the Sinhala community and the Muslims. A major controversy was the issue of 'Halal Certificates' by the All Ceylon Jamiathul Ulema (ACJU), a voluntary Islamic organisation in the country. It charges varying fees from the private sector to certify that consumable products conform to Islamic law. Of particular importance locally are meat and poultry products where the certification means that they have been slaughtered according to Islamic law. For the export market, some West Asian countries seek such certification for a variety of consumable items including biscuits. Otherwise, exports are not allowed.
Ministers divided over Muslim issues
The discussion in the Cabinet began when Minister Dinesh Gunawardena called for ban on a public event planned to be held in Maharagama today. It was to be part of a campaign against 'Halal' certification and other issues relating to the Muslim community. "How can you ban a Budhu Samuluwa? This is a democratic country," shot back Patali Champika Ranawaka, now Minister of Technology, Research and Atomic Energy. He took up a strong position. "This is not acceptable to Buddhists. Why should they buy 'Halal' products? For us it is not relevant. It may be okay for the Muslims. Even packets of milk or cups of yoghurt were sealed whilst Islamic music was played," he said. Ministers Rishard Bathiuddin who was seated to Ranawaka's right and Rauff Hakeem to his left objected and declared those statements were wrong.
Ranawaka then asked why a country with a 91 per cent non-Muslim population should go for these products and added that it was "illegal and unacceptable." He asked whether Toyota or Tata vehicles also bore the 'Halal' certificates in Sri Lanka and accused the All Ceylon Jamiyauthul Ulema of being "social divisionists." No sooner the cabinet meeting was over, Ranawaka, who is also Secretary of the Jathika Hela Urumaya (JHU), chaired a news conference. He called for a "total boycott of all Halal certified products in Sri Lanka." He criticised the All Ceylon Jamiathul Ulema and declared that it had no legal right to provide "Halal" certification for all products. In what seemed one of his strongest public remarks, Ranawaka charged that the ACJU was "trying to 'Islamify' the country whilst violating the rights of the people who wish to be able to choose what they want to eat." He urged Buddhists, Hindus and Christians to join the boycott.
National Languages and Social Integration Minister Vasudeva Nanayakkara told ministers he was privy to an instance which showed that there were people trying to take advantage of the situation. "It is simple to say it is not political," he said citing an instance where he had seen a notice on Facebook. It was an invitation for people to gather at a temple. Some 150 had turned up heeding the notice, he pointed out. In a separate development, State Intelligence Service (SIS), the premier intelligence arm of the Government, had also cited instances where men in three-wheeler scooters in some villages had gone around inviting people to gather at temples. They were being told not to buy 'Halal' certified products and to boycott Muslim business houses. SIS also reported this week that notices had been distributed in classrooms in schools in Colombo South requesting students to carry out a similar boycott. The SIS had in this instance identified those behind the move.
President Mahinda Rajapaksa told ministers that he had discussed the matter earlier with representatives of the Bodu Bala Sena Organisation (BBSO). Members of the Buddhist clergy who were at the helm had assured him that their organisation was not responsible for the campaign against the Muslims. One of them pointed out that the good name of their organisation was being used by other interested parties. Similarly, Rajapaksa said he had occasion recently to speak to a group of Muslim theologians who conduct Friday Jumma prayers in the City and suburbs. This was after he heard reports that some of them had preached that Muslims should be prepared to defend themselves. He had advised the theologians to be careful in the use of words.
Otherwise, it could only rouse passions. Moreover, such remarks could also be misinterpreted as a call to resort to weapons, he had cautioned. Rajapaksa noted that such references had stopped thereafter. He also said the Muslim community was very supportive of the government's humanitarian efforts and some had even gone to Geneva to defend Sri Lanka. They spoke in one voice. He said a strategy would have to be devised to prevent people from trying to exploit the situation for their own agendas. Among others who spoke were Dinesh Gunawardena, Rishard Bathiudeen and Rauff Hakeem.
President Rajapaksa proposed that a committee be appointed under the chairmanship of former Prime Minister and now Senior Minister Ratnasiri Wickremenayake to study various issues causing tensions. It was unanimously approved. Leaders of all political parties which are partners of the United People's Freedom Alliance (UPFA) will serve as members of the committee. They are: a representative of the Sri Lanka Freedom Party (SLFP) to be named later, Champika Ranawaka (JHU), Rauff Hakeem (SLMC), Douglas Devananda (EPDP), Dinesh Gunawardena (MEP), Rishard Bathiudeen (ACMC), A.L.M. Athaullah (NMC), Arumugam Thondaman (CWC), V.S. Radhakrishnan (UPF), TissaVitharana (LSSP), D.E.W. Gunasekera (CP), Wimal Weerawansa (NFF) and Prabha Ganeshan (DPF).
Colombo Mayor A.J.M. Muzzamil reacted to Ranawaka's public attack on the ACJU and the boycott of 'Halal' certified products. "There is no question of 'Islamifying' the country. We have lived for centuries with our Sinhala brethren in peace and harmony in a united Sri Lanka. The 'Halal' certification is a voluntary process and there was no compulsion on anyone to obtain it from the ACJU," he told the Sunday Times. He said eating halal food was a religious requirement for Muslims and this had been practised for years and years. Why is anyone crying foul now, he asked.
Muzzamil threw a challenge to all Muslim Ministers and MPs in the UPFA Government. "They should either talk to their leaders and resolve this issue or, if they cannot, resign from the Government. After all, most of them won preferential votes from the Muslims in their electorates. Hence, they have vowed to serve the Muslims. If they cannot find an amicable settlement, they should leave honourably than misleading their voters with false promises and assurances," Muzzamil said. Taking a dig at his political opponents, the United National Party (UNP) mayor said there were some Muslim politicians who were conspicuous by their silence.
Last Thursday, the main opposition UNP accused the Government of carrying out a hate campaign against the Muslims. The charge came from Mangala Samaraweera, onetime Foreign Minister and now Director of Communications of the party. He told a news conference, "The Bodu Bala Sena is manufacturing problems to create tension between the Sinhala and Muslim people. As a result thousands of innocent Muslim families were living in fear."
The remarks drew a sharp retort from the Bodu Bala Sena Organisation (BBSO). At a news conference on Friday afternoon, BBSO Secretary GaladodaAththe Gnanasara Thera said, "Mr Samaraweera has accused us of being funded by the Defence Ministry,the US and Indian organisations. We completely deny these allegations. He should make a public apology on the statements he has made."The reports of the two events appear elsewhere in this newspaper.
Focus on Commonwealth
The focus on this disturbing if not sensitive domestic issue at Thursday's cabinet meeting came at a time when the Government faced two international issues, both of equal importance if not major challenges. One is the scheduled meeting in November of the Commonwealth Heads of Government (CHOGM) in Colombo. Its significance was highlighted by the visit to Colombo by Commonwealth Secretary General Kamalesh Sharma. The other is the United Nations Human Rights Council (UNHRC) sessions that begin in Geneva on February 25. Concerns over the event were heightened after the report of the UN Human Rights High Commissioner Navi Pillay. Her 18-page report "on advice and technical assistance for the Government of Sri Lanka on promoting reconciliation and accountability in Sri Lanka," released this week, was a catalogue of broken promises by the Government. Added to that, Pillay's address to the UN Security Council last Tuesday also had a pointed reference to Sri Lanka, comparing the country with Rwanda. It thus becomes the foundation for the latest resolution United States will move against Sri Lanka (please see page 1 for the details of the new US-sponsored resolution against Sri Lanka draft resolution now circulating in Geneva.)
First to the visit to Colombo by Commonwealth Secretary General Sharma. It began with what has come to be common occurrence, a gaffe again. Hardly had Sharma ended a conference at the External Affairs Ministry that its Secretary Karunatilleke Amunugama declared that the Commonwealth Secretary General had agreed Colombo should be the venue for CHOGM. It was stating the obvious. In fact the decision to have the event in Colombo had been made earlier and endorsed at the CHOGM in Perth, Australia in October 2011. Yet, Amunugama claimed that the announcement was the outcome of a 90-minute meeting at the EAM attended among others by those who headed different Task Forces. Such groups were responsible for making different arrangements for CHOGM.
As explained in the later paragraphs, that meeting itself turned out to be a diplomatic fiasco for other reasons. Hardly had the media reported the announcement that the Commonwealth Secretariat in London issued a strong denial. Its statement said,"Contrary to some media reports, Commonwealth Secretary-General Kamalesh Sharma has not made any statements today with regard to Sri Lanka as host venue of the Commonwealth Heads of Government Meeting (CHOGM) in November 2013."
That reiteration is simply a matter of basics. For one, Sri Lanka remains the host country for CHOGM, but for another, it is known that there are behind the scene moves to shift the venue. Otherwise, why should the Government stress the point, and its External Affairs Minister run around trying to stop Sri Lanka getting on to the agenda of the Commonwealth Ministerial Action Group (CMAG) meeting now scheduled for April.
On the one hand, if indeed there is to be a change, it has to be discussed by CMAG. Sharma has no official mandate to talk on behalf of member countries on a venue change, not without their authorisation. That should be common konwledge to any official. On the other, Sharma's visit was to review arrangements under way for CHOGM so he could report to the Ministerial Action Group when it meets.
But the situation was made worse by another announcement, this time even more formal than the first. Deputy Speaker ChandimaWeerakkody made a two pronged declaration. He went one step further saying not only that Sharma confirmed that Colombo would be the venue for CHOGM, but that Queen Elizabeth too would attend the event. Rupavahini, the national broadcaster quoted Weerakkody as saying Sharma had given these assurances to Speaker Chamal Rajapaksa. Whilst the first part of the statement remains denied early in the week by the Commonwealth Secretariat in London, the second too drew a strong denial. The Sunday Times asked Buckingham Palace in London whether the British monarch would be at the CHOGM in November this year. A spokesperson said on the telephone, "We are unable to confirm Her Majesty's engagements for the second half of this year."
If Sharma felt unnerved by what the Government was churning out after every meeting he was having in Colombo, he was to face another fiasco at the Ministry of External Affairs. Days ahead of his visit, Secretary Karunatilleke Amunugama had sent out a circular to key stakeholders of the Sri Lanka CHOGM Organising Committee. He said a conference would be held on Monday (Feb. 11) chaired by Sajin Vass Gunawardena, Monitoring MP for the External Affairs Ministry, to brief Secretary General Sharma on the CHOGM arrangements. They were asked to be present at the Foreign Office at 10 a.m. The invitees included Chief of Defence Staff, Air Marshal Roshan Gunathilake, Secretaries to Ministries and senior Security Forces officials among others. By 10.15 a.m. no one had turned up.
At that time, Secretary General Sharma accompanied by five others from the Commonwealth Secretariat arrived and took their seats at the head table. It was some minutes later that Sharma, not looking very happy, saw Majintha Jayasinghe, Chief of Protocol and CEO of CHOGM 2013, turning up and calling the meeting to order. Parliamentarian Sajin Vass Gunawardena, who was to chair the meeting, had not even arrived. It began with a video presentation.
It was well under way when Chris Nonis, Sri Lanka's High Commissioner in London, walked in. He caused some distraction as he looked for a chair to sit. In walked EAM Secretary Amunugama thereafter. He found a seat away from the head table. When the video presentation ended, and those present were conditioning their eyes to the environment, there was a moment of silence. Then Sharma spoke a few words explaining his visit. A lengthy power point presentation got under way with a special announcer doing the explaining. It was Secretary Amunugama who spoke thereafter followed by Nonis, who said, he could be contacted by any Commonwealth official "if anything needed to be communicated to Colombo". Protocol Chief Jayasinghe called the meeting to an end even whilst tea was being served to Sharma and his officials. It was around 11.45 a.m. It was immediately thereafter the SMS services broke the story that Sharma had agreed to Colombo being the venue for CHOGM. There was no Minister, no Deputy Minister or not even the Monitoring MP at the External Affairs Ministry conference room. Sharma, a senior diplomat in the Indian Foreign Service, was livid said one EAM source connected with the event. The source added that the Commonwealth officials were also peeved that no apology was made on the hurried acting arrangements to preside at the meeting.
The much touted External Affairs Ministry conference which was made the platform for the announcement quoting Sharma that Colombo would be the venue was left out of the statement issued just after Sharma left Sri Lanka. The Commonwealth Secretariat made no reference to the Task Forces either. Of particular importance was the web page of the Commonwealth Secretariat in London. It had prominently displayed the colourful "CHOGM 2013, Sri Lanka" logo. However, after Sharma's visit the logo has disappeared from the website. Despite overt confidence over Colombo being the venue, thoroughly unprofessional handling of his visit by the Ministry of External Affairs did not augur well nor leave a good impression with Sharma's delegation.
Meanwhile, the Government has been somewhat sceptical over moves by Canada and other members of the Commonwealth to put Sri Lanka on the agenda for the upcoming meeting of the CMAG. Such a move, it fears, would be the first step in changing Colombo from being the venue. Hence an unpublicised turbo-charged drive.
This led to behind-the-scenes diplomacy by EAM Monitoring MP Sajin Vass Gunawardena starting some weeks back holding meetings with Commonwealth representatives at the Park Lane Hilton in London. Even External Affairs Minister G.L. Peiris, who rushed to Brazil to seek that country's support at the UNHRC made a stopover in London. Though Secretary General Sharma was headed to Colombo in just two days, Peiris opted to meet him in London and put out his own media statement.
This week Peiris flew to Bangladesh for a meeting with Prime Minister Sheikh Hasina and External Affairs Minister Dr.DipuMoni. The statement issued by Peiris after the meeting has an explosive admittance. In it, he says that he has told Sharma that the use of his (Sharma's) 'good offices' is a "condition precedent" to any country being placed on the agenda of CMAG. That in itself is a clear indication that Sri Lanka thinks it imminent, and inevitable that its name would be placed on the CMAG agenda, and is telling Sharma he must use his good offices prior to that.
Of course, Peiris' own statement says, "Prof.Peiris told Dr.Modi that he had set out this position with clarity to Secretary General Sharma".  Talks in Dhaka, however, made it officially clear that the Government was fighting a diplomatic battle to overcome a venue change. This was further confirmed in remarks made by Premier Sheikh Hasina's official spokesperson Abdul Kalam Azad in Dhaka. He told reporters: "Bangladesh has assured Sri Lanka of doing utmost against any attempt to review the selection of Sri Lanka as the venue of the next Commonwealth Head of Governments Meeting (CHOGM) in November this year. Bangladesh, as the chair of Commonwealth Ministers Action Group (CMAG), however, called upon Colombo for taking some positive steps to uphold the Commonwealth values and principles to help the 'Friends of Sri Lanka' to stand firmly beside the country on the issue. Prime Minister Sheikh Hasina said this when External Affairs Minister of Sri Lanka Professor G. L. Peiris called on her at her office here today."
A careful read of the remarks of Sheikh Hasina's Media Secretary shows that Bangladesh has not committed its full support for Sri Lanka. It is under pressure from other leading members of the Commonwealth backed by Canada (as exclusively reported on page 1 of our city edition last week). This is clearly highlighted in the remarks that Bangladesh would be "doing its utmost against any attempt to review the selection of Sri Lanka as the venue……" Furthermore, Dhaka is also asking Colombo to take some "positive steps to uphold the Commonwealth values…….". Now, even Bangladesh is telling Sri Lanka to uphold Commonwealth values. What depths has this country fallen in to. In marked contrast, G.L. Peiris' media statement sent from Dhaka and distributed by his Ministry said, "Bangladesh Prime Minister, expressing appreciation of the noteworthy progress achieved by Sri Lanka during the brief period since the eradication of terrorism, said she is looking forward to attending the Commonwealth Heads of Government Meeting (CHOG) in Sri Lanka in November. She wished the Summit all success, adding that her government would do everything in its power to ensure an entirely positive outcome…….".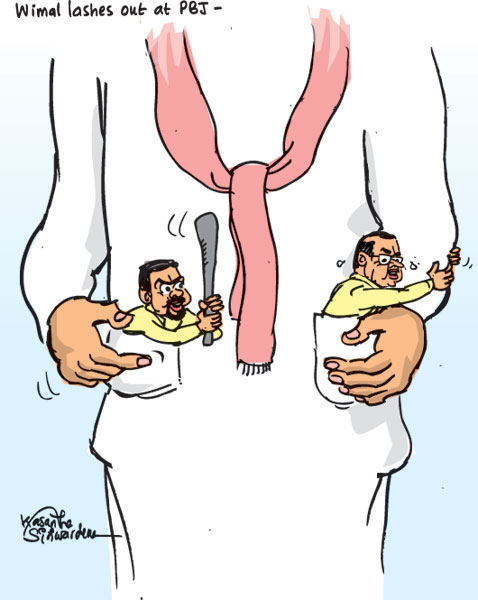 Peiris was not only conducting the country's foreign policy through diplomatic initiatives but also raising hopes of Sri Lankans through his own media statements. This was an exact replay of the hype before the UNHRC vote against Sri Lanka last year, saying no resolution would come, and the reality that came thereafter. It also gave birth to a new theory – one of adding those who abstained from voting together with those who voted in Sri Lanka's favour together.
UNHRC sessions in Geneva
Next is the upcoming month-long 22nd UN Human Rights Council session in Geneva beginning February 25. There appears to be a clear shift in strategy on the part of the Government. During last year's sessions, large Sri Lanka delegations lobbied delegates in the halls of the Palais de Nationes and the diplomatic missions of member countries in Geneva to thwart a resolution being adopted. This year, however, the Government appears to have resigned itself to the reality that the resolution will be carried through. With this in mind, Sri Lankan diplomats are trying to minimise the damage by lobbying countries friendly with the United States.
This was the thrust of talks RavinathaAriyasinha, Sri Lanka's envoy to the UN in Geneva, had with his US counterpart, Eileen Chamberlain Donahue. External Affairs Minister Peiris is also due to visit Israel (apart from a counterbalancing visit to Palestine) for the same purpose. Some countries close to the US have told the Government that its request would have to await the formal presentation of the US resolution. In her 18-page report, she is reaffirming her call "for an independent international investigation". After this report was made public, just last Tuesday, Pillay addressed the UN Security Council on the thematic debate on protection of civilians. She made considerable reference to Sri Lanka. She said: "I wish to thank the Secretary-General and Deputy Secretary-General for their leadership in launching a follow-up process to the Petrie report which reviewed UN action in Sri Lanka. The report highlights systemic failings that extend across responses to many situations and indicates that important recommendations of the 1999 UN independent inquiry on Rwanda have not been implemented. It is time for us to find a way to do better.
"In that context, my Office looks forward to working towards addressing this. Let me highlight four areas where there is need for improvement:
"First, early, credible information on human rights and international humanitarian law violations can make it easier for the Council and the wider UN system to reach consensus and make informed decisions. While information technology facilitates early warning, it cannot replace impartial, reliable and timely expert monitoring and reporting on respect for international law. Far too often, before monitoring and reporting on human rights violations, the UN waits many months until we deploy staff on the ground. Sometimes access is denied expressly to prevent reporting. The UN's protection of civilians cannot be held hostage to delayed deployments or a lack of access. We must have the capacity and structures to monitor from headquarters when needed and to provide Member States and policy makers with the best available information.
"Second, the UN can strengthen its sense of common purpose and management. The Petrie report points to the problematic tendency of the UN entities to compartmentalise our approach to a situation rather than providing Member States with a holistic analysis. Compartmentalisation not only leads to duplication, but can also side-line human rights concerns.
"Third, the UN should offer a wider range of tools for intervention on the ground. Small and discrete models of field operation with a short life-span can be deployed quickly at limited cost and in close consultation with the regional States and national authorities. Such deployments provide a non-intrusive means of UN action that may be attractive where States wish to support an early UN response to serious protection of civilians concerns, so long as it is light and limited. The use of large peacekeeping operations can be deployed later where needed.
"Fourth, both the Rwanda and Petrie reports are clear in stating that the single most important element for UN protection of civilians is early political consensus among Member States acting through the UN. I hope that we in the Secretariat can better support Member States in their efforts to reach early consensus."
The current 47 members of the UN Human Rights Council are Angola, Argentina, Austria, Benin, Botswana, Brazil, Burkina Faso, Chile, Congo, Costa Rica, Côte d'Ivoire, Czech Republic, Ecuador, Estonia, Ethiopia, Gabon, Germany, Guatemala, India, Indonesia, Ireland, Italy, Japan, Kazakhstan, Kenya, Kuwait, Libya , Malaysia, Maldives, Mauritania, Montenegro, Pakistan, Peru, Philippines, Poland, Qatar, Republic of Korea (South Korea), Republic of Moldova, Romania, Sierra Leone, Spain, Switzerland, Thailand, Uganda, United Arab Emirates, United States of America, Venezuela.
In essence, the report notes; "To date, the Government has made commitments on only selected recommendations of the Commission (Lessons Learnt and Reconciliation Commission), and has not adequately engaged civil society in support of a more consultative and inclusive reconciliation process. The Government has made significant progress in rebuilding infrastructure; and while the majority of internally displaced persons have been resettled, considerable work lies ahead in the areas of justice, reconciliation and resumption of livelihoods. The steps taken to investigate further allegations of serious violations of human rights have also been inconclusive, and lack the independence and impartiality required to inspire confidence. Meanwhile, continuing reports of extrajudicial killings, abductions and enforced disappearance in the past year highlight the urgency of action to combat impunity. It is against this background that possible areas of technical assistance are identified, and recommendations are made."
Pillay's report deals with LLRC recommendations which she says are not being implemented. Among the highlights are:
With regard to the restoration of the rule of law: Many emergency provisions remain, example: The Prevention of Terrorism Act used for the recent arrest of students of the Jaffna University. They were released this week on a directive from President Rajapaksa whilst on an official visit to Jaffna. Impeachment of Chief Justice. Series of attacks and acts of intimidation against Judges and judicial officers which could undermine independence of the judiciary.
On the question of investigating actions leading to deaths of civilians, torture and extrajudicial killings: These recommendations have not been included in the National Action Plan.
With regard to investigating attacks on journalists: A Media Ministry is to promote "responsible journalism" which is not an adequate response to safety concerns and could lead to greater media control. Several journalists have been harassed and attacked in 2012.
n On the appointment of a Committee on internally displaced people: There is a major Government reconstruction programme but standard of housing and access to basic amenities vary enormously. There is a lack of clarity on Government policy on land ownership issues.
On recommendations for demilitarisation: There is deep involvement of the military in civilian matters – preventing capacity building. The military occupies civilian land. Civilians have to give notice to military if they want to hold any public gathering no matter the size or social purpose. The military presence makes women and girls vulnerable to violence and harassment.
Among the recommendations Pillay has made are:
Give positive consideration to the offers of assistance made in her letter dated 26 November 2012, in particular expertise in:
The establishment of a truth-seeking mechanism as an integral part of a more comprehensive and inclusive approach to transitional justice;
Criminal and forensic investigations to review relevant Case files and advise on additional lines of inquiry to resolve outstanding cases in accordance with international standards;
Drafting laws dealing with witness and victim protection, the right to information, the criminalisation of enforced disappearances and the revision of existing laws to bring them into line with the International Covenant on Civil and Political Rights and the Conventionagainst Torture and Other Cruel, Inhuman or Degrading Treatment or Punishment;
Strengthening and ensuring the independence of national institutions;
The development of a national reparations policy in line with international standards;
Invite special procedures mandate holders with outstanding requests to make country visits, particularly those who have offered assistance pursuant to Human Rights Council resolution 19/2;
( Hold public and inclusive consultations on the national plan of action for implementation of the recommendations of the Lessons Learnt and Reconciliation Commission with a view to revising and expanding its scope and clarifying commitments and responsibilities;
The Army report and LLRC
In what appears to be a move ahead of the UNHRC sessions, the Army officially announced on Friday the findings of an inquiry into shelling during the final stages of the separatist war in May 2009. A media statement on the findings of a six member Court of Inquiry, said, "Evidence before the Court has conclusively established that the Humanitarian Operation was conducted strictly in accordance with the 'Zero Civilian Casualty' directive made by His Excellency the President Mahinda Rajapaksa and commanders at all times obeyed the said directive and the directives from the higher headquarters with regard to No Fire Zones (NFZs) and even where the LTTE terrorists had fired from NFZs, commanders refrained from firing at such NFZs. It has also been revealed that artillery commanders had added 500 metres to the boundaries of NFZs given by higher headquarters thereby extending the boundaries of NFZs by 500 metres.
"Evidence revealed that at all stages of the Humanitarian Operation, the Sri Lanka Army behaved as a well-disciplined military force observing the IHL (International Humanitarian Law) and law of war and they took all the precautions to avoid civilian casualties and all those who came under the control of the Sri Lanka Army, including surrendered/captured LTTE cadres, were treated humanely observing the IHL to the letter…….
"From the testimony presented, the C of I concluded that the instances of shelling referred to in the LLRC report were not caused by the Sri Lanka Army and civilian casualties might have occurred due to unlawful acts by the LTTE….."
On the domestic front, the government finds itself in a dilemma over the boycott campaign against Muslim business houses. Politically, it is a highly sensitive issue for the UPFA since its leaders know that most members of the minority communities voted for other political parties. However, in terms of security, they are yet to put together a fuller picture of how the campaigns are playing out, who is funding them and who is directing them. The State Intelligence Service has largely been able to report of localised incidents and identify only a few behind them. Thus, the law enforcement machinery has been forced to watch events unfolding and is largely hesitant to bring the full force of the law to bear on those responsible. A whisper campaign on the boycott has already begun. Thus, the escalating events could spin out of control causing bigger damage to the Government.
On the international front, the moves to shift the CHOGM venue are now official and even acknowledged by the Government. Both Minister Peiris and the chair of Commonwealth Ministerial Action Group, Bangladesh, have made that clear through formal statements from Dhaka this week. That the UN Human Rights High Commissioner Navi Pillay has not only castigated Sri Lanka for not implementing recommendations of LLRC, but also apprised the UN Security Council may be a forerunner of events to follow when the Human Rights Council sessions get under way. The second resolution against Sri Lanka is now drafted and ready. All in all, storm clouds are visible over the immediate horizon.
Follow @timesonlinelk
comments powered by

Disqus