'Sport-Intelligence' – The unseen winner
View(s):

Tennis training can equalise Technical, Physical and Mental aspects among players. The difference between them will be the degree of Sport-intelligence each exhibits. Sport-intelligence is, noticing the options in a match and making the best choice from all available.
From the Olympics, to Grass-Root competition, winners apply their Sport-Intelligence to beat the field. Training, sensing, seeing, deciding and acting is the core of this. It has to happen consciously. Often those with Sport-intelligence are labeled as 'Talent'. In local Tennis Sport-intelligence like the 'court Geometry' is not known. This should explain our poor performances internationally. Sport-intelligence is unseen winner.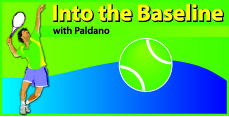 Level of Sport-intelligence differs according to the individual and training. The aspects in Tennis are 'Self before opponent'; Win with what you have. Use your own game and establish it early for lead in games and sets. 'Read your opponent' or else you will be trapped. Know your opponent ASAP. 'Adapt and Improvise'. Strong opponents will not allow you to perform. At that point adaptability and improvisation are the winning tools. 'Change rally plans' to compile a game. This way opponents cannot read you and what more, even if your opponent wins two rallies, you will win the game getting four. 'Court- Geometry' uses the court to your advantage. This is almost unseen in our Tennis.
As a player there is little hope even as a junior if you do not have adequate Sport-intelligence. All this must be trained. Without Sport-intelligence a player is just another ball machine which wares off, after the second set.
An extra ordinary
'sport-intelligence'
Top Tennis players are 6' 4" and strong in every department. Felicisimo Ampon [To-toy]of the Philippines in the 50's and 60's shook the world arenas playing Wimbledon and then went to beat Wimbledon champion Joroslav Drobny twice, a six footer and prevailed over Ramanathan Krishnan, Premjit Lall and Jaideep Mukherjee of India and a good score of other world beaters.
Ampon was only 4'8" tall! He was a good returner and retriever, what more, he played 'bare footed'. In the Tennis history nobody has combined a lob with the drop shot so effectively as Felicisimo Ampon. He developed a game to suit his build, speed and strokes. This should be a good lesson for us in 'Sport-Intelligence'. Imagine Joroslav Drobny, Wimbledon champion and towering foot and half over Ampon, as the loser shaking hands to congratulating a tiny Philippino! This is the magic of Sport-intelligence.
Ask any developing player, what is the game you play? You will have 2 minutes of silence and then they would say something insignificant. Sport-intelligence can be developed. Players I appeal to you, please think in that direction.
Grass-Root provides the best beginning
Grass-Root Tennis is the much needed device to develop Sport-Intelligence. It is difficult to develop this in open events. Grass root Tennis is about participation and will instill sport-intelligence automatically.
As players, we are responsible
Umpire says 'love all' and the match will begin. From that point on only what is in you, will be available to perform. You will not have anyone to pass the buck. It is a 'do or die' situation. If you understand this, consider it to be the 'birth of the player' and it is the beginning of a journey to develop Sports-intelligence. Without this, as I said before we are only a ball machines.
Train in open situations. Drills are a closed situation and they have a specific and narrow purpose, beyond those, it is a waste of time and hence life. You will be a ball machine, doing drills. Take the responsibility to train correctly, that itself is Sports-intelligence.
The Davis Cup-2013
Our Davis Cup tie ended with another loss to Pakistan. We have played Pakistan in five occasions, never won. Their team this year was not that strong. Aisam Qureshi's ATP exposure made the difference. His expertise in the doubles won the Davis Cup tie, this time. I was a little surprised when he told me that he has not played singles in the last two years. He admitted that he got worn down playing singles in the ATP circuit. Qureshi travels 300 days a year round the globe playing doubles. His world doubles ranking is 15. Qureshi's grandfather was Ifthikar Ahmed. He won the Ceylon National title in Colombo in the early fifties.
In many developing countries, Davis Cup teams have only one good player. The strain is too much on them to perform. In this tie against Pakistan, Harshana Godamanne had to play 12 sets in 3 days. If anyone has watched him closely, they would have noticed support straps from his neck up to the elbow. Qureshi had, both ankles strapped. If we are to stay in group two of Davis cup we need a Davis cup / National team department in the association. Right now, we have a good anchor man; Rohan de Silva.
Aisam Qureshi and his father from Pakistan have started a foundation for the promotion of Wheel Chair Tennis with ITF and ATP. 'Stop wars-play Tennis' will be its name. While in Colombo he met our wheel chair players and expressed thanks for being an inspiration. He hopes to work in Pakistan, Iraq and Afghanistan.
georgepaldano@yahoo.com
Follow @timesonlinelk
comments powered by

Disqus