Saree connection
View(s):

By Smriti Daniel

The answer was a sewing machine. When the Japanese NGO PARC Interpeoples Cooperation (PARCIC) were asked by a small group of women in Jaffna, Mullaitivu and Deniyaya for something that would help them generate income at home, PARCIC responded by donating 50 sewing machines.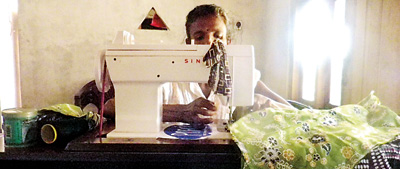 They went in most part to female headed households, say Nishimori Mitsuko and Takahashi Chisato, two of the organisation's representatives in Sri Lanka. The women were often found to be supporting dependents and in some cases their men were disabled or held in rehabilitation centres. Other households had lost sons, fathers and brothers to the tsunami or the war. A sewing machine would allow them to stay at home and keep an eye on the children, even as they worked.
Now PARCIC has launched another initiative on the back of their first.
Charmingly dubbed the Recycle Saree Project, the programme accepts donations of sarees, in most part from women in the South of the island, and transports them to their Northern sisters. The sarees are then converted into tops and bags and anything else the design team can think up. It's a good idea at least in part because sarees in themselves can be works of art and are available in a range of fabrics but Nishimori says she thought it would work because she kept hearing about women who had stopped wearing their sarees and had no idea quite what to do with them.
Since they began seeking donations, they've had over a 100 sarees donated to the cause. Showing me a book with clippings of sarees of every colour and texture imaginable, Takahashi says she relies upon her assistant to help ascertain the kind of fabric used. A little form encourages donors to share any stories they may have relating to the fabric (one woman who handed over several red sarees explains she ceased wearing them after she was widowed).
They will be put to good use. For this interview, Nishimori and Takahashi came wearing the first two tops produced by the women back in the North. Currently, the project encompasses only 20 women, and is focused on those who were having trouble finding work out of the initial fifty. "We offer them more training, design support and quality control support," says Nishimori, explaining that finished products will be sold in Japan and Sri Lanka and the proceeds distributed back to those women in the North.
Her colleague, Takahashi moved to Sri Lanka a year ago and is focusing on PARCIC's organic tea project in Deniyaya in partnership with Sewalanka. The organisation also has a dry fish project for women in Jaffna and provides assistance for returnee fishermen in Mullaitivu.
PARCIC first opened an office here in 2004 with the hope of providing livelihood assistance to fishing communities affected by both the tsunami and the war. Their funding comes from Japanese institutions like Japan Platform and the Japan International Cooperation Agency (JAICA).
For both women, the Recycle Saree Project is about more than just vocational training and a source of livelihood.
They hope, as well, to create a "linkage" between women from the South and the North, and a sense of connection that will last.
If you would like to donate to the Saree Recycle Project you can contact them on slproject6@parcic.org/ 0778326658
Follow @timesonlinelk
comments powered by

Disqus