Axing of 3,500 CMC jobs will set back city development: Mayor, Dy. Mayor
View(s):

By Mirudhula Thambiah

The axeing of 3,500 Colombo Municipal Council jobs has triggered fears about how such a drastic downsizing of an essential service will affect the country's capital and its permanent and transit population. The Municipal Council is Sri Lanka's only UNP-run local government body.

Two prominent city leaders – Colombo Mayor A. J. M. Muzammil and Deputy Mayor Titus Perera – are against the downsizing, with Mr. Perera even speculating that there could be a political agenda to weaken the CMC administration.

The crisis erupted last week after routine discussions to evaluate the CMC's cadre positions, trade unions say. The Council has a staff of 12,154 across all its departments. Each department has been given the option of either reducing staff or hiring more staff.

Based on the departments' feedback, the CMC has drawn up a cadre system that will be effective over the next three years, from 2013 to 2015. The system came into effect on the first day of this year. The new cadre list, however, has met with stiff resistance from trade unions, which say the downsizing from 12,154 to 8,645 employees is excessive and damaging.

A crowd of about 3,000 workers staged a protest outside the Colombo Municipal Council headquarters on Tuesday. They said the authorities should have held discussions with trade unions before compiling the list of new employee positions. The proper procedure is that the Mayor signs the cadre revision proposal before it goes to the Western Provincial Council for approval, and only then is it submitted to the Salaries and Cadre Commission. Colombo Mayor Muzammil says he did not sign the proposal, and said there had been a "lapse in the administrative section."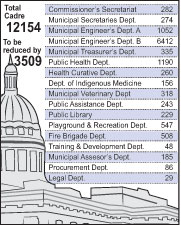 "To cut down on the number of cadres in this way raises big problems," Mayor Muzammil told the Sunday Times. "Important positions have been deleted from the organisation structure. There are disparities in the number of engineers and medical officers. Our CMC staff have worked hard for years to reach their present positions, and now these positions are being taken away from them and they are losing their jobs. This is a serious setback to career development."
The Mayor has appointed a special committee to study the issue and hand in a report in three months. The committee comprises the CMC Deputy Commissioner and CMC department heads. The Council has asked the Western Province Chief Minister, Governor and Salaries and Cadre Commission to give the CMC three months to sort out things.
"We must fix all the errors, re-draw the cadre list, and send it to the Commission," Deputy Mayor Mr. Perera told the newspaper. "We have no option but to start from scratch."
On Friday, the special committee had talks with representatives of 32 trade unions. Municipal Commissioner Bandrani Jayawardena has promised to draft a fresh proposal with consideration to union demands, the newspaper understands. Trade unions say the downsizing means that one cadre will have to take on extra tasks, and that would lead to a drop in efficiency.
UPFA Municipal Council member Mahinda Kahandagama has urged the authorities to do away with the new system and to stop "blocking development." Mr. Kahandagama, who is the convenor of the CMC Federation of Trade Unions, said the number of positions in the CMC Health Curative Department has been slashed from 260 to 170, and the number of sports advisors reduced from 125 to 94. "How can you run a proper service if you cut staff like this?" he asked. "Clinics will be understaffed with less nurses and attendants, and we won't have enough sports advisors to promote sports."
W. A. Karunadasa, president of the All Island State Employees Services Union, said, "It seems very much as if certain officials are taking revenge on trade union members."
Follow @timesonlinelk
comments powered by

Disqus