A grand production: Take two
View(s):

After their well received debut show the 40-strong choir that make up MusicInMotion are banking on their experience and easy rapport to make their new show 'Hall of Fame' an even bigger success

By Duvindi Illankoon

Blending vocals with dance routines, the MusicInMotion 40- member choir rehearses steadily over the Independence Day weekend for their upcoming show 'Hall of Fame',

Director Safra Deen and choreographer Natasha Burhan watch closely from the sidelines as the cast whirls about the small studio in Aththidiya where they've been rehearsing for the past three months. The two lawyers in training are finally fulfilling a prophecy that their alma maters had long beholden; Natasha is from Ladies College while Safra is from Bishop's College.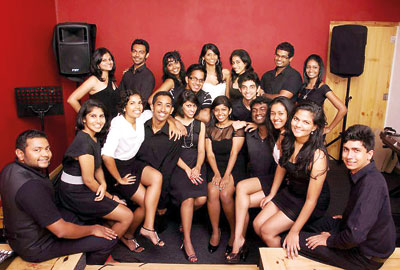 This is not their first such undertaking. In 2010 they co-produced 'Fame', while they were still studying for their LLB's at Royal Institute in Colombo. The concert was a sell out on both nights and MusicInMotion was born.
"We're unique in that we blend vocals and dance with precision," says Safra. "I know that every group claims to be unique but these guys really stand apart in that they're fantastic at singing without losing track of their dance moves."
The choristers do, in fact, seem to know what they're doing. They blend intricate footwork with even more complex vocal challenges, and the result is a little more than amazing. Safra herself is a talented vocalist and a former choir leader of Bishop's College.
'Hall of Fame' is the choir's second taking in terms of a grand production. "The first time we did this we were very inexperienced," remembers Jehan Gunasekara who took part in Fame. "I couldn't read music, for one. We also didn't know each other too well so there were those awkward moments. But now we're all very close, everyone's got a fantastic rapport so it makes it easier for us to perform in front of each other."
The choir comprises singers and dancers aged between 17-27; some are schooling, while most of whom are working. Past choristers of leading choirs from Bishop's College, Royal College, Ladies College, S.Thomas' College and 'Voices in Harmony' form a part of the group.
The show, slotted to go on for about two and a half hours, will feature some of the best of western and eastern classics. "We want to pay tribute to the legends in the industry," says Safra. "But then again everyone wants to do that with their show! To shake things up a little, we've compartmentalised the show into four medleys and a few solos."
For example, the rather delightful sounding 'Boogey medley' will see the singers-well, boogey to some well known hits by KC and the Sunshine Band and Mamma Mia among others. The Broadway medley will feature some of theatre's most popular works (think Phantom of the Opera and Grease), while the Sinhala Classics medley will feature some of the country's most loved numbers (and of course, you should really have seen this coming-baila!). The Revolution medley is for songs that inspire, and arouse change. Expect some surprise items along the way as well!
The show is in aid of the Animal Welfare Fund, an unconventional cause which made it difficult for Safra and Natasha in getting financial support for the show. But they soldier on despite obstacles-it's a cause that's close to many hearts.
A majority representation of budding lawyers in the choir also meant that they weren't going to give up that easily on the end objective of raising money on behalf of 'Adopt a Dog Sri Lanka' and hopefully have some leftover to invest in wildlife conservation.
'Hall of Fame' will celebrate the music of legendary artists from different eras, covering a wide range of genres that include Broadway, Rock, Reggae, Salsa, Pop, Soul, Hip Hop, Jazz and Classical Sinhala music. One could expect solo, group, choral and dance performances from the talented choristers.
The concert will be held on February 16 from 7.30 p.m. onwards at the Bishop's College Auditorium. Tickets priced at Rs. 1,500, Rs. 1000 and Rs. 500 (balcony) will be made available at the Bishop's College Auditorium.
Follow @timesonlinelk
comments powered by

Disqus