Achievers clinch inaugural Informatics Rugby Sevens
View(s):

An Achievers team playing some scintillating and inspired sevens rugby simply possessed too much firepower for any other team at the Informatics Rugby Sevens, and comprehensively bagged the tournament's inaugural title, after a day of thrilling competition at the CR&FC grounds last week..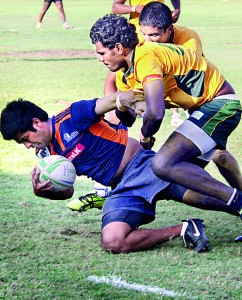 In the finals, Achievers were pitted against an ICBT Kandy unit, which had performed admirably right throughout the preliminary stages of the competition. However, they were devoid of ideas on how to deal with a rampaging Achievers side, which was outpacing, outpassing and simply outplaying them, before eventually storming to a 45-7 victory.
The match was effectively over by halftime, with Achievers having secured a sizable lead through a series of spectacular tries. What made Achievers' performance that much more brilliant was the airtight defense with which they complemented their brutal offense. This was made evident by the fact that ACBT were held scoreless throughout the entire second half.
Nevertheless, the boys from Kandy can hold their heads up high after having recorded victories over ACBT (24-7), APIIT (20-0), IIHE (39-0), IIT(31-0) and their sister campus in Colombo (17-15).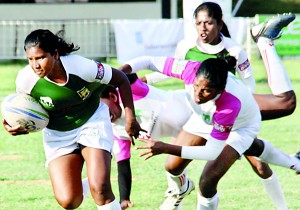 The tournament champions went through the competition relatively unscathed, notching up emphatic wins against CINEC (43-0), ICBT City Campus (31-0), APIIT (29-0 and 19-0 in the semifinals) and SAITM (walkover).
In the Shield finals, SLIIT registered a dominant 29- 05 victory over IIHE, while SAITM took the Bowl finals with a 27-7 win over ACBT. Meanwhile in the battle for the Plate, APIIT outmuscled ICBT City Campus 24-0.
The other highlights of the day included an enthralling women's national pool exhibition match between SL Green and SL Pink, which ended triumphantly for the Pinks, after they edged to a 22-26 victory.
The Rugby Sevens is part of Informatics' 2013 Sports Fiesta, which comprises a host of sporting events, such as cricket, basketball, table tennis and badminton tournaments, which will be staged to mark the group's 30th anniversary. -D.S.
| | |
| --- | --- |
| | |
| | |
| | |
Follow @timesonlinelk
comments powered by

Disqus