I will train my right hand says left-handed Achala
View(s):

By Kumudini Hettiarachchi

A fall, a fracture and a young life changes forever.

Twenty-three-year-old W.K. Achala Priyadharshani was taking a break at home in Urubokka from her arduous studies at the Law Faculty of the University of Colombo. She would be sitting the final examination in June and being boarded in Colombo the break in January was a good opportunity for her to see her father. She had not seen her mother in a while as she was toiling in Lebanon to uplift the family fortunes, even as her father worked the fields back home.

Achala was to get back to Colombo on January 18 and her bags were packed. It was on the afternoon of the 17th that she tumbled down the staircase. "Dong gala wetuna," says Achala's brother, W.K. Dharshana Tillekeratne. Her agonised cries indicated that something was wrong with her hand. Dharshana took her immediately to the Heegoda Peripheral Hospital in a three-wheeler where the staff put splints to her hand, gave her a tetanus toxide and sent her to the Matara Hospital.
It was around 2 p.m. of January 18 that the Matara doctors took her to the theatre to insert a plate but brought her back with the plaster cast covering her left hand from just above the fingers to the elbow, he says, adding that though his sister cried in pain and agony that night nothing was done. On January 19, an injection was given. By noon her fingers were not working and had turned blue.

Confirming that there was a fracture between the wrist and the elbow, the PoP (Plaster of Paris) was put to set my hand, recalls Achala, adding that back at the ward she was in excruciating pain.It was only when the fingers started turning blue that the Matara staff first said that they would transfer her to the Karapitiya Hospital and then within a little while changed their decision and sent her to the National Hospital in Colombo after splitting open the plaster on the evening of January 19, says Dharshana, who followed his sister to Colombo in the three-wheeler.

Brought to the Intensive Care Unit of the NHSL, she was transferred to Ward 73 on January 21 and then to Ward 64 on January 22. The amputation was performed on January 23, according to him. After attempts to save her hand, Achala says that the National Hospital doctors informed her that "mage atha merila kiyala". To save her life there would be no option but to amputate it they had said, says Achala, with relatives and batchmates from the Law Faculty crowding around her.

With only a stump as her left hand, Achala is determined to face the crisis. "I will sit my finals in June," she says, explaining that she has already discussed with the faculty authorities and they have promised to provide a typist who would type her answers as she verbally gives them during the examination.

What next for this left-handed young woman who now faces the future without this limb?

She will learn to do everything with her right hand, she says, unfazed by the tragedy that has befallen her. "Ikmanata huruwenna puluwan," Achala says, adding, "I will be able to train the right hand to do what the left was doing."

Top level committee to probe 

Dr. Lal Panapitiya, Director of Medical Services, assisted by a top-level three-member committee of surgeons has been tasked with inquiring into the circumstances that led to the amputation of Achala's hand, said Health Ministry Secretary Dr. Nihal Jayathilake.The committee of surgeons comprises Consultant Orthopaedic Surgeon Dr. Narendra Pinto and Consultant Senior General Surgeons Dr. Sarath Collure and Dr. D.G.N. Ratnasena.

"We need to conduct a proper analysis how and why the blood supply to Achala's hand got cut off in the wake of which the amputation had to be carried out," said Dr. Jayathilake, assuring that if there has been negligence, action would be taken against whoever was negligent.

This incident – terribly unfortunate though it is – can also help us to strengthen our system, he said. Both Health Minister Maithripala Sirisena and he had visited her to assure her of their support.

Explaining that there are two possibilities that need to be considered in such a situation, he said one was negligence and the other unavoidable circumstances. These are highly technical and complex issues which cannot be decided after a cursory glance. This is why a top team has been appointed to carry out the preliminary inquiry supported by both the staff of the Matara Hospital and the NHSL. The team has collected information from the NHSL and visited Matara as well.
There is also a need to look into the circumstances under which state hospital doctors are working with dedication – they attend to a large number of patients in wards overflowing with people, added Dr. Jayathilake.

Whatever the outcome of the inquiry, a lesson needs to be learnt from this tragedy, is the view of many doctors. While handling a large number of patients under trying circumstances, it is important for both doctors and nurses to pay attention to basic details and keep the human touch, they said.

On behalf of the Law Faculty students who have launched 'Hand for Achala, Justice for Negligence', Thilina Mahen Peiris said they are hoping to collect funds to get her a functional hand.

The Government has assured that all efforts would be made to provide Achala with the prosthetic she needs, he said, adding that those spearheading this effort are Foreign Minister Prof. G.L. Peiris and MP Namal Rajapaksa.

These students have also filed a complaint with the Human Rights Commission with regard to Achala's plight.
Anyone who wishes to donate funds towards 'Hand for Achala, Justice for Negligence' may send their contributions to Account No. 74280067 at the Bank of Ceylon, Visakha branch.

Compartment Syndrome

When there is an injury such as a compound fracture, depending on the severity, the shattered bone can cause severe damage to the soft tissue of the muscle which encloses the bone. Even if it is a simple fracture, if two bones are involved there can be much damage, the Sunday Times learns. (See Graphic)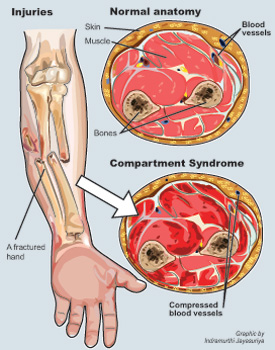 This can cause swelling of the muscle leading to Compartment Syndrome, a doctor said, explaining that although called 'soft tissue', the muscles are in rigid compartments with a limited ability to expand. "If there is a swelling within a compartment, there is a build-up of pressure in that area. This, in turn, will put pressure on the blood vessels in the area, making them collapse and cutting off the blood (ischaemia) from this compartment to the next. This will lead to the area of the limb which is not getting blood to die off after awhile.
The signs and symptoms of Compartment Syndrome are excessive pain, numbness as the nerves also get affected, decrease in movement and finally discolouration (turning blue or black), the Sunday Times understands.
The urgent need when Compartment Syndrome is spotted is to decompress the area and take away the pressure, otherwise gangrene (death of tissue) sets in. The answer to Compartment Syndrome is surgery (fasciotomy – cutting the fibrous tissue or fascia that surrounds the muscles to relieve the pressure). When the muscle compartment is cut open, the muscle tissue can swell, decreasing the pressure and restoring blood flow. If a limb is in plaster, the plaster needs to be cut open immediately, he said.
If gangrene sets in, indicated by the area turning blue, there is no option but to amputate the limb as otherwise, the person's life is in danger, he added.
Explaining the procedure when presented with a fracture, another doctor said that the patient is taken to the operating theatre, put under general anaesthesia and a "manual reduction" of the bones is performed. This is a manipulation by hand to put the fractured bones together.
Thereafter, a slightly-wet cotton-gauze wrapping is applied to the area of the fracture and beyond as well, after which the wet and malleable Plaster of Paris (PoP) cast is applied. The PoP hardens, keeping the manually manipulated limb in place. When a fracture occurs, it is not only the bone that is affected but also the alignment of the muscles and the blood vessels. After the PoP, another X-ray is taken to check the bone alignment. If it is not aligned, the manipulation is re-done, it is learnt.
Follow @timesonlinelk
comments powered by

Disqus