World Class Medical Education at an affordable fee
View(s):

Do you aspire to become a fully fledged medical professional? Has cost been a decisive factor for you, like for many others?

Global Education Centre collaborates with Virgen Milagrosa University Philippines to offer internationally accredited medical qualifications for students, and a cost effective solution for parents of these ambitious students.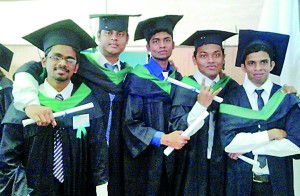 Philippines education is highly recognized internationally, especially in the USA, Europe, Australia and New Zealand.
GEC offers a comprehensive and specialized consultancy service to students eager to pursue their higher studies overseas.
It's a life-time opportunity for Sri Lankan students to earn a world class medical degree at an affordable fee.
We are pioneers in the provision of consultancy service for Sri Lankan students to pursue medical education in the Philippines. Presently more than 120 Sri Lankan students are studying there. Amal Perera Director of GEC and the students Councillor for Virgen Milagrosa University in Sri Lanka says.
"Philippines is a country that has higher English literacy rate in Asia. Moreover, Philippines have sent the highest number of doctors and nurses to America, England and Australia. The main reason for this is that all academic activities in all Philippines universities are done in English.
Education structures in that country is similar to USA and the European Union.
All courses are conducted in English. This helps students to devote their full time on their core subjects without learning a new foreign language.
They use Modern teaching methods and learning tends to be easy for students while teaching isn't found tedious at all." He further said.
This medical education programme is recognized by the Sri Lankan Medical Council (SLMC), World Health Organization (WHO) and IMED of ECFMG – USA.
Foreign students according to him, not only get a chance of life a time in earning excellent education, but also come across ways of enjoying their stay after having serious lessons in their classrooms.
They could relax by engaging in sports like Tennis, Basketball, Volleyball, Netball, Baseball or Athletics. Philippine's Virgen Milagrosa University with Global Education Centre of Sri Lanka observed the limitation faced by Sri Lankan students eager in pursuing a medical education here due to an inadequacy of space and facilities in Sri Lanka Medical Colleges and the prompted VMUF to appoint GEC to enable Sri Lankan students proceed to Philippines for their Medical Degree's emphasized Amal. Enrolling in the right medical degree programme, for a rewarding medical career is very important. With the right kind of information we equip students to take on their dream careers.
GEC is now well-located at World Trade Centre (WTC) Sri Lanka's intelligent building complex in terms of world class business features and management systems in the heart of the city of Colombo to give a great service.
The benefit a medical student can expect to gain from joining VMUF Medical Education Programme goes far beyond the curriculum material he of she will study. The classroom teaching style will be different, so the student is forced to develop their ability to learn.
The lifestyle and social rhythms within the walls of the university will be different, forcing the student to expand their social skills to get assistance from tutors, teachers' assistance, school staff, classmates and to make friends among their peers.
By the time a student finishes their time studying at Virgen Milagrosa University, they will have gained a number of very important soft skills which will help them throughout life and add a depth of character one cannot get by studying in any other country.
Dr. Gerry Abenilla, Dean of the Faculty of Art and Sciences will be on a short visit to Sri Lanka and it is a unique opportunity for the interested students and parents to meet him personally says Amal.
Dr Gerry Abenellia will be available for one to one meetings with students and parents in Sri Lanka from 7th February 2013 to 13th February 2013. For appointments contact Global Education Centre of visit the www.gecentre.com . This is a great opportunity to the students and parents to obtain all the information they need from a Dean of the Medical Faculty of Virgen Milagrosa University. As the opportunity are limited reserve your seats early.
You could meet Mr. Amal Perera, Director Consultant of Global Education Centre and Counselor – International Recruitment for Virgen Milagros University of Philippines at Level 6, East Low Block, World Trade Centre, Colombo 1 of better still call him over his mobile 0773 834534 for more details.
Follow @timesonlinelk
comments powered by

Disqus