Spreading the smile, Saarang style
View(s):

IIT-M conducting their annual cultural fest Saarang 2013 where dancers from all over the city were performing near Guindy in Chennai on Thursday.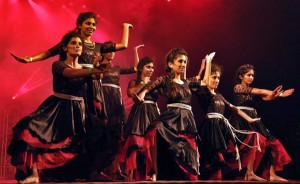 For the better part of a week in early January, the entire campus of IIT-Madras reverberated with the spirit of Saarang. Often associated with the phrase 'Heaven can wait', the cultural festival of the college had something on offer for everyone walking through the gates over the five days. Spoken of largely only with regard to technical prowess and academic excellence, IIT Madras dons a different hat once a year, inviting the national student body to let its hair down and have some fun.
Conducted this year from January 8 to 13, the run-up to the show also saw many events warming up the city with the spirit of Saarang. One such effort was Milan, an attempt to take Saarang outside Chennai which saw the participation of many students who would have otherwise missed out on the experience.
Perhaps the most important addition to the fest this year was Saarang Eunoia. A team comprising co-ordinators and volunteers from different departments and streams came together to organise book donation drives in various corporation schools across the city. They went a step further and conducted an origami workshop for the children of Madras Society for the Protection of Childnren (MSPC), an organisation dedicated to the welfare of destitute children in the city.
It's different
Saarang Eunoia also orchestrated India's participation in a tactile writing contest in association with Typhlo & Tactus from Finland. Specially designed for the visually-impaired, the team from IIT-M looked to promote awareness amongst the youth and contribute to the cause of making the joy of reading more accessible to everyone. "We believe that the differently-abled are an integral part of our society. This is one step closer to achieving our aim of creating an inclusive community at Saarang," says co-ordinator Jessica Bernard.
With eight shows from seven different countries and five performances at the Open Air Theatre, the entertainment value of the festival definitely did not disappoint this year. Classical Night saw the kathak performance by Pandit Birju Maharaj. The entire extravaganza saw a fitting finale with the musical trio of Shankar-Ehsaan-Loy. Belting out their hit Bollywood numbers, they were the cause of many a sore throat in the days that followed.
Saarang 2013 pushed the boundaries that thus far defined the college cultural experience. Through it all, social responsibility was the order of the day with scores of co-ordinators chipping in a few hours of their time to spread the cheer. The applause has long died down and the lights have dimmed but the satisfaction remains. This year, the students of IIT Madras took that first brave step forward, refusing to be muffled by doubt and fear. This year, Saarang began making a difference where it counts.-thehindu.com
Follow @timesonlinelk
comments powered by

Disqus