Rahil finds success at Truman
View(s):

Rahil Gomes, a freshman majoring in Visual Communications at Truman State University in Kirksville, Missouri, is having an eventful and exciting first year studying abroad.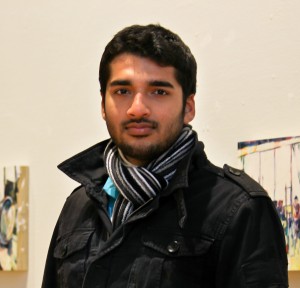 Since his arrival in the fall of 2012, Gomes has been busy with full course loads of 14 to 15 credit hours each semester. He has met success in all of his academic ventures. "At the moment I'm doing the foundation courses, drawing and design classes," Gomes said. "My teachers are all good and my grades have all been high. I really enjoy the work."
Gomes said his education at Truman has reinforced what he learned from previous experiences in his field of study, such as his internship at an advertising company in Indonesia. "Everything I learned [in Indonesia], I can relate to what I'm learning here," he said.
Academic obligations have not been the only thing on Gomes's schedule. He has also integrated seamlessly into the Truman community. Gomes is close friends with all of the students who live in his residence hall. He is also a part of Truman's Sri Lankan Students Association, a group that unites Sri Lankan students and organizes cultural events for the campus, such as the Sri Lankan New Year celebration.
In addition to his social and school life, Gomes has been spending his vacations travelling to other places in the country and getting a taste of American culture in its bigger cities. During winter vacation, he went to Chicago, Illinois with his roommate and two other international students. "When I went [to Chicago], it was Christmas time," Gomes said. "It was all lit up and very pretty."
Gomes's overall time spent at Truman State University and the United States has been positive, he said. "I am glad I came to Truman," Gomes said. "It's a whole new experience."
Truman State University is a public university in Northeast Missouri. It is ranked 19th out of 100 schools on Kiplinger's List of Best Values in Public Colleges, and is known throughout the U.S. for providing the highest quality public education available in the state of Missouri.
Rahil Gomes from Asian International School (AIS) reached Scholarships for USA (Pvt) Ltd (www.scholarshipsforusa.com) to find out which American universities and colleges are interested in offering him admissions with maximum scholarship. SUSA, with its extensive partner net work in US, was able to attract many attractive offers overnight. Rahil selected Truman State for its affordability, amount of scholarship and the quality education. SUSA, since 2001, has assisted more than 200 students across the island to have access to the world's number one higher education at a cost affordable to a larger majority of Sri Lanklan students .
Follow @timesonlinelk
comments powered by

Disqus