Govt. faces probe by independent UN body
View(s):

=  US to move strong resolution at UNHRC sessions; India also likely to support it

=  Prime movers in impeachment get top posts in new jumbo cabinet; Rs. 100m needed annually to maintain each ministry

By Our Political Editor

After a world record of having two Chief Justices, Sri Lanka set another last Monday. For almost every Member of Parliament who supported the UPFA government, the other is now a Minister, be it cabinet or otherwise.

Most of them will be in the north-eastern port city of Trincomalee tomorrow for ceremonies to mark Sri Lanka's 65th National Day. The event will be relatively low key with no fly past. There will only be a march past where 1,900 soldiers, 1,000 from the Navy, Air Force, Police and Civil Defence Force, 325 cadet corps members and 300 cadres from the Yovun Sena (Youth Force) will take part.

The focus is on the address to the nation by President Mahinda Rajapaksa. UPFA insiders say he is likely to refer to the recent impeachment of the Chief Justice and what the Government believes is an international conspiracy against Sri Lanka. They are alluding to the announcement this week that the United States will move another resolution against Sri Lanka at the UN Human Rights Council sessions which begin on February 25 in Geneva. The other, they say, are moves to derail the Commonwealth Heads of Government meeting in Hambantota in November this year.

There is a mixed bag of reasons why the latest re-shuffle brought the number of Cabinet Ministers to 65, deputies to 29 and saw the birth of two Project Ministers. None of them, if one is to go by previously accepted conventions, was necessitated by "under-performing ministers" or "under-utilised ministries." For more than a year, the media have been full of reports about a re-shuffle. It fuelled widespread belief that ministers who bungled or were incapable of tackling major issues would be moved out. That was to pave the way for those perceived as more capable to take over and give the public a better deal.

This is at a time when some brought both enormous public resentment and colossal embarrassment to the Government over key issues. Such issues included the infamous "Z" score for university admissions. Parents and students in their thousands thronged Hulftsdorp to seek legal remedy. The prolonged protests by academics forcing closure of universities coupled with growing student unrest was another. One closer to the heart of every Sri Lankan was essential commodities imperative for their day to day life. Like the satellite that went into celestial orbit bearing the country's name, the prices were becoming out of reach to the middle and lower classes. Just two years ago, Army personnel including officers in uniform were deployed to establish sales outlets for vegetables in the Greater Colombo area. They said they purchased it at the source. Hence they were able to sell at lesser prices in the wake of a major price hike. They seem helpless this time.

Retail traders including those marketing vegetables and private fish sales outlets speak of a marked change in buying patterns in the recent months. Owners of these outlets say those well attired wearing neckties now buy their requirements in small quantities like 200 or 300 grams. These were the same customers who once bought a kilo or two, they say. Imagine what further price increases in electricity, fuel, other goods and services will do to them. With corruption reaching new heights, life for some in the upper class has never been better. Fine dining restaurants now mushrooming are full. Luxury cars of different makes, some with engine capacities previously banned, form long lanes of traffic. Casinos are full and business is brisk. This has drawn more interest from foreign investors to the gambling industry.

Topping the list of reasons for the changes seems to be one to express gratitude. Anura Priyadarshana Yapa, who headed the Parliamentary Select Committee (PSC) to impeach Chief Justice Shirani Bandaranayake won a plum portfolio – Minister of Petroleum Industries. Yapa had held the relatively unimportant Ministry of Environment Promotion. PavithraWanniaratchchi, another prime mover in the impeachment effort, was also rewarded.

She was on the frontline collecting signatures from MPs of the UPFA, even without the motion to impeach the Chief Justice being annexed. She was appointed Minister of Power and Energy. She had also made representations earlier to Rajapaksa after the Sabaragamuwa Provincial Council elections ended. Her husband Kanchana Jayaratne had come first. She asked that he be appointed Chief Minister. Rajapaksa said it was not possible for a cabinet minister to have his next of kin or spouse as Chief Minister or vice versa. He then advised Wanniaratchchi to remain patient for a while. Her moment had arrived. It is now a case of both the Minister and the Deputy (Premlal Jayasekera) coming from the same Ratnapura District.

Next to those being rewarded were those who were punished. The biggest blow was on Patali Champika Ranawaka, who has held the Power and Energy portfolio for nearly three years. Another was Susil Premajayantha, General Secretary of the UPFA. He was made the Minister of Environment and Renewable Energy. Displeasure was written all over his face as he took his oaths before President Rajapaksa. It is no secret that he has presided over a Ministry where the foremost organisation, the Ceylon Petroleum Corporation (CPC), was riddled with corruption. The one-time Secretary to his Ministry and some CPC officials have already been arraigned before courts on bribery and corruption charges over procurement of adulterated fuel. Thousands of vehicles which used the fuel suffered carburettor and other damage but only a handful, including influential persons, were compensated. Trade unions both in the Ministry and the CPC have levelled serious charges at some who held top positions but no action has followed. Another record was the appointment of Lakshman Seneviratne as Minister of Sugar Industry Development. There is only one functioning sugar industry in Sri Lanka, the one at Sevanagala. It was taken over by the Government under the controversial law on acquisition of non-performing or under-utilised ventures.

Ranawaka has been assigned the Ministry of Technology, Research and Atomic Energy. "You cannot do this alone. Some quarters did not support me to move forward. I only accept what I can do. I know the power sector," he told the Sunday Times. I asked him whether he was disappointed. "I am not. I am a Buddhist," he declared but added that "I did come under pressure from the white collar mafia. They say that the power and energy sector is a gold plated industry."
He pointed out that "there were those who wanted me to place a solar power project there and a wind power unit elsewhere. We could not do that because we found it was not suitable for our needs. There were others who wanted to thrust unsuitable systems. This was when our equipment was compatible with British and European systems."
"I have never used public funds for personal reasons nor wasted them. I have not and will not leave room for bribery or corruption," the new Minister of Technology, Research and Atomic Energy said.

He added, "In the power sector, costs for projects are heavily inflated, sometimes up to 300 per cent of the original cost. This makes up for payment of santhosams or bribes at every tier in the system when it comes for approval. Then there are mechanisms where only one bidder would be left in the selection process. Such things are manipulated even through mathematical and legal processes to get a particular bidder to succeed." He said the white collar mafia had carried on a media campaign against him and disclosed that he had evidence of one media person receiving five million rupees from them. "I will reveal this very soon," Ranawaka said.

There were also other appointments guided by promises made earlier. This was particularly the elevation of Duminda Dissanayake as Minister of Education Services. Dissanayake is the son of Berty Premlal Dissanayake, a former Chief Minister of the North Central Province He has been sidelined by the President. He won last year's North Central Provincial Council elections but the post of Chief Minister went to S.M. Ranjith who secured the largest amount of preferential votes. The public relations maestro he is, Rajapaksa, whilst on a visit to Anuradhapura, turned up at the residence of Berty Premlal Dissanayake and asked him to wait patiently. Now his son who is the son-in-law of Prime Minister, D.M. Jayaratne, is a member of the cabinet. Berty Premlal Dissanayake was absent when his son was sworn in. During the ceremonies, Rajapaksa walked young Dissanayake upstairs for a brief chat but what was discussed is not known. A new portfolio that drew some public humour was the Ministry of Botanical Gardens and Public Recreation.
The incumbent is Jayaratne Herath who served as a Deputy Minister responsible for civil affairs in the government of Chandrika Bandaranaike Kumaratunga. Herath was in the limelight weeks ahead of the impeachment when he read out some anonymous literature in Parliament about Shirani Bandaranayake, who says she is still Chief Justice. It drew protest from Opposition Leader Ranil Wickremesinghe who said the MP could not serve in the Parliamentary Select Committee (then to be appointed) since he had disclosed his prejudice. What has drawn laughter is not the subject of botanical gardens since this was a portfolio once before. However, what is yet to be defined is Public Recreation prompting political satirists to ask whether boorupola (gambling fair) or musical shows would come under the new Ministry. Some UPFA insiders say the Kurunegala District politician, who began his career as a Provincial Councillor in North Western Province, is himself not happy about his new assignment.

However, he is yet in the cabinet. Another similar portfolio is Wildlife Resources Conservation assigned to VijithVijayamuni de Soysa. He was previously Deputy Minister of Education. In appointing Bashir Segu Dawood as Minister of Productivity Promotion, Rajapaksa has ruffled feathers further in the Sri Lanka Muslim Congress (SLMC). If its leader f Hakeem sat alone in the cabinet previously, he now has a colleague with whom he is at loggerheads though representing the same party. Some SLMC stalwarts are already accusing Segu Dawood of accepting a ministerial portfolio without the party's High Command's consent. Two Project Ministers, Rohitha Abeygunawardena and Nirmala Kotelawala have been tasked with the same subject – Ports and Highways.

Three Deputy Ministers have been tasked with Economic Development. Needless to say the State will have to provide resources to three holders of office for a position that could possibly have been held by one. They are S.M.Chandrasena, Susantha Punchinilame and M.L.A.M. Hisbullah. Three other Deputy Ministers are Faizer Mustapha (Investment Promotion), A.R.M. Abdul Cader (Environment and Renewable Energy) and Sarath Kumara Gunaratna (Fisheries and Aquatic Resources Development).

Rajapaksa defended his actions by saying a similar larger cabinet existed even during the tenure of the United National Party (UNP) government. He made the remarks during a dinner meeting with editors of national newspapers and heads of electronic media institutions on Monday.

The underlying reason for sharing portfolios, it appears, is to give the new incumbents all the perks of office including security escorts. All in all, the net effect of last Monday's political exercise is the consolidation of Rajapaksa's already strong power base. It delivers the message that loyalists are rewarded whilst the "not so loyal" are literally displaced. That seems to be the challenge for the remaining half of the UPFA parliamentarians who do not have portfolios. The main opposition United National Party (UNP) reacted angrily to the cabinet changes. General Secretary TissaAttanayaketold the Sunday Times,"The average expenditure to maintain a minister is about Rs 100 million (annually) and it is questionable whether we could afford to meet this expenditure."

He added: "The expansion of the Cabinet is another burden on the public. Instead of solving the problems of the people the Government has appointed more ministers creating a new world record.For the same subject several ministers have been appointed. There is one minister to even take care of the botanical gardens and another to look after sugar when 75 per cent of the sugar is imported to the country.If there was a minister for paddy cultivation or for tea, rubber or coconut we can accept that. Going by what has happened there may be soon separate ministers for milk food and vegetables.

"It is a burden on the public as they are being maintained with public funds. The ministers have stopped serving the public instead they remain in their homes and live on public funds.The cost of living has been rising. This is not due to the impact of international market prices, but due to the wastage of public funds including the expenditure for the cabinet of ministers.In addition almost all the government MPs have been appointed as 'Supervisory Ministers' and they too enjoy the same benefits like cabinet ministers."

JanathaVimukthiPeramuna (JVP)Propaganda Secretary Vijitha Herath told the Sunday Times, "It is clear the government has appointed ministers and deputies without any study of the benefits that accrue to the public. It is obvious that those who helped the President during the Impeachment crisis have been favoured. Pavithra Wanniarachchi who was one of the prime moversof the Impeachment motion and spoke in favour of it has been presented with a good cabinet portfolios and the PSC Chairman Anura Priyadharshana Yapa, too has been given one of the best ministries.

"There is a separate minister for the Board of Investment and there are four ministers for Economic Development. No changes have been made in the ministries such as Education and Higher Education where there were serious problems. Also Minister Mervyn Silva has been retained, despite his involvement in various controversies.The Environment Ministry has been entrusted to Susil Premajayantha. The subject under this ministry is forests. For Wildlife there is another Minister. Pavithra Wanniarachchi has been given the Ministry of Power and Energy, but the Renewable Energy section has been given to Minister Premajayantha. That is the reason we say there is no scientific allocation of the ministry subjects. Additional members to the cabinet are also a burden on the public at a time when the cost of living is high. There will be additional expenditure incurred to maintain the large cabinet. This would mean additional burden on the public. This is not what they expected."

For President Rajapaksa, the ministerial changes came amidst bad news this week. A US delegation led by veteran diplomat Jim Moore, now Deputy Assistant Secretary of State for South and Central Asian Affairs, announced in Colombo that Washington would move another resolution at the UN Human Rights Council in Geneva. Moore holds the number two position after Robert Blake.

He is in Colombo together with Jane Zimmerman, Deputy Assistant Secretary of State for South and Central Asian Affairs, and Vikram Singh, Deputy Assistant Secretary of Defence, on a week-long visit. The delegation leaves tomorrow for New Delhi. Days ahead of the visit of the delegation, United States Ambassador Michele Sison had during a meeting with External Affairs Minister G.L. Peiris told him that the US would move a resolution. The move appears to have jolted the Government into rapid action. A top level conference of officials was held at the External Affairs Ministry to formulate Sri Lanka's responses. Earlier plans were to allow Ravinath Ariyasinha,Sri Lanka's Ambassador to the UN in Geneva, to lead the country's delegation. Instead, official government spokesperson and Media Minister Keheliya Rambukwella announced at Thursday's media briefing that follows the weekly cabinet meeting, that Minister Mahinda Samarasinghe, President's Special Envoy on Human Rights, would lead the Sri Lanka team.

Interesting enough, Samarasinghe was unaware when the announcement was made, that he was leading the team. Later, however, Samarasinghe was informed and asked to make preparations. Adding to the concerns of the Government was news Minister Peiris brought after his visit to India for a meeting of the Joint Commission of the two countries. During a briefing to President Rajapaksa, EAM sources said, Peiris was not optimistic about New Delhi's support to Sri Lanka at the UNHRC sessions in Geneva. "They did not express anything positive," these sources said adding that there are "prospects that India would go with the United States."

There was more embarrassment for Peiris after his Ministry had publicised a call on Indian Prime Minister Manmohan Singh with a photograph. Calling on the Indian Premier the next day was former President Chandrika Bandaranaike Kumaratunga. She was in New Delhi in her capacity as a key player of Club de Madrid, a collective of former Presidents and Prime Ministers.

Hard on the heels of the US plans to move another resolution on Sri Lanka, two leading Senators wrote to the outgoing US Secretary of State, Hillary Rodham Clinton, asking her to call for an "independent international investigation into accountability issues" during the final phase of the war against Tiger guerrillas.

Senator Robert P. Casey, a member of the Senate Foreign Relations Committee (SFRC) and Senator Patrick Leahy, the senior most Senator of the Democratic Party said in their letter:

"Dear Madam Secretary:
"We are writing to urge you to call for an independent, international investigation into allegations of war crimes committed by the Government of Sri Lanka and the LTTE during the civil war in Sri Lanka. We also support a resolution at the upcoming UN Human Rights Council meeting which condemns the Government of Sri Lanka for not abiding by its commitments to seek accountability and reconciliation. During the years following the end of the war, the Sri Lankan people have waited for the government to address these concerns, yet no tangible or substantial progress has been made. Achieving a sustainable peace in Sri Lanka will require continued and sustained leadership by the United States and others in the international community committed to genuine accountability.

"Sri Lanka has repeatedly rejected any international inquiry into what it believes are domestic issues, and for the last year, the United States has supported the Government of Sri Lanka's Lessons Learned and Reconciliation Commission (LLRC) process. Notably, Amnesty International and Human Rights Watch refused to participate in the LLRC proceedings and called for an unbiased international inquiry. Their concerns were borne out in the LLRC's report, which exonerated the Sri Lankan Armed Forces from any human rights violations while accusing the Tamil fighters of committing mass atrocities. The report addressed a wide spectrum of issues, including: the demilitarization of civilian functions in the North; the creation of mechanisms to address cases of the missing and detained; and land reform, especially for persons displaced by the conflict. The LLRC and its recommendations, while certainly imperfect, are the Government of Sri Lanka's own proposed roadmap to peace. Over a year has now passed since the issuance of the report, and the Government has failed to do the difficult and necessary work of implementation.

"Last year, the State Department played a key leadership role in the passage of United Nations Human Rights Council Resolution 19/2, "Promoting reconciliation and accountability in Sri Lanka." This resolution called for the Government of Sri Lanka to implement the LLRC's constructive recommendations, while noting that the LLRC report failed to adequately address serious allegations of violations of international law. Yet despite the UNHRC resolution, the Government of Sri Lanka has done nothing to address the accountability concerns of the Council or, more importantly, of the Sri Lankan people. In July, the Government released a "National Action Plan to Implement the Recommendations of the LLRC," but this plan only established committees to "consider" the LLRC recommendations, without mandating or taking any specific action.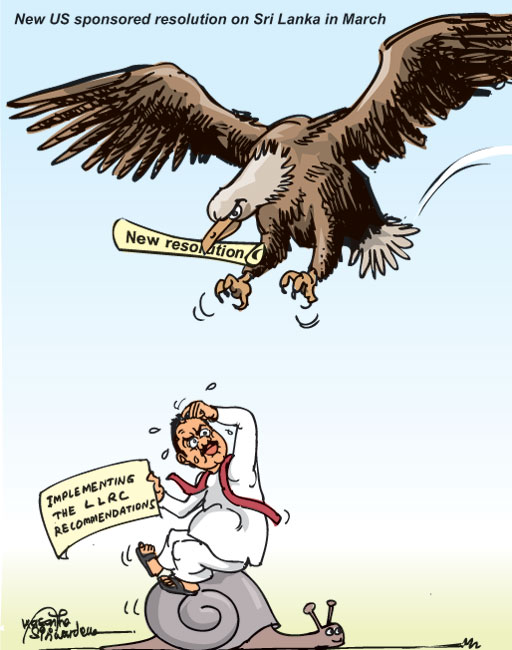 "The Sri Lankan people deserve better. In fact, as the Government of Sri Lanka fails to implement LLRC recommendations, the outlook for human and political rights in Sri Lanka appears to be getting worse. Although the LLRC report criticized the heavy militarization in the North and called for demilitarization of civilian functions, the Government of Sri Lanka has taken no tangible steps towards this goal. Continued military presence on private lands in the North is preventing the resettlement of internally displaced persons who desire a return to peaceful life.Additionally, security forces reportedly attacked Jaffna University students during a non-violent demonstration and submitted four students to involuntary rehabilitation. Such repression violates Sri Lankans' right to peaceful expression.
"We are particularly concerned about the recent impeachment of Sri Lanka's Supreme Court Chief Justice, Shirani Bandaranayake. Ms.Bandaranayake pursued judicial independence by issuing court rulings that fell afoul of Colombo's political elite. As your Department noted in a recent statement, this move by President Rajapaksa and his supporters in Parliament threatens the rule of law and the separation of powers, which are the cornerstones of a healthy democracy.
"The Government of Sri Lanka has also continued to harass, intimidate, and even imprison journalists and activists that bravely express dissenting views or report on sensitive topics. As a recent Human Rights Watch report states, "The government's campaign of harassment and intimidation of the media, plus the failure to investigate seriously abuses against journalists, has led to widespread self-censorship and caused many journalists to flee the country." A truly free press is a prerequisite for holding the Government of Sri Lanka accountable for the implementation of the LLRC. We are concerned that the Government of Sri Lanka will continue to repress dissent unless the international community takes action.
"In our November 2011 letter to you, we called for an independent investigation if the Government of Sri Lanka "failed to take credible steps to investigate and hold perpetrators accountable for the array of allegations documented in the UN Panel of Experts report." We urge the State Department to pursue a resolution at the upcoming UNHRC session that would highlight the Sri Lankan government's failure to implement the LLRC recommendations and decide to set up an independent international commission of inquiry.
"Accountability is a necessary precursor to reconciliation and a stable democracy in Sri Lanka. It is clear to us that the LLRC process is mired in bias and delays, and only an independent, international investigation will achieve real accountability. Thank you for your attention to this matter and for your timely response."
Interesting enough, the letter by the two Senators embody some of the key elements that are likely to be reflected in the new US resolution. They say that they support a resolution at the upcoming UN Human Rights Council meeting which condemns the Government of Sri Lanka for not abiding by its commitments to seek accountability and reconciliation." If the two senior Senators are correct, the resolution is condemnatory. Among the other elements are the "non-implementation of the LLRC recommendations," "Heavy military presence in North," "Attack on Jaffna University Students," and the "Impeachment of Chief Justice ShiraniBandaranayake."
"Most of the questions at the dinner meeting for national newspaper editors and electronic media heads were on issues related to the impeachment of Chief Justice ShiraniBandaranayake. Rajapaksa answered them, sometimes with interceptions by External Affairs Minister Peiris. Here are edited excerpts:
"Q: Was there any adverse effect on the country due to the impeachment?
"President: I don't think so. What was initiated was not politically motivated. It is Parliament which has the powers regarding the disciplinary issues on the Chief Justice. Constitutionally the powers have been vested with Parliament. It was only exercising its powers under the Constitution.
Also do not forget who called for investigations on the Chief Justice (ShraniBandaranayake) and her husband (Pradeepa Kariyawasam). It was the JVP which first called for such investigations. It was followed by the UNP. They carried out a strong campaign and built opinion on this. When there is an opinion built on an issue the Government cannot ignore it. Even the media built an opinion on it, the Government is sensitive to it.
"The Government respected the media and acted according to the Constitution.
There are shortcomings which need to be corrected in the Constitution.
No one questions the authority of the Judiciary. Under this impeachment process I do not have the power to stop it. However, to ensure that the decision was correct I consulted four persons. One of them was Sri Lankan born Australian citizen Prof. Mark Cooray. He has written about 50 books and published about 450 articles in journals and newspapers. He also has been consulted by Australia, England and New Zealand and lectured to Judges in Britain. This is because I wanted to make sure that the decision was correct.
"Q: Who were the three others you consulted?
"President: They said not to disclose their names. One of them has been in the field of bank administration for more than 30 years. Others were in the legal field.
"Q: Did they give the same opinion?
"President: Yes, all four gave the same response.
"President: The opposition was making a huge issue on this. They did not allow me to watch a match peacefully. If I was in the opposition I will do the same. But this situation should change. After suffering from a war of thirty years this situation should change.
"Q: You said there was no adverse effect locally, what about the international repercussions?
"President: There are some from within the country who capitalise on this situation. They keep on writing letters and they continue to do so.
"G.L Perris: Even before this issue came up, there were protests.
"President: Yes, these protests have been continuing. They were there in the past.
"Q: Do you say there was no harm done to the judiciary?
"President: No harm at all.
"Q: What about disregarding the Supreme Court determination?
"President: It is Parliament which has the power. You should consider the powers vested with the legislature. No one questions the powers of the Supreme Court. How many cases have been dismissed on technical points or judgments? But the Standing Orders of Parliament are very clear and Parliament has acted accordingly.
"Q: In the impeachment motion there were allegations against the Chief Justice. What happens to them?
"President: The respective institutions such as the Bribery Commission should look into them. It was the JVP which first went to the Bribery Commission.
"Q: What about the Constitutional amendments?
"President: A Committee will be appointed for this. If you think that it was due to a certain Bill that the action was taken, that is not correct. If that was the case we should have taken action when amendments to the Appropriation Bill were suggested. This has been something which has been there since 1975. In fact one of the judges who gave the decision had approved it in the previous year.
"Q: Since you have a two thirds majority in Parliament, isn't it time to think of the Constitutional amendments?
"President: That is the reason we have proposed a Parliamentary Select Committee. This is not only for the ethnic question. If I do something on my own they will say that I am a dictator. We should not only talk about them.
"Q: There is a controversy by appointing a legal adviser to the Cabinet as the Chief Justice.
"President: There have been times when Central Committee members of the party have been appointed as judges. There were some others who came on stage for elections and were appointed as judges. What is wrong in advising the government. Normally the senior lawyers are with the UNP. One of the recently appointed President's Counsel also appeared against us.
"I think the Chief Justice (Mohan Peiris) is an independent person. Even the lawyers who said they were boycotting the ceremonial sitting turned up for the event. Senior lawyers were present. The boycott was a failure. When she (ShiraniBandaranayake) was appointed to the bench there were petitions that she was not even a Magistrate."
Meanwhile, a delegation from the International Bar Association's Human Rights Institute (IBAHRI) headed by retired Chief Justice of India Jagdish Sharan Verma has been forced to abandon a visit to Colombo. They were to "assess the rule of law and independence of the judiciary." They were issued Sri Lanka visas which were later cancelled. The IBAHRI said in a statement, "The IBAHRI delegation consisting of distinguished jurists was scheduled to visit Sri Lanka from 1st to 10th February 2013. A visa had been issued to one member of the delegation on 18th January 2013 and was revoked on 29th January 2013, while approval to enter the country was suspended in the cases of other delegates on 29th and 30th January 2013.
"The high-level delegation had intended to conduct meetings and consult a wide diversity of stakeholders in regard to the development of the legal profession, the rule of law and the independence of the judiciary in Sri Lanka, including members of the legal profession, government, media and civil society.
"The IBAHRI has expressed its serious concern to the Sri Lankan High Commission in London regarding the revocation and suspension of entry approval for its high-level delegates and looks forward to working together with the relevant authorities in ensuring a speedy and satisfactory resolution."
The move came as Shirani Bandaranayake turned down an invitation by the UK based Global Tamil Forum to take part in their third anniversary sessions at Committee Room 14 of the British Parliament on February 27. Among those listed to speak is Britain's Deputy Prime Minister Nick Clegg. Bandaranayake has told Suren Surendran of the GTF that she was not prepared to compromise her position as Chief Justice of Sri Lanka by taking part in that event. A delegation from the Tamil National Alliance (TNA) is due to participate in the event.
The events unfolding since the dawn of 2013 have not been good news for the UPFA Government. The impeachment of Chief Justice Bandaranayake drew bad publicity besides condemnation not only in Sri Lanka but also abroad. Now with only weeks to go, a US-backed resolution which the Government suspects would be backed by India, has become a matter of prime concern. This is besides the Commonwealth Heads of Government Meetings (CHOGM) in November showing signs of hanging in the balance.
There was proof of this in the form of Sajin Vass Gunawardena, Monitoring MP for the External Affairs Ministry, carrying out silent diplomacy in London. Tomorrow, President Rajapaksa is sure to spell out his government's response to some of these main issues. That will no doubt be another salvo. No doubt that would further consolidate his domestic support base. This is sure to reflect in the upcoming elections in the Wayamba and Central Provinces. The two councils are to be dissolved in the coming weeks. The question is how much it would isolate Sri Lanka overseas and how much damage it would cause, both politically and economically.
Ranawaka vows to expose shocking corruption in CEB
=  Alleges that white collar mafia paid Rs. 5 million to a journalist
Patali Champika Ranawaka, a key player in the JathikaHelaUrumaya, was last Monday ousted from his powerful portfolio for nearly three years, the Ministry of Power and Energy.
Last Monday, he was sworn in as the Minister of Technology, Research and Atomic Energy. Here are edited excerpts from a Q & A:
ON HIS SHIFT FROM THE POWER & ENERGY MINISTRY: People have given us a mandate. I do not accept what I cannot do. I know the power sector very well. I work. I am with the Government. I have neither used nor wasted public funds for personal reasons. I wanted to develop the Ceylon Electricity Board to one that would eventually function outside Treasury control. I have not only worked for the Buddhists but also for all other communities.
I have never discriminated against anyone on grounds of religion or community. I have not and will never leave room for bribery and corruption. I had pressure from various quarters. The power and energy sector is called the gold plated industry. People want me to place a solar project here and wind power project there. We found they are not at all suitable for our requirements.
Costs for projects are inflated, sometimes by 300 per cent or more. This shows provision is made by interested parties to meet illegal costs they incur at various tiers when they seek approval. Some are trying to instigate workers. There are others who want projects for renewable energy. There are technical constraints. There is a white collar mafia at work. They carried out a media campaign against me. They have a lot of money. I have evidence that a media person was paid five million rupees. I will expose this very soon.
ON HIS NEW MINISTRY OF TECHNOLOGY, RESEARCH AND ATOMIC ENERGY: One of my priorities will be to help small and indigenous entrepreneurs. They should be empowered. I will also protect the dignity and self-respect of the staff that work for me.
ON WHETHER HE HAS PLANS FOR INTRODUCING NUCLEAR POWER: Introduction of nuclear power to a small country like Sri Lanka entails a lot of problems. One is not sure where to dump the waste from such a plant. There are no safety measures. There is danger of radiation leak that we may not be able to control. Nuclear accidents could occur like what happened in Ukraine, the Three Mile Island in the United States and the Fukushima Nuclear Plant in Japan. That is not a good idea.
PRIVATISATION OF THE CEYLON ELECTRICITY BOARD: Mere privatisation does not mean the cost of electricity is going to come down. The power supplied now by independent providers is more costly than what is produced by the CEB. It could go up by as much as 150 per cent. What we require is a powerful entity. Technically a CEB does not exist. It was unbundled during the time of the late President J.R. Jayewardene. Some aspects of this are laudable. There are arms for generation, transmissions and four district entities. The CEB should be strengthened whilst a regulatory mechanism remains in place. The CEB had constraints because of reasons outside my control. The decline in the rupee to the dollar was one of them. The other was the mounting fuel charges. We managed last year without power cuts. The government of Chandrika Bandaranaike Kumaratunga fell in 2002 due to power cuts. We managed it 24/7. At present there is only financial audit. There should be management and technical audits too to ensure efficiency.
ON THE UNITED STATES' MOVE TO INTRODUCE ANOTHER RESOLUTION AGAINST SRI LANKA AT THE HUMAN RIGHTS COUNCIL IN GENEVA: The United States is trying to use external mechanisms to probe into our internal matters. It will have to look at its own backyard. It will now cite the impeachment motion and say we have been biased. It will give us time but corner our economy. The target is 2015 when the office of the presidency completes four years and an election is possible in terms of the Constitution. Then the parliamentary elections will have to be held in 2016. To face these challenges, we need to have an economic strategy.
IMPEACHMENT OF CHIEF JUSTICE SHIRANI BANDARANAYAKE: It has been done in accordance with the Constitution. That is the right of Parliament. Everywhere in the world judges have been expelled using Parliament. It has been accepted that Parliament has the power.
Follow @timesonlinelk
comments powered by

Disqus