Pigeon Island national park status in the balance
View(s):

By Malaka Rodrigo

Pigeon Island is one of the two marine national parks of Sri Lanka with some of the best remaining coral reefs of the country, is under threat with moves to strip its National Park status citing it as a hindrance for development, environmentalists claimed. 

A proposal to de-list Pigeon Island has already been sent before the required amendments are drafted, they said. Wildlife Ministry Secretary Udeni Wickremasinghe denied attempts to delist Pigeon Island as a National Park.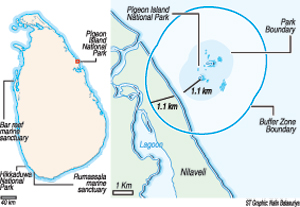 However environmentalists said they were aware of plans by the Wild Life Department to delist this island as a national park. In 2011 the Green Movement of Sri Lanka which wrote to Department of Wildlife Conservation has received a written reply assuring Pigeon Island's Marine National Park status will not be stripped.
However, it is sad, if any fresh attempt would be made to strip its status, commented Gayan Pradeep Wijethunga of the Green Movement. Through a media release, Green Movement alleges that already a few hotels are built in the buffer zone and this issue was blocking the opening of at least one hotel resulting in those in power making amendments to the law. 
However, some point out it is not fair trying to manage a Marine National Park on the same basis as land based National Parks such as Yala or Udawalawe. So they don't see a huge issue in ending the buffer zones of National Parks by the water's edge at the beach while calling for introduction of new specific amendments to protect Marine Protected Areas from pollution and over exploitation. However, Jagath Gunawardane, an environmental lawyer says the buffer zone even on land helps to prevent pollution etc., so there is no need for any relaxation of the law for Marine National Parks.
Even with its status as a National Park, Pigeon Island faces many challenges. While fishermen are using illegal methods to catch fish, visitor pressure too has risen. More marine resources too will need to serve these tourists, but at the same time Sri Lanka also can gain financially from tourism. So it needs more thinking to manage these two goals, other conservationists point out.
Follow @timesonlinelk
comments powered by

Disqus