Mango under the microscope
View(s):

Researchers to discuss progress in improving its quality and preservation

By Kumudini Hettiarachchi and Shaveen Jeewandara

The luscious but humble mango found in many a home garden will be the centre of attention as three scientific research teams from different parts of the world gather in Colombo tomorrow.

With the mango at the centre, the three collaborative teams from the University of Guelph, Ontario in Canada; the Tamil Nadu Agricultural University, Coimbatore in India; and the Industrial Technology Institute (ITI) in Sri Lanka are meeting to discuss how far they have progressed in enhancing the quality and preservation of fruits in South Asia.

This follows a prestigious grant that the Canada-India-Sri Lanka team was able to win, competing with 350 other research ideas, from Canada's International Development Research Centre (IDRC) and the Canadian International Development Agency (CIDA) in June 2012. 

The team's 'mango project' in which technology is being developed not only to reduce post-harvest losses but also increase the shelf-life of mangoes is among six research projects from across the world, all of which have been allotted Cdn$16.5 million under the Canadian International Food Security Research Fund (CIFSRF). The fund's vision is to bring "Canadian and developing-country researchers together to produce lasting solutions to combat hunger and food insecurity in the developing world". The two-year project ends in 2014.

Pointing out that 40% of mangoes are destroyed not only due to lack of proper storage and refrigeration facilities but also handling, ITI's Project Leader and former Additional Director (Research) Dr. Shanthi Wilson said that they are collaborating to use a natural anti-microbial agent and nanotechnology to develop smart packaging that reduces post-harvest losses.

Detailing the project, Dr. Wilson explained that ITI has developed a bio-wax not injurious to human health which slows the ripening process, prolongs the shelf-life and preserves the freshness of the fruit. It has also experimented with kehel bada (the pseudo stem of the banana plant) as a packaging material to ensconce each mango within the cardboard boxes they are packed into. These natural separators would help keep the mangoes from rubbing against each other and getting damaged which would result in quicker spoilage.
The University of Guelph has patented a technology using a safe plant-derived chemical compound as an anti-microbial agent to reduce post-harvest losses and the Tamil Nadu Agriculture University a nano-film to extend the shelf life of fruits and vegetables, the Sunday Times learns.

"Now we are attempting to put everything together to develop a simple low-cost delivery system that prolongs freshness and improves the quality of highly perishable fruits," says Dr. Wilson.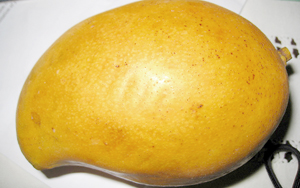 The nano-particles are developed from agricultural waste with the natural fibres extracted from banana plants. The hope is that the technologies thus developed could be adapted to other economically important fruits, flowers and vegetables. The University of Guelph is testing with cherries and other temperate fruits. 
If kehel bada — found in abundance in mango-growing areas such as Uda Walawe and Alawwa but is usually discarded – can be used as separators in the packaging, it would help provide gainful employment at the grassroots, she says.
The ITI team's journeys to check out mango production have shown that although men pick and bring the mangoes to the collection centres, many of the "mango-handlers" before re-distribution are women, who sort and re-pack the fruit into boxes. 
In Jaffna, the team had found that the mango trees are neglected, not trimmed and infected with pests due to the area having been conflict-affected. "So this is a good opportunity to share post-harvest technology with the growers in Jaffna, while encouraging them to maintain the mango trees in the proper manner," she said.
Although there are about 17-20 varieties of mangoes, the ITI is focusing on the well-known karthakolomban as well as TJC mangoes grown in plantations on a wider scale, it is learnt.
Aiming for the "competitive grant" from CIFSRF, the three teams met last year and "went back to our own labs" to get on with the work, says Dr. Wilson. Thereafter, the links were mainly on skype. The project has also been instrumental in getting three Sri Lankan M.Phil students trained in material science, post-harvest pathology and bio-chemistry.
While embarking on a study on the status of mango products in Sri Lanka, the mango project's "expected outcomes" are a smart-delivery system that can form the inner lining of fruit cartons, dividers and wraps; reduction of post-harvest wastage; higher income for growers, better jobs and entrepreneurial opportunities for women; and a way to recycle common waste from banana.
Workshop tomorrow 
The stakeholder workshop on 'Enhancing quality & preservation of fruits in South Asia' will be held at the Galle Face Hotel, Colombo, tomorrow.
From the University of Guelph Dr. Jay Subramanian will speak on 'Global fruit industry: The need for improving quality requirements' and Prof. Gopi Paliyath on 'Emerging technologies to meet consumer demands for quality fruits'; from the Tamil Nadu Agricultural University Prof. K.S. Subramaniam on 'Role of nano technology in post-harvest preservation of fruits'; and from ITI Dr. Shanthi Wilson on 'Developing a quality product for domestic and international markets: The Sri Lankan perspective – A case study on mango'.
The workshop will see 20 from India, six from Canada and 10 from Sri Lanka brainstorming over fruit and vegetables and how to preserve them. The teams will include post-harvest biologists, toxicologists, plant pathologists, bio-chemists, material scientists, intellectual property experts and information service centre staff.
Follow @timesonlinelk
comments powered by

Disqus