Garment industry giving way!
View(s):

As factories close down and people lose livelihoods, the questions that arise are is the industry feeling the effects of losing (GSP+) concessions, is it inefficient management of factories or the lack of diversification of markets and products? Charundi Panagoda gets the views of different stakeholders in the industry

The garment industry is in crisis as the consequences of losing the EU's Generalised Scheme of Tariff Preferences Plus (GSP+) concessions are just being felt.

The European Union's (EU) GSP+ scheme granted Sri Lanka duty-free access to EU markets, especially for the garment industry that makes up the bulk of the country's exports to the EU. Sri Lanka lost GSP+ concessions in 2010, amidst political controversy. 

The full impact of losing the concessions are being felt now, as already some factories that cater to Europe are closing down operations in Sri Lanka and moving to other countries that have EU concessions, such as Bangladesh and Vietnam.

Free Trade Zone (FTZ) companies, Crystal Sweaters in Malwatta and Firefox, a bicycle parts assembling plant, in Wattala recently ceased operations claiming loss of business due to loss of GSP+ concessions. The owners of both companies have returned to their native countries and have ordered the equipment on the sites to be packed and shipped to Bangladesh, where they'll resume operations. 

About 1,100 workers at Crystal Sweaters and 600 workers at Firefox are now without jobs, B.I. Abdeen, organisation secretary of the Inter Company Employees Union, said.

"Also, about 1,500 more workers lost jobs in Gampaha because of the GSP+ issue," he said. "Thousands of workers have lost permanent jobs and hundreds of families have lost their only source of income. The government is responsible for this loss of livelihood." 

The factories have been struggling for some time, he added. Initially, the workers were given extended holidays that made it nearly impossible for them to clock in enough hours or claim overtime to earn a sufficient monthly wage.

Unionists said the most affected were small companies outside the FTZ. These companies depend on larger ones to outsource contracts to them. Now without the GSP+ concessions, larger companies that focus on EU markets were not getting as many contracts leading to a less number of sub-contracts, forcing small companies out of business and out of the country.

"Soon there will be an industry-wide crisis," Progress Union President Palitha Athukorala said. "Many wholesale workers will leave without proper salaries. Genuine industries will be unable to carry on anymore if they suffer significant losses without the concessions."

However, the garment industry as a whole is not being affected due to the loss of GSP+, Joint Apparel Association Forum (JAAF) Secretary General Tuly Cooray said adding that only the factories that worked "purely" on concessions and depended on exports to the EU were closing down. He compared the situation to Vanaspati palm oil, which was set up under Indo-Lanka agreements, but ultimately collapsed when India reinstated tariffs. 

"The GSP+ concessions are only a luxury, without it the whole industry isn't going to collapse," Mr. Cooray said. "Our industry is much stronger than the few isolated incidents indicate. I don't see closing down of companies purely because of GSP+ as other weaknesses like inefficiency and inability to produce to a price acceptable by the international markets factor in."

A Board of Investment (BOI) official said the loss of GSP+ has not been identified as a cause for factories to shut down. Business problems such as management disputes were cited as reasons for ceasing operations. The official said neither Crystal Sweaters nor Firefox officially claimed GSP+ as the reason for closure. 
"Maybe, indirectly they are affected by GSP+," the official added. "The problem is our prices can't compete with other countries where labour and production costs are less. Ultimately, businesspeople want profits, so they move to low-wage countries like Bangladesh."

Some factories falsely claim they have shut down because of GSP+, when in reality they might not want to pay higher salaries or local taxes, Chamila Thushari, FTZ women's organisation programme coordinator, said. Some companies relocate when they have outlived their BOI tax holidays. 

"One time, when workers complained the compensations they received when the company closed wasn't enough, the company spread a false rumor that they were running out of business because of GSP+," Ms. Thushari said. "One company was 20 years old and had to pay taxes again, so they relocated."

On the other hand, economists identify a range of complex and interconnected problems as reasons for the country's decline in garment exports. The main problem is that Sri Lanka's exports are heavily concentrated in the U.S. and EU countries, Economist Muttukrishna Sarvananthan said. 

"There's a mismatch between our imports and exports; we import mainly from Asian countries like India and China and export mainly to the EU and the U.S.," Dr. Sarvananthan said. "We have not been able to diversify to emerging Asian markets. That cannot be changed overnight. We need to make serious policy changes."

The cost of production has also risen in Sri Lanka with rising fuel and electricity prices, which also contribute to factories closing down and relocating, Ashani Abeysekara, research assistant at the Institute for Policy Studies said. 

"We cannot compete on the price factor," she added. "We should continue to compete on the value factor instead by producing higher-quality products than the other countries. For that we need to invest in new technologies."

Other than diversifying markets, Sri Lanka also needs to diversify its products. Dr. Sarvananthan added that the country depends too much on the garment industry when the long term sustainability of the industry is "questionable." Unlike traditional industries like rubber and spices which survived the recession, new industries like garments are mushrooming in a lot of countries that have GSP+ concessions and low wages, putting Sri Lanka at a disadvantage.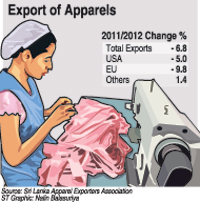 However, unionists maintain that the government should find a solution to reinstate GSP+ concessions.
"Both the government and the employers are responsible for this crisis," Anton Marcus, joint- secretary of the FTZ and General Services Employees Union said. "Employers, trade unions and the government all together should find a method to reclaim GSP+ status. The government created this problem by breaking promises to abide by the human rights conventions."
The EU grants GSP+ status to developing, economically vulnerable countries that have "ratified and effectively implemented" 27 core international conventions on environment, good governance, and human and labour rights. Sri Lanka obtained GSP+ status in 2005, but subsequently became ineligible upon review in 2008, amidst allegations of war crimes. 
In 2009, then Minister of International Trade G.L. Pieris said, "many smaller garment factories may close if Sri Lanka loses the benefit, resulting in hundreds of thousands of job losses, particularly among rural women."
That same year, an EU investigation report concluded that the government had breached its obligations under GSP+ by failing to "effectively implement," notably, the International Covenant on Civil and Political Rights (ICCPR), Convention Against Torture and other Cruel, Inhuman or Degrading Treatment or Punishment (CAT), and the Convention on Rights of the Child (CRC). 
The government refused to consider the EU's 15 demands to retain GSP+ status. In 2010, then External Affairs Ministry Secretary late Romesh Jayasinghe said the demands "could not be accepted by a sovereign nation even if it meant losing the tax concessions."
Sri Lanka remains eligible to reapply for GSP+, according to an EU Information Notice published in November last year. However, the government has shown "no indication they want to apply for GSP+ so far," Barnard Savage, Head of Delegation of the European Union to Sri Lanka and the Maldives, said. 
External Affairs Ministry Secretary Karunathileka Amunugama said there were no new developments on GSP+.
Follow @timesonlinelk
comments powered by

Disqus