Sound, silence and the space around
View(s):

With a number one hit already under his belt, Thricona is turning the tables in Sri Lankan EDM

Electronic Dance Music (EDM) artist Thricona likes to get creative when he's mixing his own music. "I like to use some percussive sounds, cellos and violins, gated pads and some synthetic sounds," he tells the Mirror Magazine, explaining that his music is currently all about the instruments and he's yet to incorporate vocals.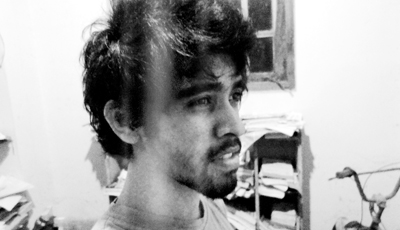 Duminda Wijesinghe, the young artist behind the name Thricona, explains that he chose the name because it means a triangle made from three elements. "I believe music is made of sound, silence and space. There's no silence without the existence of sound and there's no music without the existence of silence and sound travels through space before it reaches our ears. I want listeners to feel sound, silence and the space around them…"
Duminda grew up in Kurunegala and is still based there. The son of a field officer at Silk Development Authority, he did his A/Ls in 2010 (choosing Maths, Chemistry and Physics as his subjects) before gaining admission to the National Institute of Business Management (NIBM) where's he's currently studying for a diploma in Computer System Design.
He says he creates his music with an audience in mind: "I want to make people dance and make them attached to my music so I'm trying to accomplish that by making music that is just perfectly enjoyable while capturing the essence of the artist that I am." 
A fan of artists like Armin Van Buuren, Markus Schulz, Above and Beyond, Gareth Emery, Orjan Nilsen, W&W, deadmau5 and Skrillex, Duminda describes his own sound as "little bit deep and emotional" but adds that he's in full experimentation mode. In particular, he wants to add more energy. He's had some success with tracks like 'Kino,' 'Eastern Love' and 'United Tribes' – the last climbed to the No.1 spot on TNL Radio's Criminal Records Most Wanted Coutdown and spent three weeks on the top and is now currently on the YES Home Grown Top 15. United Tribes, says Duminda, was the hit he never thought would ever happen. "Getting my tracks played on YES101 & TNL Radio and seeing it chart and hit number 1" is a highlight of his fledgling career and so is having a track picked up by bordermovement.com.
Several of Duminda's tracks are up on soundcloud.com/thricona. Check him out.
Follow @timesonlinelk
comments powered by

Disqus