Loon Tao Best Chinese cuisine in town
View(s):

By Sanath Weerasuriya

Popular and cozy restaurant on Mount Lavinia beach off College Avenue, 'Loon Tao' is a Chinese specialty restaurant which has gained a name since its launch five years ago.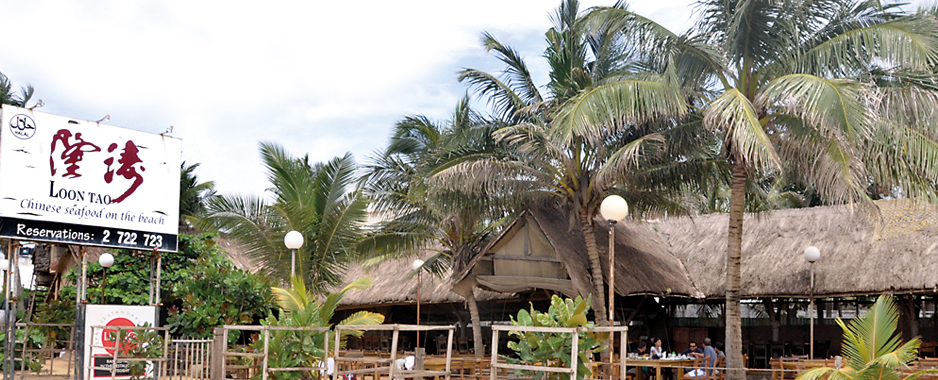 Loon Tao in Chinese known as 'Waves of Prosperity' and true to its name, Loon Tao is a waves of prosperity, when it comes to cuisine.
The restaurant is a unique concept of its proprietor Janaka Wimalananda, combining a great Seafood cuisine and as an entertainment venue. Apart from day to day dining experience on beach at the loon Tao, it has come in unique place for private parties, gigs, corporate functions, product launches, get togethers and beach shows.
'We have about 1000sq feet wooden dance floor that would take our clients to the next level of Entertainment under the stars. This is about the only beach facility that would cater to all such functions with a difference' explained Janaka.
Loon Tao is blessed with an experienced Master Chef from Beijing, who crates Chinese dishes and fusion food with a different style. 
Master Chef Ye Zhou from China who is also a Seafood Specialist blessed with enormous experience behind him to serve Cantonese, Schezuwan, Peking and Shanghai Cuisine at its best. Master Chef Ye Zhou is assisted by Sous Chef Wong Qing from Beijing and Dim Sum Chef Shen Huizhu from Shanghai.
Loon Tao has quite a large menu, boasting 263 items and focusing mainly on seafood. 'Chef Shen specialises in the making of dim sum and this is the second place next to the Hilton where dim sum is served in the country' said Janaka, who is also a expert in Japanese cuisine, with years of hands on experience in Japan.
Janaka went on to state that the Master Chef has 20 years of experience as a chef, out of which 10 years have been out of China, therefore making him accustomed to Chinese cuisine in and outside China. Ye Zhou is an expert in the four main forms of Chinese cuisine – Cantonese, Schezuan, Peking and Shanghai – the gastronomical provinces of China.
Hot Butter Cuttle Fish, Deep Fried Prawn Blocks, Deep Fried Cuttle Fish Balls, Prawn Toast with Sesami and Prawn Salad are some of the popular appetizers on the menu. 'Shanghai Style' Hot & Sour Seafood and Chicken Soup are two of the popular soups.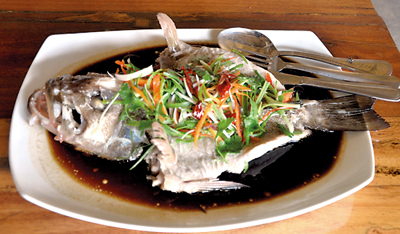 Cantonese Style Stir Fried Prawns with Celery, Prawns in Hot Garlic Sauce, Steamed Prawns with Garlic Sauce, Schezuwan Style Chilli Prawns, Thai Style Stir Fried Fish Fillet, Chunky Fried Fillet of Fish in Lemon Sauce, Hongkong Style Deep Fried Fish Fillet with Panko, Deep Fried whole Promphet with Thai Sauce, Shanghai Style home made deep fried whole promphet, Dual Taste Deep Fried whole Garupa in Special Sauce, Steamed Lobster in Garlic Sauce, Deep Fried Lobster with Butter Sauce.,
Lagoon Crab, 'Schezuwan Style' Deep Fried Chilli Crab, Schezuwan Style Kung Bao Chicken, Deep Fried Chicken in Hot Garlic Chilli Sauce, Roasted Duck in Hot Garlic Chilli Sauce, Stir Fried Lamb in Onion Sauce, Indonesian Style' Lamb, BBQ Lamb Chop with Chinese Sauce, Stir Fried Beef with Black Pepper Sauce, Crispy Deep Fried Beef, BBQ Beef Fillet in Special Sauce are few of the fast moving dishes according to the Master Chef. Al so there are Sizzlers and hot pot favourites along with "Fu Kui" Fried Rice with Crab Meat (wet), Indian Style" Chinese Seafood Fried Rice, Noodles and veg dishes are available for lunch and dinner .
'Sunday is a special day with family outing. So we have changing rooms and showers available adds the touch of privacy you need' he added.
All dishes prepared by our Master Chef Ye Zhou are on the Take Away menu. You may either call in person or we are just a phone call away to have your Take Away meals prepared at a short notice.
For more details call 2722733 or log on to www.loontao.com.
Follow @timesonlinelk
comments powered by

Disqus