Calmed by art
View(s):

For Charith Weerasena painting is almost a form of meditation. "It calms my mind and relaxes it," says the 34-year-old artist who has lived with health problems since he was young. As a child, his family remembers his teachers commending his drawings and pointing out his expert eye for colour. Charith himself says he first started painting in 1996 when he was 17 years old.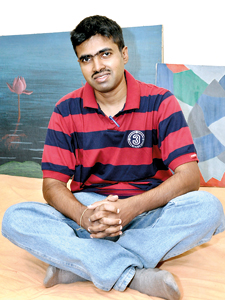 He has a love for creating landscapes and cultural paintings that draw inspiration from Sri Lankan history and architecture.
He uses symbolism in some of his paintings to convey inner truths – closed flowers and closed books equate introverts while the opposite is meant to evoke the traits of an extrovert. As a painter, Charith has had many mentors: the Rev. Sumedha, the Swiss artist Minette Melder (nee Muller) during his years at Trinity College in Kandy and teachers in Ithaca, U.S.A where he spent some of his formative years. More recently, he has honed his art under the guidance of artist S.H Sarath.
Particularly in his landscapes, Charith seeks to convey change and transformation, taking particular pleasure in depicting waterways, oceans and waterfalls, which he believes soothes both the viewer and himself. "It takes about one week to finish the painting, to touch the colours and make it beautiful, to finish it," he said, explaining that he typically begins working in the morning and picks it up again later in the evening.
Significant health related challenges have made the going tough for Charith and his family, and he has had years when he couldn't find it in himself to paint, now however, he is enjoying a resurgence and has also taken to sculpting and photography. The former has him working with wood to create animals and fruit.
Charith Weerasena's solo art exhibition is on at the Serendipity Gallery Café, Leyn Baan Street, Fort, Galle from January 26– February 26.
Follow @timesonlinelk
comments powered by

Disqus