After Rizana, Govt. wants ambassador's head
View(s):

At last officials in the External Affairs Ministry have galvanised themselves into some action.  They are sharpening their blunt swords to seek an explanation from Ahmed Aflal Jawad, Sri Lanka's Ambassador to Saudi Arabia.

They want to know why he disobeyed a Presidential directive, issued on January 10, to return to Colombo with "immediate effect". The MEA warned when sending out the directive that his salary would be withheld if he did not return. 

EAM sources say Jawad went incommunicado soon after the directive went out. He reportedly switched off his mobile phone and was not taking any calls from Colombo. Among those who tried to reach him was the Sunday Times.

These sources say he had approached some senior Muslim politicians who had promised to speak to President Mahinda Rajapaksa. It was on the grounds that a recall would hurt Sri Lanka-Saudi Arabia relations. However, Mr. Rajapaksa who made the order did not change his mind. 

Jawad has not yet returned. He told EAM officials that the "Saudis were upset". He also said he had to make some important farewell calls. The envoy has now been told enough is enough, he should return forthwith.
The recall story has now assumed another dimension. External Affairs Ministry Secretary Karunatilleke Amunugama went on record as saying that the Sri Lanka envoy was being recalled to show Sri Lanka's protest at Saudi Arabia beheading housemaid Rizana Nafeek. The bizarre beheading event is now posted on the You Tube website.

However, Jawad's recall, External Affairs Ministry sources have confirmed, was because he did not "do enough" on Rizana's case. The embassy was not even aware she had been executed though a notice about the execution had appeared in an Arab language newspaper. 

So much for the conduct of Sri Lanka's diplomacy. An ambassador who is recalled for different reasons is still coming, coming, and coming back. However, he has still not arrived. Its own fiat or its writ does not seem to run within its own fold.

Village lad Soysa walks home

When Parliament sittings were over, ministers and MPs who were being driven away noticed Deputy Minister Vijithamuni Soysa walking near the Jayanthipura Junction, just outside his house.

When one MP stopped his car, Soysa said his vehicle had gone on an errand and not returned. "I am a village guy. I am used to walking," he said.

House Leader contradicts deputy minister on religious tension

Democratic National Alliance Parliamentarian Anura Kumara Dissanayaka raised a question on Thursday in Parliament about the rise in religious fundamentalism in the country.

He had queried what Government plans were in place to handle the situation. Buddha Sasana Deputy Minister M.K.D.S. Gunawardena jumped to his feet to say that the Government has had no reports of any such incidents and would deal with them if and when such incidents were reported. 

However, barely had he finished replying, House Leader and Minister Nimal Siripala de Silva rose to his feet and thanked the DNA MP for raising the issue. He spelt out the Government position on this "serious" issue. "The President and the Government are concerned. We must put aside political differences and address this issue promptly," he said as Deputy Minister Gunawardena sat red faced.

Death threats: Weliamuna meets President

Well-known lawyer J.C. Weliamuna, a key player in the Lawyers Collective that supported Chief Justice Shirani Bandaranayake during the impeachment motion complained that death threats were being directed at him.

This week, President's Counsel Faisz Musthapha accompanied Weliamuna for a meeting with President Mahinda Rajapaksa.

Mayor comes barefoot to Temple Trees

President Mahinda Rajapaksa was seated on the stage at a temple ceremony at Balapokuna Road in Kirulapone. He soon realised that he was the only lay person whilst all others were members of the Buddhist clergy.
He sent a message to Dehiwala-Mount Lavinia Mayor Dhanasiri Ameratunga to take his chair and come on stage. Within seconds he was seated there.  When the ceremonies ended, Rajapaksa asked Ameratunga to accompany him to go and see some old friends. The Presidential motorcade first headed to 'Temple Trees'.
There, when Rajapaksa alighted, Ameratunga followed him. The President asked him why he was barefoot.
"Sir, how can I go looking for my pair of slippers in a crowd of some 3,000 people when the President invites me to join him to travel in his car? So I decided to come without it," said Ameratunga.
MR, Ranil discuss Sajith
"Mokada mey Sajith Premadasa niyoja nayakathumata wenna yanney (what is going to happen to Sajith Premadasa, the deputy leader)," President Mahinda Rajapaksa asked Opposition UNP Leader Ranil Wickremesinghe, when they met at the Gangaramaya Temple this week.
"Disciplinary action wagayak thiyanawa. Passe balamu mokkada venna yanney kiyala (There are some disciplinary issues. Let us see what happens thereafter)," replied Wickremesinghe.
Sanath and Thilanga told to bat in Parliament
When the Government Parliamentary group met on Monday at 'Temple Trees', selecting speakers for the adjournment debate on cricket was also discussed.  Sports Minister Mahindananda Aluthgamage suggested Sanath Jayasuriya, MP should be given chance to speak.
"Ow, Sanathta katha karanna denna. Aaa. Oya inne thawa cricket kappiththek (Yes, Sanath should be allowed. Here is another cricket captain)," President Rajapaksa said pointing to Thilanga Sumathipala, a former cricketer and one-time President of the Cricket Board.
Laundrywatte to be die-cleaned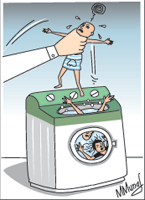 Laundrywatte, the years old open air laundry situated on Perahera Mawatha in Colombo, will soon be non-existent.  The Government has issued a gazette notification to acquire the land as part of its on-going plans to modernise and develop the city of Colombo.
The open air laundry has been in existence from the time of the British and many workers are the third generation engaged in washing clothes.
Ministers clash over official
Two Cabinet ministers locked horns with each other over a Government official at the Parliamentary Group meeting. They were engaged in a heated argument before President Rajapaksa. The President was to say that the two close relatives should resolve their disputes at home.
Minister pleads for his portfolio
Hearing that a Cabinet reshuffle was round the corner, a minister sought a meeting with President Mahinda Rajapaksa.
He asked the President not to change his portfolio, at least for a week or more, since he had some unfinished work to complete.
A smiling Rajapaksa said the minister was quite free to complete the work he had undertaken.
Follow @timesonlinelk
comments powered by

Disqus