Jaffna gets its taste of Rugby
View(s):

By Sam Hensman,Jaffna Correspondent

There was a deep sigh of anguish followed by the words, "my gosh." Another section unable to contain their feelings shouted out,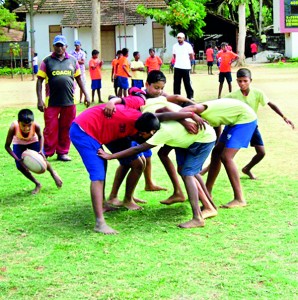 "Catch the culprit, book him and put him out of the field." These were the mixed feelings of spectators who were watching the rough and tumble of rugby dished out at the St. John's College grounds.
Present at the occasion were rugby coaches Basil Rodrigo and Shehaan De Alwis. They were teaching basic skills to selected school boys from St. John's College, St. Patrick's College and St. Charles MV on the St. John's College grounds, including the copy book tackle of a runaway forward by an alert defender, which drew anxious moments amongst the group of spectators.
The idea to have coaching clinics in the North was the brainchild of Dr. S. Gnanapandithan, a private practitioner based in Colombo, who initiated this programme in his native land, Kilinochchi. Five schools were taught basic skills by Mr. Rodrigo at the Konavil MV grounds, Kilinochchi. The schools that turned up were Konavil GTMS, Puthumurippu Vigneswara College, Scanthapuram GTMS no 1, Scanthapuram GTMS no 2 and Akkarayan MV.
According to Rev. N. J. Gnanaponrajah, the sports-loving principal of St. John's College, Rugby can be accommodated in Jaffna along with soccer during the third term. Jaffna boys, it is generally felt, have the stamina and speed that are needed to make a good rugby player. For soccer and cricket-mad Jaffna, rugby should bring in variety. If everything works out well with regular coaching clinics by the schools' Controlling Body and a few exhibition matches, Jaffna should be in a position to field rugby teams in the near future.

Follow @timesonlinelk
comments powered by

Disqus