Striking not just a musical chord
View(s):

Well-known pop artiste Rukshan Perera is back in concert, this time for a cause that is close to his heart—building harmony through music

By Shaveen Jeewandara

He picks up the guitar in one swift motion and nonchalantly scats in a beautifully random melody – fingers running along the fret-board in butterfly-like movement. If that has your eyes widening in awe, then comes 'harmony scatting' in keeping with the harmony of his guitar. Just when you think it can't possibly get any better – Rukshan Perera amazes us with harmony whistling, that quite simply put – is beyond words.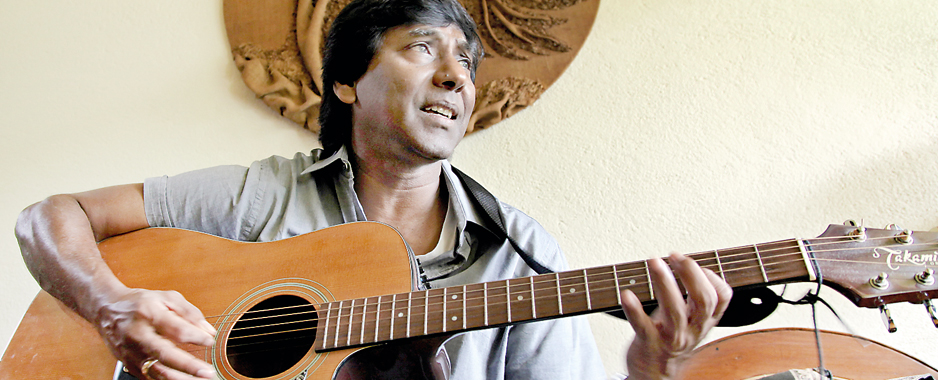 The mere fact that he will be soon in concert is good news, but what makes it special this time is that it's for a greater cause- the Unity Mission Trust. "The Unity Mission is very close to heart for me, it's a trust foundation that reaches out to all corners of the island, holding regular camps, with the aim of reintegrating war-torn young ones back into society."
Formed back in 2009, shortly after the end of our 30 year-long conflict, it had one clear goal in mind – to give back the life that war had robbed from these kids.
"Rukshan Perera Live in Concert" to be held on January 20 at the Bishop's College Auditorium from 7 p.m. onwards, will also feature well-known musical talents such as the De Lanerolle Brothers, VoicePrint, Rajitha, Noeline Honter, Choro Calibre, Sarith and Surith, The Colombo Brass Ensemble along with Harsha and Khrome. Proceeds of the concert are for the "Unity Mission Trust".
Rukshan's role in the Mission had been that of a musical mentor to the children. "I would travel to the North to visit them, teach them music and basically sing with them." At first the children would stick with their friends but once they began singing, everyone began to get along. "It's a nice platform, where children from all ethnicities bond together," Rukshan adds. The reconciliation efforts are strengthened by team-building activities and competitions. Once the kids were asked to write a song about the newfound peace in our land, and what it really means to them. "It was an absolute treat. There were so many different ideas and each one had a beauty of its own. There's a lot of passion there," Rukshan enthuses. 
Friendships are formed and subsequently visits are made. "This is wonderful since the North-South bridge is being bridged, as the children now have reasons to make the trip from Point Pedro to Dondra and vice versa," Rukshan says.
Rukshan tells us of the days when Sri Lanka was inching close to the end of the war, and his burning desire to release a song that would symbolise the long and hard fought peace. "One land for all, was a song I did with Sri Lankan artistes in Los Angeles at that time, and it is not about victory, but rather a song about peace." It was a hit and rapidly became popular on YouTube. 
So was 'Coming Back Home', a personal statement for Rukshan as he was returning to the motherland after 30 long years in the United States. "Students abroad contacted me, some even stating that they got goose-bumps on hearing the piece," he says. Music helps ease such emotional situations, and Rukshan is a firm believer that music has some part to play in the road of rebuilding, that Sri Lanka is currently traversing.
In fact, a DVD of original songs penned by Rukshan, along with 'One land for all', and 'Coming back home' has been released and is available for purchase. We get to know that there's also a demo of the harmony scatting, that is in all essence of the phrase – a must watch.
A special feature about Rukshan's concerts is the variety he brings into play. Much like his career that was first nurtured under the likes of the legend, Clarence himself, bred on a healthy diet of Sinhala pop and then into the facets of jazz. When asked what genre of music he enjoys most, he says jazz has a special place in his heart. "Not that I enjoy playing the other types of music any less," he smiles. The compositions that will be on show range from blues and jazz to acapella and pop, to unique arrangements of popular Sri Lankan tunes. "This concert means a lot to me, as I know the impact it's going to have on the lives of the little ones who attend the Unity Mission camps. It's always a good feeling to know that you're a part of the change."
Tickets for the concert and the DVD are available at Park Street Mews and Commons
Follow @timesonlinelk
comments powered by

Disqus