Miniature beauties
View(s):

Sri Lankan artist Lal Kudahetty who's made it big with his small canvases discusses his creative journey so far

By Duvindi Illankoon

They say beautiful things come in all sizes. For Lal Kudahetty, they come in miniature 3" by 5" canvases, painstakingly crafted with the colours of the earth. 

The earthy tones of his landscapes and the serene beauty of his stills are a tranquiliser for the harried mind caught up in the trivialities of modern life– for these are paintings that will remind you that what matters are the beautiful things in life.

Kudahetty is versatile. His refusal to settle into one form of art till he had done it all saw him go from a lowly paste-up artist to Art Director of advertising firms JWT and Grants, till he gave it all up to get into painting full-time. "I was fascinated by the different facets of art from a young age," he recalls. "My parents were not artists but my brother was, and I idolised his talent. Even though art wasn't a sought-after profession, my family was supportive of my work." 

While one would imagine a young Kudahetty transitioning smoothly from education in Akmeemana into an artist living the high life, it was not to be. "While painting was my first love, the film industry also held great appeal for me. I dabbled in the industry as an art director for a number of films including Paradige (1980) and worked with some visionary directors."

It was time to move on, however, and in the late 70's he also began his advertising career-one that would occupy a good chunk of his youth. Starting with Mel Ads, Kudahetty moved onto J.Walter Thompson (JWT) as a paste-up artist, where he laughingly describes his job description as 'cut and paste'. The paste-up artist eventually became an Art Director, spearheading the creative aspect of some of the firm's major advertising campaigns. 

By the time the 90's rolled around he was growing a little restless. "More than anything I wanted to take up painting as a full time thing rather than something that occupied my spare time. Unfortunately, Sri Lanka has few opportunities for full-time artists. Unless you want to wind up in the gutter, you have to make do with sneaking in some late night painting while balancing your 'proper' job." Eventually, Kudahetty made the decision to move to Canada. He had heard tales of artistic prosperity in the land and was impatient to see it for himself.

Canada welcomed Kudahetty and his realistic brand of art with open arms. It wasn't long before he made a name for himself as an artist with a talent for capturing everyday scenes with a touch of magic. Visit his website for a peek (www.lalkudahettyart.com) and you'll note a profusion of landscapes and still life. Kudahetty's art captures misty mornings and balmy evenings in motion. The still lives are captivating in their simple contours and mysterious shadows. They sound like your average amateur offering, but as the collectors who pay up to 3000 USD for a Lal Kudahetty painting will tell you-it's all in the execution. In the moss greens and earthy browns of Kudahetty's art, the precision and finish is impeccable.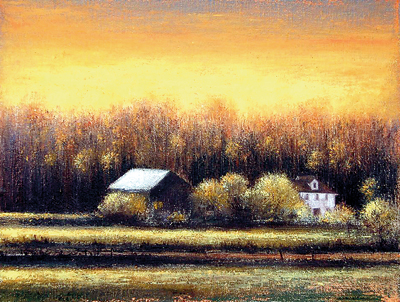 "I'm a self-taught artist. I don't have a formal education in art," he admits. "I went for some sessions and workshops when I was in Canada but most of my work stems from years of drawing and observing other great artists." He started his career with paintings of wildlife, something there was a huge demand for at the time. This gradually transcended into an abiding love for nature and capturing it in all its glory. "I love painting landscapes and natural scenes. There's something about those earthy tones that really calms my mind, and it appeals to the viewer as well."
Kudahetty lives with his wife and daughter in Mississauga, Ontario; in an area that he says has a distinctly village feel to it. "Sometimes I travel up North for inspiration but more often than not all the inspiration I need is right outside my door." One day, he hopes to come to Sri Lanka for a longer period than family vacations hastily squeezed into school holidays afford. When that day comes, he assures us that we'll see plenty of the island's most dramatic landscapes captured on his canvas.
Kudahetty discovered miniature portraits in Canada; while the tiny size means he has to work that much harder to bring out details. While some paintings have been done with a brush, he prefers to use the palette knife. "It allows me to bring depth into my work," he says. "It also makes my work that much less suspect to copying." He urges aspiring young artists, "Never ever be reduced to copying the works of other artists-you will never achieve greatness or satisfaction with that."
Satisfaction must be easy to come by for Kudahetty though-he's won numerous awards and accolades for his work and the financial benefit is certainly something to smile about! While he continues to live and work in Canada, he's confident about a future in Sri Lanka for younger artists. "I've noticed a lot of people buying art," he smiles. "I'm glad. It shows willingness on our part to appreciate beauty despite difficult times." More important however, is for art to reach out to every demographic in the country, he adds. "Art is elitist in Sri Lanka. Only a certain class of people are interested in investing in art. That's not right-you've got to inspire people from all walks of life to buy your work. Art is beauty, and everyone needs something beautiful in these times."
Follow @timesonlinelk
comments powered by

Disqus