Miscarriage of justice cuts down Rizana's life
View(s):

As a poor family in Mutur mourns the untimely death of a daughter and sister in far away Saudi Arabia and activists hit out, Charundi Panagoda reports on a beheading that should have and could have been averted 

Rizana Nafeek was taken out of her prison cell, dressed in white robes, blindfolded and handcuffed. The Saudi Arabian prison officers escorted her to a town square near the prison in Dawadmi town, 200 kilometres west of Riyadh , where Rizana, like many other desperate Lankan girls, came looking for work to support her poverty-stricken family back home.

Rizana was forced on her knees in front of hundreds of onlookers. An official chanted the Islamic prayer, "O ye who believe! The law of equality prescribed to you in cases of murder," and the executioner swiftly severed her neck with a sword. A convenient plastic covering on the ground collected her rolling head and dripping blood. Rizana was dead at 11.40 a.m. Sri Lanka time, Wednesday. She was just 24 years old.

Back in Sri Lanka, her family, fellow citizens, government politicians and officials had no idea of her fate. About two hours after her execution, at 2 p.m., Foreign Employment Promotion and Welfare Minister Dilan Perera told Parliament that Rizana's pardon was positively in progress. 

The legislature became aware of her death only when opposition JVP MP Sunil Handunetti, who learned of Rizana's execution from news alerts, requested a minute of silence in her memory.

Once the news broke out, the External Affairs Ministry hurriedly confirmed Rizana's execution through Ambassador to Saudi Arabia Ahmed Jawad. The Ministry Secretary Karunatilaka Amunugama told the Sunday Times that the Ministry "got the news a little late" because Saudi authorities never informed the Lankan Embassy in Riyadh of Rizana's death. 

In the shocking aftermath, the government immediately recalled Ambassador Jawad in an expression of "displeasure." Rizana's death came two days after President Rajapaksa's second appeal to the Saudi King and after Saudi Ambassador in Sri Lanka Abdulaziz bin Abdulrahman Al Jammaz told Justice Minister Rauff Hakeem on Jan. 3 that Rizana would be pardoned and returned home soon. The Minister was so confident of the pardon that a news release was issued to that effect.

"We were happy with the Ambassador's work," Mr. Amunugama said. "The recall was aimed against the Saudi authorities who ignored our many pleas for clemency." 

Other reports however state that President Rajapaksa was livid when he heard what had happened. He had called for the immediate recall of the Ambassador on the grounds that the embassy had failed to keep the authorities informed and not done enough to secure the release of Rizana. The embassy had failed to read a formal Saudi government notice that had appeared in a local newspaper that day informing the public of the public execution.

The country and even the world reacted strongly to Rizana's death. The Foreign Ministry in a news release said the President and the government "deplored" Rizana's execution. The Muslim Council of Sri Lanka (MCSL), Women and Media Collective (WMC), the UN, the European Union, Human Rights Watch, Amnesty International and the Asian Human Rights Commission (AHRC) were among the many groups that condemned Rizana's execution. 

The Foreign Ministry claimed that the government "pursued all avenues" to have Rizana released. Since 2007, several Lankan delegations to Saudi Arabia had sought clemency for Rizana, including delegations headed by Minister Hakeem, Minister Perera, Minister Rishard Badurdeen, MP A.H.M. Azver, the Western Province Governor Alawi Moulana, and finally the Attorney General Palitha Fernando.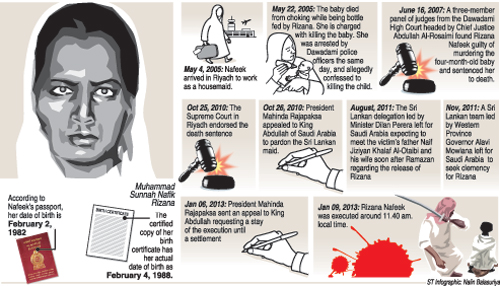 However, rights activists claimed Rizana died because of Lankan officials' ignorance and lack of commitment. Several opined that Rizana would have been spared had the government taken up the case in 2005, when Rizana was first arrested. And, some add, had the Sri Lankan government engaged in quiet diplomacy rather than Ministers making public statements boasting of their efforts in rescuing Rizana and made efforts to reach out to the parents of the baby Rizana was accused of murdering.
Rizana had only been a maid for couple of weeks when her female employer accused her of choking their four-month-old baby to death. Rizana was arrested by Saudi police, who did not inform the Lankan embassy of the arrest. According to Rizana's lawyers, she had no legal representation upon arrest and she was tortured and threatened until she signed a confession in Arabic, a language she didn't understand, that she strangled the baby. The Saudi courts sentenced her to death following her 'confession', which she later retracted saying it was obtained under duress.
No one, not even the Sri Lankan Embassy in Riyadh, knew Rizana was on death row for as long as two years, Director of Policy and Programs at Hong-Kong based Asian Human Rights Commision Basil Fernando said. The story became known only following a BBC Sinhala Service, Sandeshaya report picked up from Saudi newspapers about a Sri Lankan housemaid sentenced to death having only 20 days left to appeal. 
Following the BBC report, the AHRC took up the case and funded US$ 40,000 of Rizana's appeal costs through donations they received from around the world.
The appealing lawyers found grievous flaws in Rizana's original verdict. Rizana was tried as an adult because her passport had been altered to show her birth year as 1982, when she was born in 1988, as proven by her original birth certificate and school records. As Rizana was only 17 when the crime was committed, she would have been spared under Saudi law and the Convention on the Rights of the Child, which Saudi Arabia has ratified.
However, Saudi Arabia is one of the three countries identified by Amnesty International to execute convicts for crimes they committed as children.
Rizana had no legal representation upon arrest, her "interpreter" was an Indian man who was a janitor at the police station and spoke Kannadam, a southern Indian language, but not proper Tamil, Rizana's lawyers said. Rizana later recanted and told her lawyers that she was bottle-feeding the infant when milk started oozing from the baby's nose and mouth. A Swedish doctor contacted by Rizana's lawyers submitted a report saying the baby couldn't swallow either because the child had internal problems or because the child was already dead. 
After the two-year appeal, Saudi judges admitted Rizana's case was flawed, but could not overturn her death sentence, Mr. Fernando said.
"This was a gross miscarriage of justice," Mr. Fernando added. "In the Lankan system, with such evidence, a case like this would be dismissed. But their system records everything. They said since there is a signed confession, even coerced, the court is obliged to reinstate the death sentence. Their system is fatally flawed."
Saudi Arabia follows the strict, ultra-conservative Wahhabi Sharia law, which lacks judicial precedence. Death sentences are carried out for murder, rape, drug smuggling as well as for adultery, blasphemy and being gay. The law is not properly codified and interpretations of the law and meting out justice differ from judge to judge. Saudi Arabia reportedly carried out 82 executions in 2012. In some instances, the bodies are displayed after beheading, as happened in 2011 after the execution of an Indonesian maid.
According to a 2008 Amnesty International report, about half of the executed in Saudi Arabia are foreign nationals from poor, economically developing countries. An International Labour Organisation report found that only about 10 percent of foreign domestic workers are covered by labour laws to the same degree as other workers.
Some 136, 245 Sri Lankans departed to West Asia commonly referred to here as 'the Middle East' during the first half of 2012 in search of employment, according to Central Bank statistics, and in 2011 the country received about US$ 5,100 million (Rs. 550 billion) in foreign remittance from workers like Rizana, more than the income from tea, rubber and textile exports. Currently, there are three known cases of Lankans on death row, UNP MP Ranjan Ramanayaka said. One man for keeping a bible in his room, another for having cartoons of Prophet Mohammad on his Facebook wall, and a woman accused of witchcraft for keeping pirith threads.
Under Saudi law, Rizana's death sentence could have been overturned under Quisas, or retaliation, only if the aggrieved party granted pardon, possibly in return for 'blood money'. 
The government of Sri Lanka was ready to pay the blood money and AHRC had a number of international donors ready to contribute. Mr. Amunugama said Saudi officials told him that the Saudi government had spoken to the aggrieved parents and was also willing to pay the 'blood money'. The problem was getting the aggrieved parents to pardon Rizana. The Sunday Times learns that after tribal leaders had spoken to the parents, the father was willing to pardon Rizana, but not the mother.
The Muslim Council of Sri Lanka (MCSL) in a statement blamed the obstinacy of the baby's mother for Rizana's death. Private Secretary and son of Governor Maulana, Naqueeb Maulana, speaking on behalf of the Governor who was unable to comment due to illness, said it was the baby's mother, not the father, who refused to pardon. 
"We are ashamed to say that a Muslim lady could be so hardhearted like this when the whole world watched and would not forgive Rizana as she should have under principles of Islam," he said. "Any Lankan mother would not have given the baby to a housemaid like she did."
Mr. Maulana said their delegation did not personally meet with the mother but the wife of Abdul Cader, President's Coordinator for Muslim Affairs in West Asia, spoke to her. 
On the other hand, activists blamed Rizana's death on the government's failure to properly conduct negotiations with the aggrieved family. "Time to time when there's public pressure the government would send a Minister," Mr. Fernando said. "They would go and meet with someone like the head of the tribe, but not the actual parents who had the power to grant a pardon."
The Women and Media Collective (WMC) emphasised that Rizana was also a victim of unscrupulous agents who falsified her documents. Mr. Ramanayaka said it took the government seven years to apprehend the culprits. (Please see inset story)
One-time Ambassador to Saudi Arabia Javid Yusuf said it's not fair to solely blame Lankan diplomats.
"I don't think Lankan officials should be blamed for Saudi officials' failure to inform," he said. It's possible the embassy did not know due to lapses in communication on the part of the Saudi authorities. This whole incident is very sad that really seems to be a miscarriage of justice, and the whole issue of sending housemaids to West Asia or any other country should be reviewed."
The WMC however pointed out that other Asian governments, such as Indonesia and Philippines, have managed to secure clemency for housemaids similarly accused of murder and sentenced to death after strongly appealing to the Saudi King. 
In another explanation, a government insider said Rizana's sudden execution could have been prompted by the current political climate in Saudi Arabia, where human rights activists have started protesting against the ruling regime. The King is anxious to appease the Islamists, who might have interpreted any royal clemency as against Sharia law, the insider opined.
Like Rizana, an Indonesian maid was beheaded in 2011 on a murder charge (whose execution footage was mistakenly broadcasted by some media outlets as Rizana's execution), leading the Indonesian government to recall their ambassador and impose a temporary moratorium on Indonesian domestic workers leaving for Saudi Arabia. Saudi officials later apologized to Indonesian government for not informing. 
Mr. Amunugama said Sri Lanka has no such plans against Saudi Arabia at the moment. Minister Perera, Minister Hakeem and Saudi Embassy officials in Colombo could not be reached for comment.
Rizana's 'handler' gets suspended  sentence
The man who encouraged and assisted 17-year-old Rizana Nafeek to present a fake birth certificate to obtain a passport and seek foreign employment in Saudi Arabia, was given a suspended jail term last month after being convicted of charges of aiding and abetting to send her overseas.
The court ruling had been handed over to the Saudi Arabian Embassy in Colombo in order to support the case of Rizana's release.
The suspect, Abdul Salaam, was sentenced to four years imprisonment by High Court Judge Kumuduni Wickramasinge, on December 24 last year. The sentence was suspended for five years.
A fine of Rs. 10,000 was also imposed. The suspect has been in remand prison now for 15 months. Earlier last year the sub agent who helped forge Rizana's documents and the person who impersonated her father were sentenced to two years rigorous imprisonment.
Nothing but tears for Rizana's family
Far away from international politics, in a small village called Sapinagar in Mutur, Trincomalee, Rizana's mother was shocked speechless after hearing about her daughter's death.
No officials had informed Rizana's parents. They learned of their eldest daughter's beheading from neighbours, who had received phone news alerts about the execution. 
Rizana's family lives in a small hut put together with bricks and tin sheets. Rizana's father, a woodcutter by profession, is the sole breadwinner of the family. Since he became sick and bedridden, the family of five doesn't even have enough money for food.
Rizana's mother, two sisters and brother pass the days crying for her.  Following news of the execution, Naval officers had cleaned up the hut, which was sinking in mud. Currently, the Navy provides food rations for the mourning family and anyone else who comes to see them.
Rizana was the poverty-stricken family's only hope for a better future. Rizana's mother says she died trying to fund an education for her two sisters. Rizana earned a meager wage doing prison labour, which she sent home for her sisters along with toffee and little trinkets she had collected. 
Rizana's mother had wanted her daughter's body returned to Sri Lanka, but the Foreign Ministry last Thursday confirmed such a release would not be possible as her body was already buried by Saudi authorities, as customary with all executions.
Rizana had spoken to her mother about a week ago using her prison doctor's cell phone. "Rizana didn't know she was going to die," her mother lamented. "On the phone, she asked about when she'll be released or whether we've arranged the visa for her to come home. She had no idea."
Follow @timesonlinelk
comments powered by

Disqus