Magic from mudhole: A leisure-cum-health park for Nugegoda
View(s):

By Hansani Bandara

Like swords turn into ploughshares in times of peace, a wetland turned into a leisure-and-health park in post-conflict Sri Lanka yesterday in keeping with the Government's programme of giving the much-needed facelift to Colombo and its suburbs.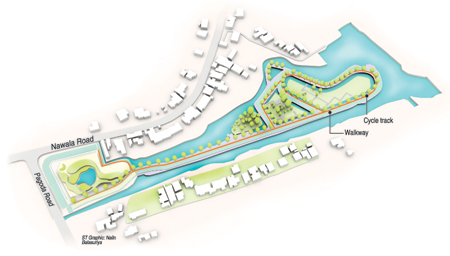 The latest marsh or the mudhole that bloomed as a health park with jogging and cycling tracks was what was once called Welipark. The sprawling 18.2 acre wetland in Nugegoda was a parking bay for vehicles selling sand and bricks during day time but a safe haven for drug addicts, petty thieves and prostitutes at night.
The new facility was declared open by President Mahinda Rajapaksa yesterday in a grand ceremony attended, among others, by Gotabaya Rajapaksa who as the Defence and Urban Development Ministry Secretary oversees the city beautification programme carried out by the Urban Development Authority (UDA). 
The park area at the new facility spreads over about 5 acres while the newly developed three-quarter-kilometre stretch of the adjoining Pagoda-Nugegoda canal – restored by the Sri Lanka Land Reclamation and Development Corporation (SLRDC) — carries an eye-catching floating restaurant with newly paved shady gravel roads enhancing its beauty.
Thushari Kariyawasam, the chief architect of the project, said the park was built as part of the Rs. 81.6 million canal restoration programme in the Sri Jayewardhanapura-Kotte area. 
"The Nugegoda area did not have a public open space which is a requirement in city planning. One of the objectives behind the construction of this park is to fulfill this requirement," she said. Ms. Kariyawasam said the new facility was constructed preserving the wetland and its ecological importance and with the intention of giving the visitors to the park a novel experience.
The park consists of a 1.5 km-long jogging and cycling tracks, leisure areas, walkways, a children playground, ponds and open and canopied lawns.
"We have used architectural elements such as the creation of mini climaxes which give visitors only a glimpse of the beauty while encouraging them to explore more," she said.
For instance, visitors would first see the deep lotus pond, but from there, they would be led through a passage to a beautiful water cascade, she said. 
The project was completed at a relatively low cost largely because of the contribution of the armed forces with their labour, Ms. Kariyawasam said expressing her gratitude towards them.
She said 75 per cent of the lamps that light the park were powered by solar panels in keeping with the environmental-friendly theme of the park.
Follow @timesonlinelk
comments powered by

Disqus