Here, meet YouTube's most famous Sri Lankan!
View(s):

With his hilarious videos, 'S*** Sri Lankan Mothers Say', 'How to Dance Baila', How to Speak Sri Lankan' and more recently, 'The Uncle Awards' etc. Jehan Ratnatunga has globalised the essence of Sri Lankanness

By Duvindi Illankoon and Shaveen Jeewandara

It's not often that you kick off into an interview with an inquiry of a possible 'thundering slap' that would have come your interviewee's way. But this is not an everyday affair-Jehan Ratnatunga has just settled in for a chat about his rapid rise to fame on the internet, and nothing would have made greater sense than a 'thundering slap' (so lovingly epitomised by Jehan in his videos), of course. Fortunately though, he hasn't been on the receiving end of one of those from Amma (whom he regularly and quite mercilessly imitates for his videos)-yet! He's had his fair share of typical Sri Lankan mother style bantering from her about his videos though, as one would expect.
Jehan's rise to fame has been nothing short of extraordinary. While his feats invariably deserve all the pappadam he can get, it must also be said that there has been quite a lot of hardwork benched in on his part. As of now, 'JehanR' is the most famous Sri Lankan on YouTube. His meteoric rise to fame in the past year garnered him a spot in the prestigious YouTube rewind for 2012, featuring the site's biggest stars of the year.
Jehan was born and raised in Melbourne, Australia. Coming from a family of intellectuals (his dad is a professor and sister Rehana a doctor), he studied Robotics Engineering and Computer Science at the Melbourne University. He had a very successful stint as a media consultant at the prestigious Boston Consulting Group in Australia before he moved on to media.
'The Perfect Smooth Criminal Lean' has over 1 million hits on YouTube, but Jehan is most known and loved for his uncannily spot-on Sri Lankan aunty/uncle impersonations. The YouTube star broke into the public eye with 'S*** Sri Lankan Mothers Say', a parody of 'S*** Girls Say'. He's followed it up with cult hits such as 'How to Dance Baila', 'How to Speak Sri Lankan' and more recently, 'The Uncle Awards'-uniquely global celebrations of the Sri Lankan way of life.
Many of the clips feature his best friend and 'possible cousin' Sanushka, Jehan's partner in crime from a young age along with sister Rehana. They've been making these scripted videos since 1997 when a young Jehan was gifted a video camera. He started uploading videos on YouTube in 2005 itself, no sooner than the video sharing platform had launched. Early JehanR videos include 'The Perfect Smooth Criminal Lean', an eight second clip that's got almost 2 million hits thanks to shares on Reddit. 'Ctrl+P', a short film about a man, his girlfriend and an unfortunate incident with the office photocopier would be his experiment with short films. Jehan, it seems, is a versatile video man. From parodies to short films to music videos to fake interviews and news shows he has done it all.
Peruse his channel on YouTube with an eagle eye and you'll find that he's got a strong affinity towards music videos. His alter ego of a character John Bala stars in many of these. "John Bala was born out of a standing joke amongst friends," he says. "I think it was when there was a great amount of violence in Delhi, we thought wouldn't it be great if there was a no-nonsense policeman who could say 'enough is b—-y enough!'?"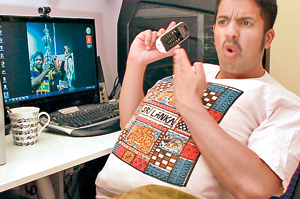 As John Bala, he runs around with a fake moustache and lopsided aviators, administering justice to those who'd rather do without it! The clips were subsequently entered into a campus video competition, but didn't bag the prize for reasons best known by John Bala himself. (Although now, Jehan regrets trying his hand at rigging the competition – like any true Sri Lankan would)
From John Bala to Sri Lankan aunties – he's spent the best part of the past seven years creating content for YouTube, so no wonder then that his current employer is YouTube itself. His post as a content manager came after a decision to post a video resume rather than the traditional document – "It's YouTube after all". Jehan tells us that his employers were pretty impressed by it (we're sticking to a mental image of them going "Sha! Sooperb ah!"), and now Jehan spends his workday scouting fresh talent off the hallowed web portals of YouTube. "It's a fantastic job," he enthuses. He moved from Aussie to the sunny streets of Los Angeles for the job, with most of the new videos being made in LA.
"LA is amazing. Everybody's stuck in a bubble of their own trying to make it big in the performing arts industry, and everyone is super conscious of beauty. No one, absolutely no one, is ugly. It's pretty unreal!" Jehan doesn't deny that Los Angeles has him awestruck, "People here strive to make things happen, and they get it done."
Striving for a difference is something that Jehan is quite keen on. Breakdown the rambunctious hilarity associated with him, and look past his Proverb Uncle demeanor (must be noted that this is quite the difficult task) and you'll get a young man who's using his own sense of creativity mingled with a classic Sri Lankan sense of humour to reach out to large audiences on issues that need to be addressed. A fact unknown to many is that Jehan is the co-founder of his own company 'Who Gives A Crap'.
Having read extensively about the alarmingly poor sanitation levels in the world (2.4 billion people have no access to proper sanitation) Jehan and business partner Simon Griffiths were struck with the idea to come up with a charity toilet-paper brand (three guesses as to where he was at the time this marvellous idea struck). Wittily naming it 'Who Gives A Crap', they aim to channel 50 percent of the profit to sanitation projects in the developing world. A small step in the grand scheme of things it may turn out to be, but it is a step ahead indeed – and that's what he wants the youth to aspire to. "Charity is plain-boring. It's great, but it's boring. People have been so inclined to guilt-driven charity, but I believe that fun-driven charity can cook up a storm and it'll probably reach out to more people."
If there's one thing Jehan has got absolutely right with his videos; it's that he has been able to unite Sri Lankans of all ethnicities in front of the computer screen to revel in the true essence of their Sri Lankan-ness. It may be purely unintentional, but its impacts are vast. His numerous fans-young and old-spread across the world are testimony to this. Just like the country united behind the 1996 World Cup (cue up-roaring cheer!)winning team, the youth of this nation has the potential to unite in the true spirit of being a Sri Lankan, and if humour is the way forward, Jehan believes that it might as well be.
His target for 2013? Reach 40,000 subscribers on his YouTube channel JehanR. So go on, spread the word- he certainly deserves the numbers. And maybe a bonus gift of an entire truck-load of pappadam for all those times he's had us in stitches at our own little oddities!
Follow @timesonlinelk
comments powered by

Disqus