White-collar job in a black coat
View(s):

Students see a promising future in the field of law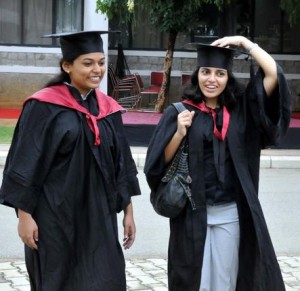 "What next?" is the question that pops up in every student's mind right after school. While professional courses such as engineering and medicine always figure on top of the list, law is fast catching up. Be it the power that comes with the profession or the chance to know the laws of the land inside-out, the lure of the black coat is hard to resist for many students. Here are the opinions of some students who decided to take up this subject.
Goldy Chakma, 5year B.A.-LL.B (third year, fifth semester), Oxford College of Law, Bangalore
Since law is a professional course, I chose it though I had no particular aim towards it and now I feel that I did the right thing as it is a very respectable profession. Not only this, it has a wide scope. I am planning to either clear the examination held by the Bar Council of India to practise in the courts of law or do my post-graduation or LL.M in Criminal Law or in Corporate Law. Apart from these, Law of Torts is yet another demanding subject.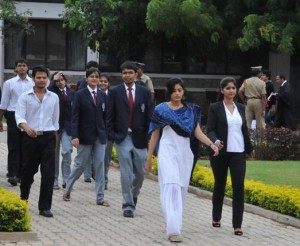 With the increasing crime rate, law is the only pillar for support and it is necessary that every citizen must know each and every law existing in the nation because ignorance of facts is forgivable but ignorance of law is not.
Abhinav Siwach, five-year B.B.A.-LL.B (first year, first semester), JSS Law College, Mysore
I did not take up law as a career due to any particular interest towards it but now I do feel that knowing the law of the nation is as important as having a roof above the head. It is the only way to prevent societal atrocities. I am planning to work for around five years in the corporate sector with a fixed salary to gain some experience and acquire money and only then shall I practise under a good senior advocate. If not, I shall start off with my own chamber and start practising Criminal Law or Law of Contract. The need of the hour is speedy trials and for that we need good advocates and thus students must witness the practical implementation of the theories of law.
Manas Pandey, five-year B.A.-LL.B (second year, third semester), School of Law, Christ University
I took up law as I like to argue and debate and come to a rational conclusion. I want to join politics and as it is all about the welfare of the society and its people, being well-versed in law plays a major role because politicians should know the solutions to the problems of the common man. That is why the lawyer's profession has been termed as a noble one. For the future, I am planning to practise in Criminal Law or join the Union Public Service Commission (UPSC).
Kritika, five-year B.A.-LL.B (third year, fifth semester), Visveswarapura College of Law, Bangalore
My interest in law made me take it up as a career and now I feel it was the right decision. Though I have not decided what I will do after completing this course, if I pursue a post-graduation then I would take up Cyber Law or, maybe I will take up a job in the Cyber Crime Branch. Practising or a job in the corporate sector are also good career options. Law is a very promising profession with its different opportunities and every person must know his rights and duties.
Anjanjyoti RoyMedhi, five-year B.A.-LL.B (second year, third semester), Bangalore Institute of Legal Studies
I took up law as a profession since, from my very childhood, I have seen my father, a lawyer, being respected for his job and the cause he takes up for the people. After the completion of this course I will take the Union Public Service Commission (UPSC) entrance exam or, maybe I will join the corporate sector wherein I shall gain some experience and money and start my own chamber and practise Constitutional Law or Law of Torts. In my opinion, the proper implementation of law can relieve the nation from the atrocities it has to suffer, and for that lawyers are the main asset.
Dibyojyoti Mainak, five-year B.A.-LL.B (third year, eighth trimester), National Law School of India University, Bangalore
I have a passion for debate and like to argue until and unless I am able to draw a logical conclusion. So this passion drove me towards law though neither did I have any particular interest towards it nor did I have any such inspiration in my family.
Though I am still undecided about my future goal after the completion of this course, I am quite interested in Media Law. Given an opportunity I would pursue my higher studies in International Criminal Law. Though law is not an evergreen profession in terms of students choosing it as a career, still it has a wide scope. Only a practising lawyer can be the best teacher to enhance legal education and uplift society.Ashwin Shanbhag, five-year B.A.-LL.B (third year, fifth semester), CMR Law College
Right from my childhood, I had the desire to work for society and help the people know their duties and above all, rights, and I feel that law is a very good medium to fulfil this desire of mine. Also, I love to debate, which is a major feature of any lawyer.
Thus I want to practise in the High Court after pursuing LL.M in Intellectual Property Law. This profession is a growing one and the toughest after chartered accountancy and medicine.-thehindu.com
Follow @timesonlinelk
comments powered by

Disqus