SLIIT offers new Engineering degrees
View(s):

In association with Curtin University – Australia

SLIIT has introduced new degree programmes to its academic portfolio, expanding its offerings in the Engineering stream to include specialisations in Civil and Construction Engineering, Computer Systems Engineering, Electrical Power Engineering, and Mechanical Engineering in partnership with Curtin University, Australia.

SLIIT currently offers the MSc. in Telecommunication and Electronic Engineering, BEng in Electronic Engineering, and MEng. in Electrical and Electronic Engineering in collaboration with long-standing academic affiliate Sheffield Hallam University (SHU) – UK. "Our goal of expanding SLIIT's academic offerings in the Engineering stream allows students to leverage a host of opportunities made available through SLIIT's long-standing ties with prestigious global universities and local industries. We want to provide pathways to maximise students' employment and career potential as graduates while providing the relevant industries with professionals who can demonstrate and apply their skills and expertise in the relevant sectors" explains Professor Lalith Gamage – President and CEO of SLIIT.

"These four year degree programmes are designed for present-day industry needs. Students will be exposed to industry-level soft skills at the very beginning of the program in order to emphasise its importance while providing necessary professional skills required for young engineering graduates" elaborates Professor Ashok Peiris, Dean – Engineering at SLIIT. "The course content developed to achieve these goals and delivered during year one of study has been highly commended by the Institute of Engineers, Australia.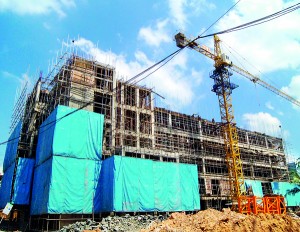 The program course content has been accredited by the Institute of Engineers, Australia and fulfils the academic competencies required for chartered engineer status. Graduates can find employment with consulting engineers, large and medium scale contractors, specialist subcontractors and government authorities. Further down the line, engineers may also establish their own consultancies in their field of expertise and professional competence. Graduate Engineers have skills readily transferable between employers and often find work globally".
SLIIT recently commenced construction for a new Engineering faculty which will be ready for the 2013 intake. The new faculty building, comprising seven storeys within a 7000m2 area, will be completed in February 2013.
The ground floor houses Civil Engineering and Mechanical Engineering laboratories, while the second floor is allocated for Electrical and Electronic Engineering and Materials Engineering laboratories. Ample space for lecture rooms, tutorial classes, design studios, a dedicated library and common areas are available within four floors of the building, while the staff area on the fifth floor provides easy access to students for consultation. At present, the faculty consists over 25 permanent staff, six of which have PhDs. In addition, senior staff from state universities and industry experts are available on a visiting basis.
SLIIT is a prestigious internationally affiliated educational institute in Sri Lanka, which to date has produced over 18,000 IT professionals to the industry.
These exceptionally skilled graduates have made their mark on the Business, IT and Engineering landscape of Sri Lanka, armed with the skills and knowledge from the high calibre education opportunities made available at SLIIT. More details regarding enrolment can be obtained by visiting www.sliit.lk
Follow @timesonlinelk
comments powered by

Disqus