Malini draws the curtains on Kelaniya
View(s):

"Aney Ammo!!! Mata Kelaniya nam epaa, epaa mai" (Oh!!! I do not want Kelaniya electorate) bemoaned well known actress Malini Fonseka.

She was not on the set of a new film. The real life drama for her came in the lobbies of Parliament in Sri Jayawardhanapura-Kotte. 

A group of her UPFA colleagues, including Arundika Fernando, Lohan Ratwatte and Roshan Ranasinghe, were engaged in some light-hearted banter. One of them told Malini that the President would now summon her and offer the post of Chief Organiser of the Kelaniya electorate, one thatwas held by Minister Mervyn Silva. On Friday Silva was called upon to give up his post in the backdrop of the killing of Kelaniya Pradeshiya Sabha member, Hasitha Madawala.

After saying she would not accept the post in Kelaniya, Ms Fonseka said she maintained good relations with 'Dr'. Silva.

Law is thicker than blood: Police chief

Police Chief N.K. Illangakoon has warned his officials not to be misled by traffic offenders claiming they are his relatives, to avoid punishments.

He has said that they should be dealt with according to the law.

Jokes about possible new CJ

President Mahinda Rajapaksa was in a jovial mood on Monday when he met members of the Government Parliamentary group.

Ahead of the formal meeting, he mixed with the MPs. One of them asked who would be the next Chief Justice? "There are requests to appoint a Member of Parliament," quipped Rajapaksa. 

A Minister standing nearby asked whether it would be Minister Anura Priyadarshana Yapa, who chaired the Parliamentary Select Committee which probed the impeachment motion against Chief Justice Shirani Bandaranayake.

Another MP interjected to say it should be Minister Nimal Siripala de Silva. Minister Mahindananda Aluthgamage was to interject. He said he should not be appointed. He said, laughingly of course, that his ministerial colleague Dilan Perera would be "finished." Dilan, who was close by had a hearty laugh at the joke.

Madam gets five-star meals in jail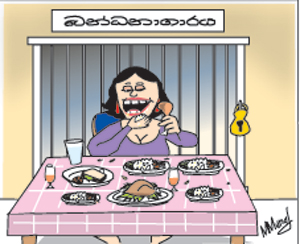 A much loved madam with VIP connections was convicted for running a brothel but is still having it good.
Her food bill for a day, whilst serving a prison sentence, it has come to light, is more than Rs 10,000. That is because all the meals come from outside and insiders say she has the 'right connections'.
She is in a prison not far from Colombo. Though prisoners are entitled to a visitor per week, for this Madam, there are no restrictions. Her son's night club throbs away tripping the light fantastic each night.
MR gives fresh milk to ministers
Much to the relief of some ministerial wives, weekly Cabinet meetings are now held on Thursday mornings.
There was a surprise for the ministers last week – it was a glass of fresh milk. President Rajapaksa said all visitors to Temple Trees, his official residence, including groups of school children on visits, would receive a glass of fresh milk.
Conflicting claims on Sajith's absence on vital day
United National Party (UNP) Deputy Leader Sajith Premadasa has reacted to a reference in these columns last week.
It related to how Premadasa was absent when the Court of Appeal announced the Supreme Court determination on the constitutionality of the Parliamentary Select Committee (PSC) that probed the impeachment motion against Chief Justice Shirani Bandaranayake.
In an e-mail sent from his i-Pad, Mr. Premadasa states: "I write to you to clarify one of the news reports that appeared on page two and in the political commentary of the Sunday Times newspaper of 6th January 2013.
"First, I did not at any time contact Hon. Tissa Attanayake nor anyone else to seek permission to participate at the court hearing as I had not planned to attend due to ill health. Second, I did not at any time inform any of my friends that I intended to attend the court hearings.
"Furthermore, I wish to state that I am unconditionally opposed to the unconstitutional impeachment process that has been enacted and I need no one's permission to express my opposition to this process and uphold Sri Lanka's constitution.
"I would greatly appreciate if you could publish this clarification in full in your newspaper. Many thanks,
"Sajith Premadasa"
Note by Jamis Banda: Very strange indeed!! Firstly, Mr. Premadasa says "I did not at any time contact Hon. Tissa Attanayake or anyone else……" True or false?
This is what UNP General Secretary Tissa Attanayake told the Sunday Times. "The Party already had decided not to attend the Court of Appeal proceedings regarding the Chief Justice's issue. Mr. Sajith Premadasa called me and asked whether he could attend the court proceedings. I told him the Party Leader had decided not to attend the Court sessions. I did not give permission (for) him to go to courts. The next day the Leader called those who attend courts and told them (to) abide by party decisions taken. However the party decided to take part in the protest campaign organised by the Bar Association of Sri Lanka".
That is not all. Five other UNP MPs who were present at the Court of Appeal, unaware of the decision of the party not to attend were summoned before their leader, Ranil Wickremesinghe. He cited the example of his deputy, Sajith Premadasa, who not only checked with General Secretary Attanayake, but also decided thereafter not to attend the Court of Appeal. 
"Second," Premadasa adds, "I did not at any time inform any of my friends that I intended to attend the court hearings. A counsel for Chief Justice Shirani Bandaranayake spoke to me on grounds of anonymity. He told me Premadasa promised to turn up in Court and had only rung him the night before the Court of Appeal delivered the SC order. "Of course, when I checked up days later, I was told he was not feeling well. However, I found out that his party General Secretary has asked him not to go," the counsel told me again speaking on grounds of anonymity.
As for his claim that "…I am unconditionally opposed to the unconstitutional impeachment process…..", it is well and good. Yet, what we said was that he did not attend the Court of Appeal. And now, everyone knows why.
Rajitha for presidency: Mike cut off
Someone manned the controls of the loudspeaker but it was too late by then. Councillor Udith Anuradha of the Central Provincial Council was addressing a meeting at Galewala.
He declared that when President Mahinda Rajapaksa retires from his office, it should be given to Minister Rajitha Senaratne. Just as he said that, the microphone went dead. He could not complete his speech.
Minister Senaratne, who was at the event, ignored the remarks, or at least pretended to do so.
Divineguma: Govt. UNPers did not abstain, some were absent
The Divineguma bill, which was passed in Parliament on Tuesday, was the subject of discussion when Government MPs met for dinner the night before it was to be debated.
The talk at the dinner was about the Bill that would come up the next day. An MP asked Economic Development Minister Basil Rajapaksa whether there would be problems in mustering a two thirds majority to pass the bill. 
"We have160 and that is good enough. I hear some UNPers would abstain," he replied. When voting time came, there were no abstentions from the UNP. However, some were in fact absent.
MP would have got back even on footboard of plane
The need for a two thirds majority for the passage of the Divineguma Bill prompted the Government to recall MPs who were abroad.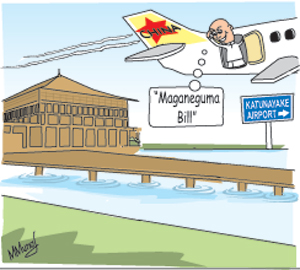 One of them was Deputy Minister Rohan Dissanayake. He had to return to Colombo from a trip to China. He had to fly first to Kuala Lumpur and head to Colombo to be present in time for the debate. 
A Parliamentary colleague asked him how he managed to get a seat when there was so much rush due to year-end travel bookings.
"Seat nethnam, plane ekey footboard eke hari enawaa (If there are no seats, I would travel on the 'footboard' of a plane," he replied.
Planes operating international flights do not have footboards. However, it is a common axiom used by Sri Lankans who travel in buses and are used to cling to footboards when there are no seats.
Follow @timesonlinelk
comments powered by

Disqus