Impeachment: Minister Keheliya avoids media
View(s):

The weekly Cabinet news briefing presided over by Media Minister Keheliya Rambukwella has not been held since the one that was held soon after the impeachment motion against Chief Justice Shirani Bandaranayke was handed over in early November to the Speaker.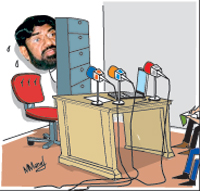 In the past two weeks, journalists were informed that the news briefings would be held as usual on Thursday but were called off at the last minute.
According to a well-informed official source, meetings with the media were postponed to avoid "uncomfortable questions" on the impeachment motion and the subsequent developments surrounding it.
Young MPs nightriders
President Mahinda Rajapaksa met some young UPFA parliamentarians at Deputy Minister Neomal Perera's house.
This was when he went there to pay his last respects to the mother of the Deputy External Affairs Minister.
He asked why the young MPs were not going back to their electorates as the budget debate was over. "Sir, api ada rema gam walata yanwa (Sir, we will go to our villages tonight itself)," they said.
"Man dannawa koi welath gaman thiyenne reyta. Mang Namalta katha kalath koi weleth gamanemai. Udeta asane hitiyata reta gaman…samahara ayage phone walata katha kalamath eka eka sadda ehenawa (I know you all have journeys in the night.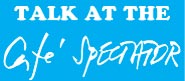 Even when I called Namal in the night, he is always on journey. Though (you) were in the electorate during the day, at night there are journeys. I can also overhear some sounds when I telephone some)," Rajapaksa said.
President says he was run over by night races
Friday's night races in Colombo Fort, which was temporarily turned into a small Isle of Man, left hotels with less business.
Police and organisers informed the public of road closures and traffic arrangements while hotels were advised on times during which guests could move in and move out in between the races.
But some people commuting from Colombo Fort and Pettah had to travel all the way to Kollupitiya to board buses as traffic had to be restricted on a hurriedly turned out racing track with old tyres forming a barricade together with sand bags.
A media representative who attended President Mahinda Rajapaksa's breakfast meeting for national newspaper editors, heads of television and radio stations, perhaps, was conscious of these inconveniencing factors. He raised a query from none other than the President himself.
Rajapaksa replied that permission for the event has been granted by the Colombo Municipal Council.
"I am the most inconvenienced since I use that route," he said. He was alluding to his regular movements between "Temple Trees" and Janadipathi Mandiraya. Both are now Presidential abodes.
Jokes on laptop at President's meeting with media bosses
President Mahinda Rajapaksa met national newspapers editors, heads of television and radio stations for breakfast last Thursday at Temple Trees.
The discussion centred largely on the impeachment of Chief Justice Shirani Bandaranayake. A journalist queried about declaration of assets.
He said "apeth wathkam hoayanwa ney dan (Even our assets declarations are being sought now)."
Another responded saying,"Ey wunata apita mokuthma ne ney. (But, we do not have anything)."
"E wunaata api dunna laptop eka thiyenawa ney? Vipakshe aya e gena katha kara kara yanawa.(Yet, you have the laptop we have given. The opposition is talking about it these days)," declared President Rajapaksa triggering laughter all round.
Why did you come late, Ranil asks three MPs
When UNP Working Committee met last Wednesday, party leader Ranil Wickremesinghe wanted to know why three MPs — Harin Fernando, Ranjan Ramanayake and P. Harison — did not come on time for the UNP convention on December 1.
The answer came from Fernando. "Mama awey Wattala indala. Traffic ekata ahu vuna. Mang enakota 9.30 ta chandey thiyala iwarai. Ekai parakku wune. Hithala kala deyak nemei (I came from Wattala. I got caught in the traffic. By the time I arrived around 9.30, the voting was over. My delay was not intentional)."
Petroleum ministry secretary slips and falls in oil
Last week's report in these columns about the ceremonial opening of a Ratnapura fuel station belonging to Dixon Dela Bandara, Sri Lanka's High Commissioner in the Maldives, has drawn an interesting response.
We said that cabinet ministers W.D.J. Seneviratne and Susil Premajayantha were invited along with Sabaragamuwa Chief Minister Maheepala Herath, to pump fuel to vehicles at an auspicious hour. I am now told that Minister Premajayantha was not present.
This is what his Media Secretary W.P.M. Roshan had to say in a letter to the Sunday Times. "We wish to emphasis (sic) that it is not the task of the Hon. Minister of Petroleum Industries to pump fuel to his official vehicle, even at an opening of a fuel station. Throughout his political career he has not on principle pumped petrol to his official vehicle."
Hilarious indeed!!!!!. I accept Roshan's assertion that Minister Premajayantha was not present. It turns out that the fuel was indeed pumped by Minister Seneviratne and Chief Minister Herath. That was at the auspicious hour. Examples are many of ministers performing such tasks.
One example is how Ministers drive buses and tractors (including earth moving equipment) at various ceremonies. They are symbolic gestures.
But Roshan's claim that "throughout his political career he has not on principle pumped petrol to his official vehicle" is indeed laughable. He is not aware that as Petroleum Industries Minister, Premjayantha has pumped millions of tonnes of fuel into Sri Lanka to keep the vehicle population running.
No one said anything about pumping fuel to official vehicles – a fact which Media Secretary Roshan seems unaware of.
MR wants Dayasiri only for a song
MPs from both government and opposition were gathered at the Speaker's residence for a dinner party last week after the conclusion of the budget debate.
While speaking to some opposition MPs, President Mahinda Rajapaksa asked whether they would sing a song.
UNP MP Dayasiri Jayasekara who is also popular as a reality show singer said they all would accept the invitation and sing.
Another UNP MP, Gayantha Karunathilka, asked the President, "Sir, Sindu kiyanna vithrai neda Dayasirita aradhna kale? (Sir,you invited Dayasiri only to sing a song, didn't you?)."
Ow,ow thama sindu kiyanna vithrai (Yes only for singing)," The President said.
Sakvithi pulls off his clothes in court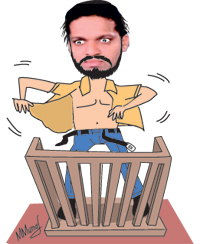 Sakvithi Ranasinghe, who allegedly defrauded millions of rupees from depositors was brought to the Nugegoda Magistrate's Court last Friday.
While he was kept in the court cell before being produced, he started to scream. He began to remove his clothes. He claimed he was innocent and blamed the Government and the Police.
Police and Prison officials struggled to persuade Ranasinghe to wear his clothes as they escorted him to the prison bus.
However he seemed to want to pull off his clothes every time he was dressed.
The Magistrate further remanded him and his wife.
Harsha's list: Will President remove 20 more people? 
After a weary month-long budget debate both government and opposition parliamentarians were hosted to a traditional dinner by Speaker Chamal Rajapaksa.
Even if they sat on the opposite sides of the House and engaged in heated arguments, there was camaraderie at the dinner. Some government MPs sipped a pre-dinner cocktail with their opposition counterparts and engaged in light-hearted banter.
President Mahinda Rajapaksa arrived at the event accompanied by his official photographer. He sat next to UNP stalwart John Ameratunga, who often acts as the opposition leader when Ranil Wickremesinghe is abroad. As they chatted, the cameraman clicked away. The photo was on the front pages of many newspapers the next day. Ameratunga and his colleague Lakshman Kiriella had walked out only days earlier from the Parliamentary Select Committee (PSC) probing the impeachment motion against Chief Justice Shirani Bandaranayake.
Rajapaksa was to meet economist cum UNP MP Harsha de Silva. He reminded him that the MP was one of those who had wanted Chief Justice Bandaranayake removed. This had been after reports of allegations of corruption against her husband Pradeepa Kariyawasam. "We have acted on your request," Rajapaksa, known for his excellent public relations, said jokingly.
"In that case I will send you twenty more names of people who should be removed from office," retorted Dr. de Silva. A chorus of voices of ministers and MPs said, "we hope our names are not on your list."
Follow @timesonlinelk
comments powered by

Disqus