From fiery leftists to feeble lambs
View(s):

My Dear Vasu, Tissa and Dew,

I thought I must write to you when I heard that you had written a letter to the Leader of the House, Nimal, saying that you didn't agree with the way the Chief Justice was being 'tried' by Parliament following the impeachment that has been submitted against her by your own colleagues.

These days, anyone who has anything to say about the impeachment makes a song and dance about it calling press conferences and issuing statements. But what do the three of you do? You quietly send a letter to Nimal and pretend that you have done your duty!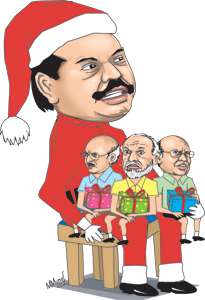 I was both surprised and extremely disappointed to hear of what you had done. And may I hasten to add that until recently I had enormous respect for all three of you as leaders of the 'Old Left'-and not merely as old leaders who are leftovers of the Leftist movement in this country either.
Vasu, we would have liked to remember you as the man who was a rebel not only in Parliament but even in the Lanka Samasamaja Party where you began your political journey and later in the Navasamasamaja Party which you helped to form.
The Vasu that we remember was never afraid to speak his mind and paid the price for it on more than one occasion, being expelled from the political parties in which he was a member. Unfortunately, Vasu, today you seem to be a ghost of your former self.
Dew, we remember you as the man who replaced the irreplaceable Sarath Muttetuwegama in a Parliament which was then dominated by the Greens. Sarath was a hard act to follow, but you made a good impression and were a worthy standard bearer for the Communist Party.
I assume you know that you are following in the footsteps of giants like Pieter Kueneman and S.A. Wickremesinghe. Sadly, I am not so sure that you have had the courage to stand up for the ideals that they stood for.
Tissa, you took to politics relatively late compared to Vasu and Dew but you are today the standard bearer of the Lanka Samasamaja Party. You are first and foremost a medical man and we do appreciate that you are still a modest and simple person, unaffected by your position or power.
You have been given step-motherly treatment for some time now. Remember the All Party Representative Committee of which you were the head? They ignored that too and yet, you said nothing. Would your predecessors like NM and Colvin be proud of what you are doing today, Tissa?
Vasu, Tissa and Dew, it was not so long ago that the three of you expressed your opposition to the eighteenth amendment that allowed Mahinda maama to become King for more than two terms and also abolished the independent commissions that would have strengthened democracy.
But even then, when it came to a vote in Parliament you trotted out some lame excuse and voted for that amendment. That must have been a sad day for the parties you represent and it is good that NM, Colvin, SA and Pieter are not with us for if they were, they would have died of heartbreak that day!
We remember these people not only because they were political greats of the past but also because they had the courage to walk out of the Queen Bee's government in the mid-seventies, instead of compromising on principles merely to enjoy the perks and privileges of power.
And it is not only leftist leaders who have done that, Vasu, Dew and Tissa. When the Old Fox was King, quite a few ministers like MDH, Gamani and Cyril Mathew resigned with honour. Then, under his successor, Lalith and Gamini resigned over another memorable impeachment.
So, Vasu, Dew and Tissa, when you cling to your ministerial portfolios while making noises to the effect that you don't really approve of what is being done or the way it is being done, we can only assume that you are doing so because you want to enjoy the comforts of your position.
Of course, all three of you are over seventy years of age and that is probably why two of you are 'senior' ministers. And, Vasu, even though you are a functioning minister you too have been assigned 'National Languages and Social Integration' which is not the most important ministry in the Cabinet!
So, if we are honest about this, even if all three of you resigned, you wouldn't stand to lose much, except the privilege of being ministers. Yet, you choose not to do so and opt to remain in a Cabinet which, by your own admission, is acting in an improper manner!
This, Vasu, Dew and Tissa, is the tragedy of our times. Those in power, be they Blue or Green, will try every trick in the book to stay in power. But that is also why someone once said that the real tragedy is not the strident clamour of the bad people but the appalling silence of the good people!
Yours truly,
Punchi Putha
PS-I am sorry if I have struck a discordant note in this festive season of cheer and goodwill but I have tried to compensate: I have asked Santa to bring you gifts this Christmas season. He asked me what you would benefit most from and I suggested the identical present for all three of you: a backbone!
Follow @timesonlinelk
comments powered by

Disqus