Appreciations
View(s):

Father said we make a living out of what we get, and make a life with what we give

C. S. Dharmarajah 

"Your seats are confirmed" – this was the telephone call I received from my travel agent. My father was keen to travel to the holy place of Shirdi, in the state of Maharashtra, India, despite me trying to put it off for a future date. All arrangements were made for our trip and we boarded the aircraft.

This time it was the final departure for my father, who had no clue that he would not return. The ways of God are mysterious.

My father was passionate about reading. A veteran journalist, he used to go through the newspapers and draw our attention to certain well-written articles. Most of the time, he was an unerring judge of men and matters. He treated his two children equally well, and derived great happiness in being with his family. His sense of humour and kind ways never failed him. He appreciated all we did for him. As children, we were made to understand the importance of good manners.

My father loved music. His favourite singer was Gentleman Jim and in more recent times the Irish singer Daniel O' Donald. He loved singing and was blessed with a beautiful voice. He would hum his favourite songs during his leisure hours. He encouraged us to speak the Queen's English. He detested bad, sloppy handwriting.

My father was my best critic. He gave praise when necessary, and pointed out what areas required improvement. We had common interests in religion, music, drama, sports and world affairs. He enjoyed watching comedies, along with the family.

He advocated honesty at any cost. "Honesty pays dividends and takes you up in life. Never boast – it is cheap publicity. Earn respect, don't buy it. Be well dressed but not over-dressed. Work is worship, so work according to your conscience. Do not be not ashamed of mistakes. We make a living out of what we get, and we make a life with what we give. Always do the right thing – this will gratify some people and amaze the rest." These were some of my father's favourite quotes.

His advice was gold. He said we should hear both sides of a story and then make your judgment. He abhorred foul language, however angry a person was. Restraint showed pedigree, he would say.

My father was deeply religious, and he respected all religions. He was loved by people from all walks of life. They say you measure a person's greatness from his end, not from his beginning. This was exactly what the famous Saint Yogar Swami told him many years ago, when he was young. These sacred words came true when we reached the sacred place of Shirdi, where my father got a great darshan, a big bouquet of fresh red roses. He passed away shorthly after, very peacefully among family members. His ashes were immersed in the consecrated river Godaveri, one of seven holy rivers in India.

In death, my father rested with eyes closed and with a smiling face. I tried to cry, but the power of the Almighty stopped the tears from rolling down.

All that comes to mind now is: "We have done everything we could for him. We have no regrets. He had a very good death".

May his soul attain the state of Supreme Bliss.

Daughter Shivanthi

A priest who happily served the poor

Fr. Padma Bhareti

Death has removed from our midst our friend Padma, as he was popularly known. In April this year he celebrated his 82nd birthday. Padma belonged to a well-known family in Panadura, and had his early education at St. John's College, Panadura.

On leaving school, he joined the Meteorological Department. After serving the department for a few years, he sought ordination in the Diocese of Colombo. So he moved from the Meteorology Department to the then Divinity School across the road. After his training, he was ordained deacon in 1968 and priest in 1969. His deacon's ordination was conducted in Modera (Mutwal) by Bishop Lakshman since Bishop Harold was not well. He was made a priest by Bishop Harold at Baddegama. After being ordained, he served Moratuwa, Baddegama, Kotte, Laxapathiya, Milagiriya and Welisara.

During these years he also served in the Diocesan Missionary Council and the Standing Committee. He will also be remembered for his services as the Area Dean of Moratuwa and Colombo South. He was also the Bishop's Chaplain and Director of Social Responsibility.

Reflecting on Padma's life, it must be remembered that he had a passion to serve the poor. Before he retired from full-time ministry, he prepared for his work at Welisara, where he lived and served the poor for many years. Like Mother Teresa of Calcutta, Padma had a vocation within a vocation and looked after the poor for many years.

Our prayers are assured for his family and friends and all those near and dear. May his soul rest in peace and rise in glory.

Sydney Knight

I will love you forever

Ivan Jayaratne 

I t's over twelve years since you suddenly bade me goodbye
V enantius Ivan Jayaratne, talented and musically inclined;
A lmost in my loving arms you passed away,
N ineteenth of November, two thousand was that sorrowful day.
J esus will take care of you and shine His light upon your face
A nd angels will sing your favourite "Amazing Grace";
Y ou were not only husband but also confidant, guru and friend;
A lthough your melodious music is now stilled
R anpota thelambuwa meniketa is the song you brought to fame
A nd it was amazing how well you composed and played;
T ill we meet each other and sing on that beautiful shore
N o one on earth knows how I bear pain, grief and sorrow
E ternal rest be with you, and I will love you forever more.

Lilanthi

A generous man always ready to help and guide us 

Lal Piyasena 

Tragedy struck our family when my daughter Deepika's husband passed away after a brief illness. We are still battling to get over the cruel blow.

When Lal, my son-in-law became a member of our family 25 years ago we did not realise then, how lucky we were to have got an in-law of his calibre. As the years went by we got to know him as a simple and large-hearted man. Inside our family circle he was a man of a few words but words that came right from his heart-so genuine, so sincere and concerned. He was always ready to guide us, advise us and lend us a helping hand –a very lavish hand at that –whenever we needed him.

He was a very versatile man who could hold forth on many a subject –be it the fine arts, music, politics or business matters in such a way that we were kept enthralled. He had many friends and loved to entertain them lavishly. The meals at their home were always homemade and delicious for Deepika is an expert in the culinary arts. Lal also had a fine sense of humour and was able to keep us going with his witticisms. He was always smartly dressed and conscious of his good looks.

In spite of all these attributes he was the most humble and unassuming human being I have ever met. He had a deep respect for his elders and he made it a point to pay us a special visit on every Sinhala New Year Day and offer me a sheaf of betel before going down on his knees. Among his siblings he was highly respected and dearly loved.

Lal and Deepika celebrated their 25th wedding anniversary in January this year little realising that this was going to be their last one together. Lal lived a full and contented life and when he died he was a film editor par excellence, a highly successful businessman who cared more for the welfare of his employees than the profits he could make, an owner of an estate which provided employment for more than twenty families, a devoted and dutiful husband and a proud father of three lovely children.

We would have loved to have had him with us for much longer but alas it was not to be. Dear Lal putha, may all the many good deeds you performed in this life help shorten your sojourn in Sansara.

Mallika Sirisuriya

Tribute to a caring boss

D. M. S. B. Dissanayaka 

It is with great sorrow that I pen these words about a beloved boss, D.M.S.B. Dissanayaka, who passed away suddenly.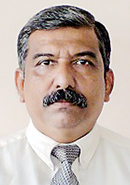 He was a great personality par excellence. Fondly called "Disa", he was the livewire in the office, attending to every activity without hesitation and ever willing to undertake any difficult task, and always with a smile. Besides, he was a devoted son and a loyal brother.
His commitment to duty was such that he would ignore his health in order to perform his duties. He went about assisting people in his humble, simple way.
So, thank you for all the things you shared with us. We honour you, Sir, and your excellent qualities are etched in our hearts. We were fortunate to have met a nice gentleman like you in our career. On your 50th birthday we held a pinkama in our department to bestow merit on you.
May you attain the Supreme Bliss of Nibbana.
Hasitha Mudunkotuwa
Follow @timesonlinelk
comments powered by

Disqus