Sales plunge as car prices race beyond reach of middle-class consumer
By Chris Kamalendran
View(s):
The price of cars of under 1,000 CC engine capacity has shot up to more than half a million rupees this year, making a small car a distant dream for the middle class. It's a dashed hope for Madura Fernando, a junior executive at a private company. He was hoping to buy a car before his wedding next year.
The first price increase came in April when taxes were raised, and this was followed by a further price increase with the November 8 Budget.
"I was planning to buy my vehicle before the Budget," Mr. Fernando told the Sunday Times. "A car dealer said I could have a vehicle imported from India. Soon after the Budget, the dealer said vehicle prices had gone up, so I have to drop the idea of buying a car, and it looks as though I will not be able to buy one in the near future."
The extra duty largely covers vehicles under 1000 CC. The price of a car can go up by a minimum Rs 250,000. Vehicle taxes in April pushed up vehicle prices from Rs. 300,000 to Rs. 5 million.
At the time it was understood that the April tax was to reduce overall the volume of imported vehicles and save on foreign exchange; but now vehicle importers understand that the price increases were aimed at reducing vehicle imports from India and stimulating business involving the local assembling of cars with Chinese technology.
In April, the tax on petrol cars below 1000 cc engine capacity went up by 80 per cent; cars of between 1000 cc and 1600 cc by 71 per cent; cars between 1600 to 2000 cc by 64 per cent; more than 2000 cc by 96 per cent, and more than 3000 cc by 86 per cent.
The tax increase on three-wheelers ranges from 23 to 49 per cent and on motor cycles 39 per cent. The November Budget raised the duty on three-wheelers by five per cent.
The April tax increase has hit the car sales business so hard that importers are seeking relief from the state. Vehicle Importers Association of Lanka president Sampath Merinnage told the Sunday Times that one solution was to re-export the vehicles and get a government refund of taxes paid. Vehicle importers are looking to re-export largely to Myanmar. "We have permission to set up a vehicle showroom in Myanmar, and we expect to commence re-exporting in March next year."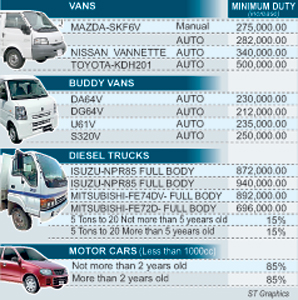 Mr. Merinnage said most small-time vehicle importers were in a crisis situation because of the the additional duties.
Customs Deputy Director J. A. D. A. Perera told the Sunday Times that six years ago the government reduced the already very high duty to encourage consumers to import vehicles. "The volume of car imports soared and the result was a drop in foreign reserves. It is for this reason that the Government has increased duties."
Meanwhile, the Government was encouraging the local assembling of vehicles and the local manufacture of vehicle accessories. Three companies have already begun assembling and modifying vehicles, he added.
Car sales centres around the country say there has been a sharp decline in vehicle sales.
In June, 24,762 vehicles were registered with the Registrar of Motor Vehicles as against 48,157 vehicles registered in the same period last year. In October this year, only 23,205 vehicles were registered in contrast to 38,931 vehicles registered.
Follow @timesonlinelk
comments powered by

Disqus