Heeloya Village
Source: Sri Lanka Tourism Development Authority – Lesser Known Attractions Project ; Graphic by Indramurthi Jayasuriya
View(s):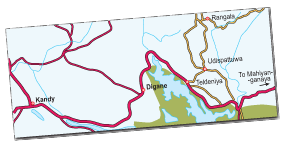 Heeloya is a rural, remote agricultural village in the Kandy district with a unique attraction of understanding how justice was meted out in the good old days. The proceedings of hearing a case by the village-headman and the location are still intact.
The main livelihood of the village community is paddy cultivation, home gardening, livestock and spices. Villagers engage in toddy tapping, handicrafts, bee-keeping, traditional dances etc., as supplementary income sources.
A very traditional village, it is unique in that it identifies itself with practicing even to this day some of the local customs in daily life.
Tourists are encouraged to work and become part of the village life by engaging in plucking fruits and vegetables for a meal to be prepared according to the local taste. They would also get an opportunity to watch some of the other aspects of this village being the Heeloya waterfall, local species and herbs.
Visitors to Heeloya can get a feel of the life in a typical village in addition to trekking and sight-seeing and a culinary experience in true Sri Lankan style! These tours are organized for half day and full day excursions.
Location : 30 km from Kandy City
How To Get There : Colombo – (Kandy Road) – Nittambuwa – Warakapola – Kegalle – Kandy – (Mahiyanganaya Road) – Theldeniya (1km) – Rangala Road – Udispattuwa Junction (Turn Right) – Poddalgoda Road (4km)- Iskola Muduna (Turn Left) (150 km – 2 hours & 30 min)
Accessibility: Accessible by Cars, Vans and mini Coaches
Group Sizes: Prefer groups of less than 10 pax
Attractions: Traditional Organic Home gardens / Village farm (Cattle unit, composting unit and nursery) Trekking in village / Heeloya Water fall Village Temple Traditional Lunch with village community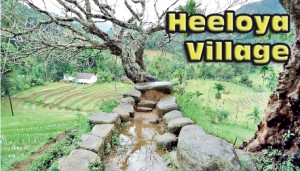 Follow @timesonlinelk
comments powered by

Disqus