Oh what a feeling, oh what a show!
By Lilamani Benson
View(s):
The Workshop Players just rang the curtain down on yet another show–adding to a pretty remarkable body of work that theatre lovers all over this country must surely celebrate and applaud.  We grew up with Jerome Lakshman de Silva's theatre . . . also his special brand of theatrics.
Jerome's directorial explorations have been an un-missable part of the fabric of life for many of us who are lovers of the arts. And I can remember like it was yesterday, the euphoria I felt with his most magnificent and best loved productions . . . which for me was Oliver! Or the absolutely spectacular opening scene of Lion King! And the mystical magical Les Miserables, including when those who were under the stage, physically making the revolving stage, revolve . . . were brought up to take a bow.
So I looked forward with great anticipation to the final night of Evita, on its ten night run. That in this relatively small city (as cities of the world go) an amateur theatre group has the audacity and nerve to put on Evita and run it for ten nights (plus two matinees) alone is – some would say – madness. But then Jerome and his co-designers and co-directors are magical (or tyrannical) in how they somehow bring out star quality in relatively inexperienced ambitious youngsters, bitten by the theatre bug.
A staging of Evita calls for almost simultaneous singing, acting, dancing. With fast swinging tangos and lifts, which are NOT for the faint hearted. That, by and large they carried it all off, with some imaginative choreography and competent stagecraft was super! Though I dare say, the dancing and singing of Ricky Martin who is on stage as Che on Broadway would have been hard to replicate for the band of amateurs in Colombo.
Rehan Almeida in the role of Che, the narrator, commanded attention and captured heartstrings from the very first note. His fine baritone, his articulation, his right mix of empathy (or scorn) for Eva and his connection with the audience was subtle and palpable at the same time. His performance had authority, and held the story together and punctuated it. Besides he also had a sometimes amusing, occasionally sardonic lines/lyrics, which helped.
Mario de Soyza as Juan Peron must also be commended. It's a difficult role to interpret. Mario was in good voice and he was an appropriate foil to the flamboyance of Eva. He was surely 'surprisingly good' for her too as it turned out.
As for Roshani Abbey, all of 16 years, who played a cameo role as Peron's mistress, when she was thrown out by Eva, she turned it into a few minutes of triumph with a gem of a performance. Unceremoniously discarded from Peron's bed maybe, but adored by the audience.
The sound mixing sadly is one area that seems to let down many stage productions in Colombo. And it did in the first act of Evita too. In the first act, the young Eva Duarte was not really able to effectively establish her personality. She had to strain a bit to be heard. And for instance her vamp scene of 'I'd be surprisingly good for you' was well nuanced, but would have been so much more effective if the sound were better dramatising the enticements of that scene.
So what of 'Evita's' performance? Played by Dilrukshi Fonseka, she grew visibly from being a slight, girlish young vamp, to a powerful ambitious woman, 'spiritual leader' of her countrymen, and then to a prematurely aging woman ravaged by cancer, yet trying achingly to not let it devour her.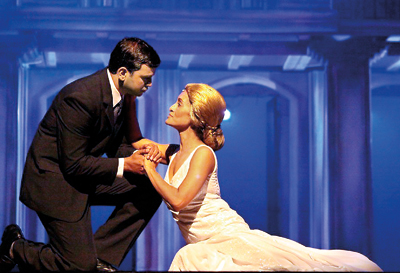 Dilrukshi has a lovely mobile expressive face and though diminutive in size, she came across in the key scenes as the larger-than-life, charismatic fire brand.
Fortunately, the sound mixing in the second act improved in leaps and bounds and was well modulated also for key scenes.
Dilrukshi's Evita evolved, and grew, and made a journey, well enabled with quick silver costume changes. She was dressed and coifed and lifted and lit and good stage craft and a very empathetic 'always in the act' chorus, all helped to make 'her' happen.
And when we progressed to the iconic balcony scene, we held our breath . . .
When 'Evita' appeared in that silver dress with its shimmering accoutrements, and stood on the balcony before her subjects, in dramatic lighting, and rolled her rrrr's in true Spanish accents and rendered 'don't' cry for me . . . . ." with yearning and star quality and charisma and pathos, because she was dying before her time . . . she was heart stopping!
Finally . . . let me go back to Jerome and every Workshop Player over the years, and in the latest production. All those who have ever flashed a light or set a prop or worn a lion's mane or purred like a giant cat, or made sounds to augment the audio track or turned the revolving stage with unflagging muscle power in the dungeons of the Wendt . . . and every would- be actor who has had a 'bit' part or lit up the stage with sheer talent and bravado . . . I salute you.
Let me pay an avid theatregoer's tribute to your amazing spirit, your willingness to do menial tasks or take huge risks. To the way you embrace the seemingly impossible and make it miraculous! To the way you sing and dance and show off. The way you so endearingly acknowledge your teachers and mentors along the way.
You have been part of our youth, our adolescence, our growing up madness. You are seared in our consciousness and memory. You have contributed to some of the most magical moments of life.
Jerome and all the 'ever' guys and dolls of WSP. You Rock!
The main roles
The principal roles were played by different cast members during Evita's 10-day run: Eva Duarte de Peron was played by Melanie Bibile, Shanuki de Alwis, Dilrukshi Fonseka and Dmitri Gunatilake; Che by Rehan Almeida, Shenoj de Alwis and Keith J. de Silva; Juan Peron by Eraj de Silva and Mario de Soyza; Augustin Magaldi by Andre Perera and Mahesh Senaratne and Peron's Mistress by Roshani Abbey, Zahabya Adamaly and Ashanthi Colombage
Follow @timesonlinelk
comments powered by

Disqus