Never a dull moment when you're among the Devendras
Book facts | "Worm's Eye View by Ransiri Menike Silva. Price: Rs. 400. Reviewed by Anne Abayasekara

View(s):
In her introduction, "A Letter to Savi", (a moving document), Ransiri Menike informs us that "As the proverbial `bada pissi' my growth was hampered by the menacing shadow of my senior siblings who deemed my existence unworthy of acknowledgement ……………………………I had to go underground in order to survive. From there I got a worm's eye view of things in general – a much more interesting and enlightening angle. Ask any worm."
Right from the start of her illuminating and very entertaining story of her immediate family, – and of sundry relatives, friends, acquaintances and hangers-on – it becomes clear that she was no down-trodden, helpless creature, but one who may aptly be described as `The Worm That Turned'. She paints candid cameos of her three older siblings as viewed through less than rosy spectacles from her lowly position in the family hierarchy. With her impish sense of humour and her undoubted gift for words plus an enviable talent for providing her own vivid sketches to enhance her tales , she immediately engages the reader's heart and mind.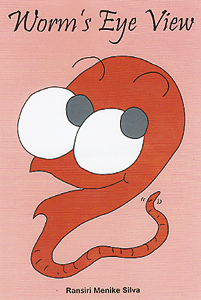 Coming from an illustrious family of writers whose father, D.T. Devendra, was a highly-regarded author of books himself, there's little doubt that writing is in their genes. Both her older brothers, Tissa and Somasiri, have distinguished themselves in this field and little sister, Ransiri Menike, doesn't lag behind them. Her elder sister, Yasmin, too, has contributed the occasional Interesting newspaper article.
Ransiri Menike's "Worm's Eye View" unfolds the fascinating story of her own family, starting with her parents – the one a Burgher Protestant and townswoman who lived all her life up to marriage within sight and sound of the sea, and the other a Sinhalese Buddhist who never lost his love for country life. "Even their personalities and interests clashed. " Mr. Devendra was an academically-minded thinker and writer whose first and only attempt at hammering a nail into the wall of their house, ended in disaster both for the wall and for his own thumb while the nail remained intact.
Thereafter, his wife absolved him of doing any practical work around the house, which suited both him and her, for she was the daughter of a parent whose hobby was carpentry and whose skills she had acquired long before her marriage to a man whose main interests were history, archaeology, writing and Buddhist activities. Yet this union between two apparently incompatible persons, turned out to be an enduring and fulfilling one for both to the end of their days. The outcome was the emergence of four happy and secure offspring, all of whom whole-heartedly appreciated the worth of both parents.
The two grandfathers, Grandpa and Seeya, also from two wholly different backgrounds, became firm friends. Ransiri gives us vignettes of two men who lived life to the full, each in his own way. The back cover of her book carries Ransiri's impressions or caricatures of the four young 'uns.
Inside the covers, she describes them thus: "We all turned out to be bookish and argumentative – the last being a congenital weakness on the paternal side. Whenever Father and his brothers came together, be it wedding or funeral, they argued. They found this invigorating and had developed it into a fine art." So, there was never a dull moment in the Devendra household, each sibling having his/her own individuality and seldom giving into the others.
Father being a schoolmaster, the family became accustomed to constant upheavals with each transfer to a new locality and school. Mother came into her own as chief packer and organiser of each move. "Father smoked endlessly, busy doing nothing. Occasionally he would venture an opinion, only to be squashed by a `You just keep quiet, Daddy!' from his irritated wife."
Ransiri hated having to say goodbye to "dear familiar places" each time the family moved, yet soon adjusted to the new environment.. Her eldest brother, Tissa, has written a delightful account of their home, " On Horse Shoe Street", Kandy, but Ransiri recalls the first house they occupied at Buwelikade and the two maiden sisters, the Misses Vandort, with whom they shared their garden.
Here we meet one sister, Aunty Nora, who "was gloriously different " and was "adored" by the young Devendras. She had spent a time in the confines of what was then plainly called the lunatic asylum, says Ransiri, and her favourite game was to chase the children around with her walking stick "which she poked into our tummies with a cackling chant of `dengara – dengara – dengara'" – a diversion which gave the children endless amusement.
The Kandy Perahera was a thrilling annual event to which the Devendra youngsters looked forward.
When World War 2 erupted, it brought a different kind of excitement – what with the blackout, ARP wardens, fire-fighters, constant air-raid drills, classrooms commandeered to accommodate troops, the rumble of military trucks and servicemen of many different nationalities pounding the Kandy pavements.
The Japanese air raid on Colombo had its effect on Kandy which was thought to be a likely target too, so the Devendras accepted the invitation of a family friend to join him in the latter's "Maha- gedera" in a little village called Ekiriya. Here, Ransiri had her first taste of something she has treasured ever since. "Coming into contact with the serenity of an uncluttered village life as it was. Much later on, when Father was appointed Principal of Sivali Vidyalaya and they took up residence in the village of Tirivanaketiya on the outskirts of Ratnapura town, Ransiri was in her element. She recalls the years there as "the happiest days of our lives". She concludes her account of those carefree years thus: "There was to remain with me all through my life, a homesick longing for the tranquil days at Tirivanaketiya ."
There's plenty in the book to evoke nostalgia in readers of my vintage. Ransiri writes engagingly of travel by buggy cart which she labels "Ben Hur in a buggy; harvest time in the paddy fields of Tirivanaketiya '; her first `bioscope' with its memories of Carmen Miranda, Shirley Temple, Sabu, the "Carry On" series starring Bing Crosby and Bob Hope and the magic of Walt Disney's Fantasia; indoor games such as Lexicon and Monopoly; Kolynos toothpaste (which the young Ransiri and her fellow kindergarteners happily lapped up when they were handed samples of this once-famous toothpaste). Alerics and Plaidona ice-cream vans and Perera & Sons' Popsicles; the legendary race horse named Cotton Hall and Jockey Ted Fordyce; fashion commentaries on Cup Days, with photographs and detailed descriptions of the outfits worn by the fashion-conscious.
Ransiri has drawn one of her inimitable sketches showing the rear-view of a crinoline-clad lady who is unmistakably Yvonne Gulamhussein; household names of yore like the unforgettable singer, Sunil Shantha, and composer Ananda Samarakone who is best remembered for our National Anthem.
This family had a penchant for attracting colourful characters. They accepted all types of people without feeling superior or judgemental. So it's not surprising to read that when they eventually moved to Colombo, in close proximity lived a group of "well-known IRCs with whom we were all on very cordial terms."
She goes on to describe the pleasant excitement they derived when, periodically, a peaceful morning "would suddenly be shattered by the pounding of heavy feet as scores of IRCs, sarongs raised high, thundered across our gardens, vaulted over barbed wire fences and vanshed into the wilderness of Buller's Lane", eluding the police van that trailed them.
There are other more respectable but unusual people who become a part of their lives at one time or another.
Early playmates included "Vijaya of the tight shorts, son of Nadarajah the tailor, 'who made the greatest impact on us all," and Victor who, despite a shrivelled leg, a club foot and a facial tic, thoroughly enjoyed joining the gang in their escapades. There was `Lambeth Walk', dapperly clad in complete Western attire topped with a natty felt hat, who carried a mouth organ in his pocket and would suddenly whip it out – especially when there were ladies around – to play `The Lambeth Walk" on it while he skipped and danced around in a circle. There was also Appuhamy of Alakolange who became a staunch friend of Ransiri's Seeya in later years and who included Seeya's children and grandchildren in the special relationship he had established with Seeya. He would turn up at their abodes, dressed in white sarong and banian, his hair tied in a konde and his untrimmed snowy-white beard covering his chest. He was ever ready, at age 80, to don a loin cloth and a turban and voluntarily and systematically work non-stop to clear the over-grown garden of the Devendra residence.
In the evening, after a bath at the well, he would come bare-bodied to sit down on the front steps, carrying his chew of betel, and enchant the children with tales of his early life. Then there was Uncle Edward, Father's youngest brother , a bachelor who came to live with the family and who regaled his nephews and nieces with his own anecdotes, notably "The Tale of A Hat" which features in Ransiri's book.
These are some of the memorable characters whom Ransiri faithfully portrays for our delectation. The book ends, fittingly, with a typical example of the dinner-table conversation of the family, where Father with his insatiable love of talking, tries to hold the floor despite constant interruptions by his 4 irrepressible offspring whom Mother tries to quell in her valiant efforts to maintain order and enable Father to tell his story. Life among the Devendras is hilariously related and illustrated by its youngest member who has the last laugh on her siblings who, she declares, tried to deny her a voice. She leaves her readers chuckling delightedly.
Follow @timesonlinelk
comments powered by

Disqus