Appreciations
View(s):

She influenced many during her lifetime

Snehalatha Amerasinghe

Memories are always impressions that are gathered from our young days when we learn and see others do things that we may not fully comprehend until we become adults. It takes maturity and experience in life to value the replay of our memories as visions that mean something. This is what I realized as I became an adult and looked around at people like Aunty Sneha and my mother, two people from the same vintage and what they did for their communities quietly with no fanfare but with far reaching ramifications. Those were times when service was with sincerity and a sense of purpose that the world didn't know then, but needs to know now.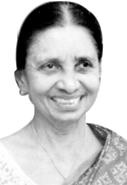 Sneha Amerasinghe comes to my mind as a fun loving aunt who spent time with us as children when she was a young mother to her only child Senake. We grew up seeing a close relationship between Uncle Clarence, Aunty Sneha and our parents. Our cousin Senake who was then a kid just like us, earned a reputation for being a prankster without any doubt when he joined us during school holidays in Gampaha when my father served as Magistrate.
It was those years we remember when Aunty Sneha spent extended stays at our home although I had not even reached double digits in age. Aunty Sneha was not the typical Company Chairman's wife at the time she used to come to Gampaha when her husband Clarence Amerasinghe spent time travelling on business and she stayed back. With their only son away in boarding school at Royal College, a move planned by his parents to give him a down to earth upbringing she came over for her breaks to enjoy the company of my parents.
They raised Senake with simplicity and values that mattered and, he turned out to be a caring human being not only to his family but to anyone who needed his help– a far cry from a selfish only child. Wealth and humility don't always mix but with these parents, they got the formula right. Aunty Sneha was an unsung hero who fulfilled many charitable deeds helping causes, making a huge impact in a quiet way that many probably do not know. A devout Buddhist, she lived a simple life with no pretences but through her eyes she saw many things that needed her intervention. It was a calling she took seriously when we look back at her record of charity and service to the community.
On the lighter side, I remember how she played tennis ball cricket with us – it was quite a treat to see her in a saree taking our challenge with under arm bowling as we girls usually do. She knew of the little pranks her son played when he spent times with us when both parents were away. These pranks were childish but looking back, it was these pranks that bonded us over the years as we grew into adults. Aunty Sneha knew how her son loved Chocolate Cake and almost sniffed it from Havelock Town to Borella in later years when we grew up and baked at home. He humbly admits to this failing even today.
It was Uncle Clarence and Aunty Sneha who visited us often after we lost our father. My memories go back to those years when I was a nine year old, not knowing where my future was headed. One of her acts of kindness I remember very clearly was the way she helped my mother. My father fell ill suddenly and spent extended periods of time in hospital. At that time my mother didn't drive and the official driver was gone. It was Aunty Sneha who came from Havelock Town to Borella to pick up my mother on a regular basis to drive her to the hospital to be with my father and bring her back home from time to time. She was a Company Chairman's wife, who drove her own car in the late 50's and had the first clutchless car. I remember it was a novelty for all of us knowing she didn't need to use her left foot to drive! A novelty then but automatic transmission as they are known today.
I was clearly the bookworm that loved to read and stayed the serious academic determined to make something of myself. It was Aunty Sneha who saw it and brought me all Senake's books he had outgrown and I remember becoming the owner of my very first "Bambi" book a story all children cherish. It had the added bonus of the special quality where I was able to feel the fur on Bambi as if Bambi really lived between the pages of the book. I remember keeping this close to me at night as if it was the greatest treasure I got as a child. Little things meant a lot to me then and still do. These were special things for me and I learned never to forget kindness shown to me.
When possible, we learn from these to share the same with others when we could. In our selfish world today we have to try hard to teach people to remember the good that others do and give them credit where it is due.
After the demise of her husband Clarence Amerasinghe on January 30, 1970, she took over as Chairman of Clarence Amerasinghe and Company in June 1970. She spent many years in this role until her health began to fail. She was not merely a figurehead in the Company but knew what had to be done. At the same time she was not the avaricious business tycoon. Instead, she played a significant role in the community around her taking care of the needs of the less fortunate. This is a rare trait. Success didn't dim her view of the less fortunate. Aunty Sneha gave three years of her time as President of the Mallika Home. During her Presidency she constructed the Anagarika Dharmapala Hall to accommodate 30 elderly destitute women. This was built with funds from public donations and her personal resources without depleting the funds of the Mallika Home.
Another of her projects was the Sneha Home started in 1971 specifically for children ranging from infancy to six years. This home was for orphans and abandoned children. The home currently cares for 25 children in need of care. A noble deed she fulfilled.
She gave her time as a member of the Executive Committee of the Cancer Society and overlooked a home for cancer patients in Maharagama that provided accommodation while they were receiving treatment at the cancer hospital. She took the initiative to make many improvements to this home under her leadership.
Among some of the major charitable projects she undertook was the construction of intensive care wards at the Colombo South Hospital, the Horana Hospital and the Marawila Hospital funding the costs from her own resources. She started the first ever burns unit at the General Hospital Colombo by donating her personal resources to refurbish the existing building. She didn't forget the children when she was the principal donor of an intensive care ward for children at the Lady Ridgeway Hospital initiated by the Kiwanis Club. On a larger scale she funded the restoration of two water tanks initiated by Dr. Anula Wijesundera. She was also a significant contributor to the Ranveta at the Sri Maha Bodhi in Anuradhapura. At the Dalada Maligawa, Kandy the silver table top for offering flowers to the Sacred Tooth Relic was an act of veneration she chose to offer. At the Vidyalankara Pirivena in Peliyagoda, she donated a gold casket to enshrine the Buddha relics, a gesture of her reverence to her faith.
It was not only her faith that she enshrined among her good deeds. She was mindful of the needy and never gave up on doing what she could to make a difference in their lives. It was a selfless way of sharing her life of privilege with others who had less. She donated toward the education of under privileged children attending school.
The first Bhikkhu ward at the General Hospital Colombo was constructed with a donation from the family trust of her late parents and she chose to do so in their memory.
Just as she cared for so many in good times, her son Senake and Ruki took care of her till the end. It was what every child is expected to do but not always seen in current times. Parents are not measured in wealth but in the thoughtful caring and nurturing efforts they put into raising children.At any level, parents can never be replaced and no one can take their place. Senake will no doubt feel the void she left regardless of the reality of life.
Aunty Sneha as a devout Buddhist spared no pains to lead a life of purpose during which she stayed away from public glare and glamour to follow a spiritual path accumulating merit for her journey through Sansara. She came to this world with good karma to be blessed with a life of privilege but she did not use it with greed or attachment and selfish motives. Using her position of privilege she accumulated good Karma in this birth too in her quiet way. Although in later years, she was sedentary and not able to do much, she had done all she needed to do and more when she was able. I saw her last in August 2012 and her frail body was alert but non communicative.
She didn't have to say much because her actions in her life have spoken far louder than words. She must now be reaping the good she took with her to a special place of peace. She will no doubt be one of the fortunate people who lived a life as it should be lived to go to a place of supreme bliss when she left us all. May she find peace and eternal rest.
Affectionately remembered from my childhood years.
Anjalika Silva
Guardian angel of delinquent daredevils! 
Hema Fernando
Hema Fernando was a surrogate mother to many of us since we were around 10 or thereabouts. We were neighbours. Her eldest born Nimal was a close buddy and schoolmate. So in keeping with typical Sri Lankan protocol I called her 'Aunty Hema.' Although her diction was flawless, for some perplexing reason she called me 'Gatson.'
Nimal used to often attempt to straighten his mother out on the slight name jumble. She would listen carefully and then say: "Yes Gatson, that is exactly what I am saying, stupid!" Some things can never be rectified and so I had to carry the mangled moniker for the rest of my life.
And oh yes, who can forget how she medicated and bandaged cuts, used ice and eau de cologne to bring down swellings suffered by a band of injured hellions. It became a perennial pursuit for Aunty Hema to scold and soothe as she attended to the injuries of hordes of reckless rapscallions who indulged in pushing breakneck stunts to the limits. If ever there was a guardian angel for delinquent daredevils it must have been Aunty Hema.
Although diminutive in stature, Aunty Hema stood out conspicuously as a colossus among homemaking wives and mothers as she spent her entire adult life working tirelessly to advance the quality of life of her family. She was also a generous person working towards helping the deprived and the disadvantaged in the neighbourhood.
She was quick to explode at times, but quicker still to forgive. Yet, she was an immensely kind person and it was doubtless this kindness of spirit that was her Achilles heel. She was also a resourceful person and could take charge of most any situation at a time it mattered most.
Although she had absolutely no experience in the blood and thunder world of advertising she was dragooned into becoming a trustee of a family advertising agency. She went about her job by handling things with such assurance and a no-nonsense spirit that astonished everyone including her own family members.
And I also remember more than a decade ago when Aunty Hema was travelling with her husband and his nurse during the height of the terrorist bomb blasts how they were detained by the Slave Island police because the nurse was a Tamil. They were hostile and abrasive and tried to take the young woman in for questioning. But Aunty Hema insisted that she would be at the retainer's side "even if they held her for a month".
That was the day a posse of rude and obnoxious coppers were given such an earful that they regretted the day they had donned their uniforms. I was present when the IGP himself called and offered his humble apologies.
She was mother courage all right. She would never compromise on her honesty or ethics. And as far she was concerned there were no sacred cows. I remember the day when her husband the legendary Lake House editor, Clarence Fernando vacated the editorial chair and stormed out of the office after a disagreement with the then Executive President.
On his hurried way out Chief Clarrie Bua, as we called him, yelled at me in his own pithy way: "Put the paper to bed, Gaston boy, I have sacked the job!" He went home had a couple of afternoon aperitifs followed by a sumptuous lunch and then took an afternoon siesta.
Soon after, there was a call from the President's Secretary to his home asking for Clarence. Aunty Hema told him politely that Clarence was asleep and she would not wake him under any circumstances. The secretary insisted that it was a Presidential 'summons'. Aunty Hema fired from the hip telling him she did not give a tinker's cuss whose summons it was. She told him in no uncertain terms that Clarence was the head of his home domain and that his instructions took precedence over anyone, even the head of state.
The matter was finally resolved the following morning when an official convoy was sent to fetch Clarence to the President's home. The President personally apologised to Clarence who returned to Lake House as a conquering warrior. Which prompted the old fox, the President to tell Aunty Hema's brother a Cabinet Minister at the time: "I say Ananda, your sister is a real spirited one. I wish I had more people like her in my Cabinet."
I still recall how her daily help 'Vaparey Jane' and the midget lunch man adored her just this side of idolatry for her generosity and kindness. She was aware that there was for her a special place in the hearts of the scores of people whose lives she had touched in a meaningful way by her gracious patronage.
Aunty Hema, we all certainly miss you. You were emphatically the hostess with the mostest serving us your delectable 'cutliss' while we had many a brazen battle with Chief Clarrie Bua's bottle. I am also grateful to your children Nimal, Pamela and Anne for giving me, the singular honour of delivering your eulogy at your recent service of thanksgiving.
While doing so I imagined you 'Up There' listening to 'Your Gatson' and blushing over my eulogy with your beautiful, benign smile.
Gaston de Rosayro
You were friend, sister, and mother – and too young to leave us
Weliwitawithanage Dona Dushanthi Kumari 
I never dreamt I would be writing these words about you, Dushanthi Akka. You were too young to leave us.
I first saw you three decades ago, and then I started seeing you more often after my loving mother passed way, during my times of loneliness and sadness. That was when I came to know you well, and when we became really close. You consoled me. You were a pillar of strength.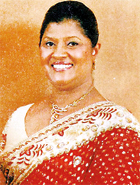 You and your husband stood by me whenever I needed help. I am deeply grateful to you for everything, dear Dushanthi Akka. You were friend, sister, and mother to me. You were loving and caring. You always had that sweet smile, and were always grateful for even the smallest favour. You were a strong believer in God.
When I heard that you had multiple myeloma, I was shaken and begged the Lord to cure you. I am too little to understand God's Plan. They say God calls the best to His kingdom first. That must be the reason He has taken you so soon.
Although you are far away, your smile and welcoming face will always be in my heart.
May you have eternal rest, DushanthiAkka.
God bless you.
Nimmi (Nimali)
Follow @timesonlinelk
comments powered by

Disqus