No jail, but rehabilitation for drug addicts
By Damith Wickremasekara
View(s):
People found guilty of violating some narcotics or excise laws will not be sent to jail, but to community-based correction centres for rehabilitation from next year, Prisons Reforms Minister Chandrasiri Gajadeera said.
He said the main objective was to reduce overcrowding of prisons where nearly 60 per cent of inmates were held in connection with narcotics or excise offences.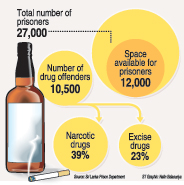 The minister said amendments to the Prisons Act and the Community-Based Correction Centre Act were ready to be introduced in Parliament to implement the new plan.
He pointed out that of the 27,000 prisoners today about 40 per cent were being held for narcotic offences and about 23 per cent for excise offences. However, Mr. Gajadeera said those found guilty of drug trafficking would continue to be jailed.
Prisons Commissioner General P.W. Kodippilly said that of those now in jail, about 10,000 persons were drug addicts.
He said the drugs were being peddled even inside prisons and the new moves would help to curb this problem.
The prisons chief said drug addicts should be treated as patients and the policy of sending them for rehabilitation instead of jailing them had been worked out successfully in many countries.
Follow @timesonlinelk
comments powered by

Disqus