Alone on the field of an uphill battle
View(s):

My Dear SF,

I thought I must write to you when I heard that you had launched a campaign to abolish the executive presidency and had held your first meeting this week. It was good to see you back in the news-especially because we were not seeing you getting in and out of a prison vehicle!

It is also ironical, is it not, that you launched this campaign to abolish the executive presidency at the same time that the government announced that there were no outstanding charges against KP?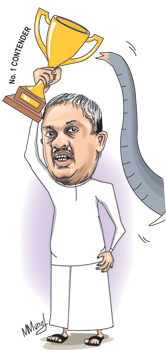 This shows that justice in our country works in mysterious ways. There is KP, for instance, who allegedly financed the LTTE for decades, being told that there are no charges against him-or even if there are charges, nothing is being done about them, except keeping him in considerable comfort at the taxpayers' expense.
On the other hand, there you are, the man who braved the bullets and the bombs to win the war for us being charged with more than a dozen offences, being court-martialled, deprived of your rank and even your pension and having to get a court order to have a fan in your prison cell while you were in jail!
But I suppose, SF, we must let bygones be bygones, now that you are a 'free' man, at least physically. You are obviously thinking of making a political comeback which is why you are launching this campaign against the presidency-and what a controversy it caused, even before it was launched!
The Greens got their knickers in a twist and issued orders that no one in their camp should attend. I am not sure why they did that-either they supported the executive presidency themselves or they feared that you-instead of their leadership-will steal the show!
You must spare a thought for Karu, though. He promised you that he would attend and posters went up with his name on it but when his boss cracked the whip, he had to pull out at the eleventh hour and you were left with three other Green MPs who are not big guns anyway-and the poor threesome must be feeling that they were left in the lurch by Karu!
Karu, we know, is a decent gentleman and has a heart of gold. But his recent decisions have brought nothing but embarrassment: he joined Mahinda maama's cabinet and then returned to the Greens minus the seventeen MPs he took with him, he contested the leadership and lost and now, he assures you of his support and backs out at the eleventh hour!
Young Sajith, on the other hand, is someone to watch out for. He got the Number Two slot in the Greens for himself by asking Karu to contest for the top job and when it comes to abolishing the executive presidency, he wants to have nothing to do with it-he obviously got a taste of it at home and he seems to have liked it!
And, SF, what you must remember is that this young man in a hurry has launched his struggle within the Green camp to become Number One. It is hard to think that he will suddenly feel generous enough to make way for you to take over the reins!
So, SF, as laudable as your intentions are, I cannot but help feel that what you are trying to do is causing more divisions among the Greens-as if they don't have enough already. I heard that several have been suspended from the Party for attending your rally and that can only add to the problems they are confronted with.
Of course, SF, the optimistic person that you are, you might feel that you could win on your own steam without the support of either the Greens or the Reds. Well, you couldn't do that with their support-and the support of many others-two years ago, so if I were you, I would really think long and hard about that.
That is because, whether we like it or not, the Greens have ruled this country for a long period of time and they do have a large vote base, even at the worst of times. So you will have to consider whether you need to tap into that vote base if you are to win.
Therefore, SF, dividing the Greens even more-even if it happens unintentionally-will only create one winner and we all know who that is: Mahinda maama will be laughing all the way to the next elections!
I am sure, SF, there are many people who remember what you have done for our country and see you as the man who brought our war against terror to a decisive end. No matter what some people say, your place in history is assured for that achievement alone. What happened to you thereafter only serves to increase the esteem with which you are held by most people.
So, we look forward to seeing you once again but we hope it will be with a much better plan because, as I am sure you have realised by now, politics, like war, is too serious a matter to be left to the Generals alone…
Yours truly,
Punchi Putha
I noticed that you had on your stage the 'other' Sarath. Well, he has had his ups and downs but at least he has the courage to own up to his mistakes and say that he is responsible for a lot of what is wrong with our country now.
Follow @timesonlinelk
comments powered by

Disqus