Fr.Claver:Tribute in song
View(s):

October 14, 2012 marks the second death anniversary of Father Claver Perera, the legendary tenor priest of Sri Lanka.
Being gifted with a beautiful tenor voice, his secular successes and degree in English Honours did not deter him from fulfilling his childhood dream in dedicating his life to God.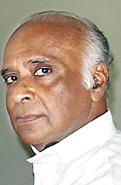 While his singing voice could have easily ranked him as a tenor of international repute and fame, his deep Christian faith and calling resulted in his oft heard proclamation that he was a priest and not a singer. In a fast moving world of stress and tension he spent 44 years as a priest faithful to his calling.
After his ordination by Pope Paul the VIth at St. Peter's Basilica in Rome, one of the early appointments of Father Claver was as Assistant Parish Priest to Father Joe de Mel (at St. Mary's Church, Colombo). Father de Mel's love for perfection, elegance and finesse spurred Father Claver in bringing about a renaissance in choral singing and an inspiring and meaningful liturgy bereft of inundation by prescribed rigid ritual and dictated formula in prayer.
The St Mary's Choral Group, the all male choir begun by Father Claver at St. Mary's Bambalapitiya marked perhaps a renaissance in choral singing both in churches as well as the secular field.
Father Claver left a lasting legacy which we definitely see in the St Mary's Choral Group They continue to sing at the St Mary's Church services. The St Mary's Choral Group and friends of Father Claver will pay tribute to him in song at 7 p.m. on Sunday, October 14 at St Mary's Church, Bambalapitiya. All are welcome.
Follow @timesonlinelk
comments powered by

Disqus