Households urged to sort out garbage for environment's sake
By Malaka Rodrigo
View(s):
Western Province households will be urged to put a little extra thought and trouble into dealing with their garbage – for the sake of the environment. Homes will be requested to separate perishable and non-recyclable waste from the rest of their garbage. At present, all solid waste generated in households is disposed of in the same way, by dumping, and material that could be used is lost.
The new approach to garbage disposal is a pilot project of the Western Province Waste Management Authority (WPWM), in association with the Korea International Cooperation Agency (KOICA).
Eighty per cent of the country's garbage is perishable. A small percentage is used for composting purposes, but most of it ends up in garbage dumps, and only add to the pollution problem. These open dumps are a source of pollution, but the local authorities are compelled to use them in the absence of proper sanitary landfills.
Under the Source Segregation for Effective Management of Municipal Solid Waste initiative, households will be urged to sort out their garbage before leaving garbage bags out for the Municipal Council to pick up.
The local authorities will issue polyethylene bags (PE bags) for the disposal of garbage. These bags, in different sizes, will be available at shops, stores, supermarkets, pharmacies, etc. These bags will be for perishable waste and non-recyclable waste. The garbage truck or "kunu tractor" will not accept garbage that has not been sorted and put into these special bags. Recyclable waste and hazardous waste such as fluorescent bulbs, batteries and clinical waste will be collected free of charge.
The "polluter pay principle" will encourage good habits among waste generators, WPWM director Priyantha Samarakkody told the Sunday Times. Waste disposal was a high-cost service borne by the local authorities, and there should be separate charge for the service, just as there are for power and water consumption. "If the user does not pay, the Government will have to pay, and this would mean increased taxes.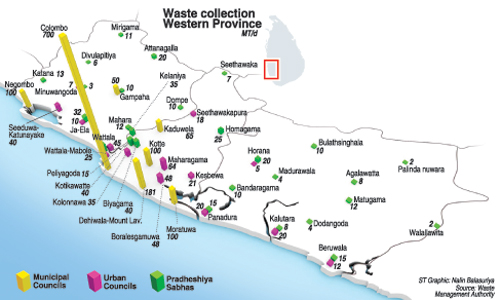 Otherwise, the environment will have to pay, and this will impact on the society," he said. Professor Young Che Ahn of KOICA, and an advisor to the WPWM, told the Sunday Times that the system was a success in South Korea. It had significantly reduced the volume of municipal solid waste sent to landfills and incinerators, and a large increase in the volume of recyclable material.
The new approach would increase citizen participation in recycling and composting activities, reduce waste, and minimise adverse impact on the environment, Prof. Young said.
Follow @timesonlinelk
comments powered by

Disqus