Diesel price hike could push up transport and consumer item costs
By Mirudhula Thambiah
View(s):
Food items, essentials and other commodities are inching up in price after the Lanka Indian Oil Corporation (LIOC) increased the price of diesel by Rs. 4 last week. Among those who have hinted that transport fares will also go up are private bus operators, lorry owners and office and school van services.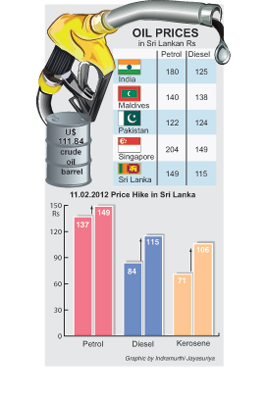 Meanwhile, the Ceylon Petroleum Corporation (CPC) has not indicated an increase the CPC diesel price. Petroleum Resources Minister Susil Premajayantha told the Sunday Times that there were sufficient stocks of diesel at CPC outlets, where stocks are renewed every three months.
While the new diesel price may not be a serious concern for urban area bus owners, rural area operators will be affected, said Lanka Private Bus Operators' Association president Gemunu Wijeratne. "We haven't increase bus fares, but we expect the Government to give us some relief," he said.
Air-conditioned buses plying between Colombo and the suburbs are charging an extra Rs.10. "Consumer items that have to be transported long distances will go up by between Rs. 2 and Rs. 5," said Old Moor Street Traders' Association president K. Palaniyandi Sundaram. "We charge between Rs. 25 and Rs. 50 to transport a gunny bag of dry rations to outstation areas. With the diesel price hike we have to charge an extra Rs. 5."
Kolonnawa-based wholesale coconut distributor A. V. Bandusena said coconut prices would go up if lorry transport charges were increased.
Panadura-based school van driver Wasana Mendis said he used CPC diesel, although LIOC diesel was of better quality. "A litre of LIOC diesel gives me a 10 kilometre-run, while a litre of CPC diesel gives me only 7 km," he said, adding that van drivers may have to increase fares by Rs. 2,000 if the CPC diesel price was also increased.
Moratuwa-based school van driver Jayaratne Ariyabandu spends up to Rs. 20, 000 on diesel every month, but says he will not risk losing passengers by raising his rates. Wellawatte Market vegetable vendor K. T. Chaminda expected vegetable prices to go up by at least Rs. 5 per kilo.
Meanwhile, demand for CPC diesel has gone up sharply. At the CPC petrol station in Negombo, consumers have been buying between 2,000 to 2,500 litres of diesel a day this week. "We have a big demand from fishermen and fish vendors," said petrol shed worker Samith Anushka.
CPC Managing Director Susantha de Silva issued a statement this week saying the LIOC diesel price hike would not affect the majority as the CPC supplied 95 per cent of the country's oil market. He said the CPC had sufficient stocks to meet market demand.
Follow @timesonlinelk
comments powered by

Disqus