6 to 7 die daily on our roads, what are we doing to stop this?
By Charundi Panagoda and Nadia Fazlulhaq
View(s):
Last Friday, two people died when two private buses collided in Jaffna. Last Wednesday, a woman died from a motorbike-tipper collision, and in Katubedda, 11 persons including seven schoolchildren were critically injured when a bus collided with a school van. Last Monday, four people, including two policemen, were killed when their vehicle overturned on a highway under construction, teledrama director Nalaka Wedamulla died in a head-on collision between two cars, two schoolchildren were injured when a bus went off the road into a canal and an army lance corporal died when his motorcycle collided with a private bus.

Police statistics reveal about 25,000 road traffic accidents to mid-September this year, with six to seven deaths a day. Deputy Inspector of Police (DIG) Traffic, K. Arasaratnam said about 110 accidents are reported daily, of which, one fatal accident takes place every four hours.
According to the World Health Organization (WHO), South Asia has the highest number of road traffic accidents, with Sri Lanka quite high on the list, WHO National Professional Officer Dr. Lanka Jayasuriya Dissanayaka said.
From 1977 to 2007, more than a million road accidents occurred, with over 40,000 deaths, at a cost of over Rs. 100 billion, according to a 2008 interim report by a Parliamentary Select Committee to "look into the alarming increase in traffic accidents".
Road traffic accident victims amount to about 25% to 27% of all accident patients admitted to the National Hospital, Accident Services Director Dr. Prasad Ariyawansa said.
"Most of these injuries are preventable," he added. "For the most part, they are caused by negligence of pedestrians, drivers and passengers, with speeding, overtaking dangerously, especially, corner overtaking, not wearing seatbelts or helmets, not observing road traffic rules, factor in."
The problem
The Parliamentary Committee identified six key contributory factors causing traffic accidents: increase in motor vehicles, unfavourable road conditions, deficient law enforcement systems and regulations, errant driving, errant pedestrians and mechanical defects of vehicles such as ineffective breaks and lack of headlights or signals.
Heavy traffic and more vehicles on the roads as people shift to private vehicles due to poor condition of public transport was identified as one of the main reasons for traffic accidents. Fifty-nine percent of traffic accidents occur within a 50-km radius of Colombo city centre.
"As the country becomes more urbanised, road infrastructure is insufficient to accommodate the rising number of motor vehicles," Dr. Dissanayaka said.
The Committee report identified that roads are without adequate pedestrian facilities such as sidewalks, no proper lighting and traffic signs, are frequently damaged and corroded without proper rainwater drainage, and are poorly maintained.
Coupled with bad roads are bad drivers. More than half the accidents were identified as due to indisciplined driving including speeding, overtaking at inappropriate places, turning without signals and drunk driving. Inexperienced driving is also a big contributor, with 48% of accidents caused by novice drivers with less than three years of experience and drivers without a valid license. Another important contributory factor was driver fatigue, where long hours of driving and lack of rest increase the risk of crashing.
Bad drivers may be on the road because of lapses in the present driving licence system for examining driver suitability. The Committee identified that the current system lacks proper mechanism to add demerits to offending drivers' licences, or to use modern technology in driving tests. The Motor Traffic Department has not updated the Highway Code for Drivers since drafting it in 1987.
"At present, the practical driving test in Colombo is a drive from Werahera to Piliyandala junction during the day," Former Deputy Inspector General of Police (DIG)- Traffic, T. Perimbanayagam said. "These tests should also be conducted at nights. All provinces should have driving tracks, and licence issued only after one is performing well, while driving instructors should have overseas training."
Pedestrians also do not observe proper road rules such as crossing at yellow lines and pedestrian carelessness has contributed to a high rate of casualties and fatalities.
The Committee observed that mechanisms to detect and prosecute traffic accident offenders were largely ineffective. The Police Department's report to the Committee claimed shortages of manpower, vehicles, equipment and new technologies restricted the police's capability to apprehend offenders. Even when the offenders are prosecuted, the traffic cases drag on for long periods in the courts, a delay that makes punishment ineffective, especially habitual offenders, to be more careful.
Prevention and road safety
The WHO has identified five "pillars" of action for the decade of road safety in Sri Lanka.The first is to "build road safety and management capacity," by a monitoring and evaluation process, establishing a road safety research development programme, ensuring availability of funds and creating a centralised body to coordinate all departments and ministries involved.
Second is "influencing safe road design and network management" to improve safety aspects of road design, ensure maximum safety standards for existing roads, protections at railway crossings, minimising human activities on the roads and developing public transportation.
Following road safety is vehicle safety, by improving standards of registration, establishing effective inspection system, tractor restrictions and regulating imports. Other recommendations are to improve post-crash care by increasing availability of basic emergency services, providing appropriate rehabilitation care and a proper compensation system.
Influencing road user behaviour is another pillar that recommends enforcement and standardisations of road traffic laws, improving driver testing and improving welfare for victims. Dr. Dissanayaka said there are six criteria "newcomer" countries should address– seatbelts, speeding, drink driving, child restraints, helmets and mobile phone usage. Sri Lanka already has many regulations covering the criteria, except child restraints.
"There are certain priorities as child restraints cost a lot of money, so it'll be one of the last things to be implemented," Dr. Dissanayaka added.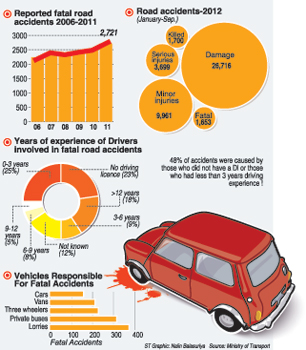 Advocating the public and enacting appropriate legislation are also important factors in ensuring road safety.
"Advocacy is happening, but it can be strengthened," Dr. Dissanayaka said. "Rather than advocacy, what works is legislation, it's a proven fact."
The Committee has also identified areas of improvement in detail, encompassing the WHO pillars, including recommendations to strengthen the Traffic Police, amendments to existing laws and drafting a National Policy to prevent traffic accidents.
"Many rules and amendments are pending, as all of them have been discussed for many years," SSP Arasaratnam said. "Traffic police can only conduct awareness programmes, take up cases and report un-roadworthy vehicles to the Registrar of Motor Vehicles."
Regardless of numerous national and international recommendations, practical action has been little. "There are enough laws in this matter, the main problem is whether these laws are implemented or not," Dr. Ariyawansa said.
Alarming problem but authorities dawdling
Most of the recommendations by the Committee and WHO are still in "discussion stages." A national policy for road safety as recommended has yet to be drafted.
Chairman of the Parliamentary Select Committee on Road Safety Minister P. Dayaratne said the final committee report is in the process of completion and will be submitted to President Rajapaksa in another two week's time. Once the report is approved by Parliament, the relevant ministries and institutions will be instructed to follow the proposals.
"These proposals should be taken seriously, especially by local government transport ministries, and implemented island-wide," the Minister added.
A significant challenge in implementing policy is getting the numerous departments and ministries involved to coordinate effectively. While a National Council for Road Safety (NCRS) has been established as per Committee recommendations, to "make timely decisions to prevent accidents," the Council has no powers to implement policy. WHO has strongly recommended converting the NCRS to an Authority.
"As there are so many stakeholders involved in road safety, from the police to Ministry of Transport to Ministry of Health, it's important to have the NCRS become an Authority, so there is a centralised body for road safety and a coordination mechanism," Dr. Dissanayaka said.
Minister Dayaratne said the final report has recommended granting certain powers to the NCRS.Former National Transport Commission Chairman Professor Amal Kumarage said the attitude towards traffic accidents has not changed, and there is no adequate political leadership to initiate preventive measures.
"It took more than three years to get the report done," he said. "At present, there is intense enforcement but it is not applied consistently or equally. Police are now watchful at pedestrian crossings. This is implemented, while some other violations are gradually being ignored. Actions should be stern with regard to overtaking and excessive speeding, including for VIP drivers".
"A decade of road safety would not show any improvement, if the enforcement system is poor," he added.
Don't drink and drive, your breath won't lie
Day and night the police are out in force to curb the killer menace of drunk-driving and are winning
By Damith Wickremasekara
It's 9.00 pm and the Colombo City Traffic policemen are on duty at Hulftsdorp, close to the Courts complex. Their mission, to nab drunken drivers.
A team of eight policemen led by Sub Inspector (SI) Jude Padmasiri is in position with his men. Two traffic police motorcycles are parked in opposite directions by the side of the main road to prevent any motorist speeding off after they are ordered to stop. A police car is parked in a lane close by.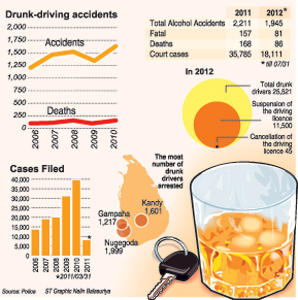 The policemen are prepared to carry out breathalyser tests on suspect drunken drivers. The equipment to carry out the tests is in the car where the tests would be carried out.
Police are also armed with two specimens – one of them a new unit and the other which has been used to carry out a breathalyser test. The new unit is yellow in colour and the one tested positive has turned green.
"This is in order to show the suspect that the colour would change, if the person had consumed liquor above the specified limit, which is 0.08%,"explains SI Padmasiri.
"We also carry out the test on suspect drunken drivers inside their sown vehicle too. This is to ensure that no embarrassment is caused to the suspect," he added.
Though their main task tonight is to check drivers if they have consumed liquor, routine checks for other offences including driving without valid documents, failure to wear seat belts, and defects in the vehicles.
In order to maximise the number of motorists tested, vehicles and motorcycles heading in opposite directions are stopped.Policemen stopping motorists, pose routine questions such as their destination and possession of their licence and insurance. If the policeman's suspicion is aroused, he gets closer to the driver while posing a few more questions, and would even get the motorist to get out of the vehicle.
"In certain instances, detection is easy, as the smell of liquor is strong no sooner the shutter is down. However, there are instances, when it is difficult to determine whether the motorist is under the influence of liquor. Then we look for other indications such as failure to respond to questions and slurred speech, while some turn abusive," SI Padmasiri adds.
As the operation continues, SI Padmasiri points out vehicles which, spotting the police team, turn off midway. One of them is a three-wheeler driver pushing his vehicle and the other a motorcyclist.
"Through experience, we know that either the driver or the rider is drunk, or does not have the required documents. These are only a few instances," the officer explains.
Nearly 45 minutes into the operation, a three-wheeler is halted by the police. He fails to pull over where indicated and stops a few yards ahead.
He is asked, "Are you after liquor?" "No sir," the driver promptly replies. But policemen are convinced otherwise.
SI Padmasiri immediately orders a breathalyser test on the driver. He is guided to the rear seat of the police vehicle after being directed to rinse his mouth.
The officer explains the modus operandi of the test and the colour change, in the event the driver is after liquor. He is told to blow into a tube which is connected to an inflatable balloon, and continue blowing until the balloon is fully inflated.
As the three-wheeler driver continues blowing into the tube, the liquid within gradually turns green, confirming that he is after consuming liquor.
"If the driver is on his own, the driver and the vehicle are taken into police custody and either given personal bail or produced before a magistrate," he explained.
"If there is another driver who can take the vehicle, then the vehicle is released immediately," he added.
The detection of the three-wheeler driver was one of many detections made in an operation lasting more than two hours.
SI Padmasiri and his team are deployed all over Colombo City to track down drunken drivers. "Our experience is that most detections are made late in the night over the weekend," he said.
The operation to track down drunken drivers has been stepped up recently, following a directive from the IGP N.K. Illangakoon, to extend the tests to daytime as well. "The directive came after it was revealed that several drunken drivers were involved in accidents during daytime," Director Traffic, SSP Arasaratnam told the Sunday Times.
Fatalities caused by drunk driving last year accounted for 168 deaths out of 2,500 road deaths.According to statistics for 2012 available at Police Headquarters, up to July, of the 1,385 road deaths, 86 were caused by drunken drivers.
Drunken drivers caused 1,945 accidents during the same period, while police made more than 20,000 detections of drunk driving.According to the law, a minimum fine of Rs. 5,000 could be imposed for drunken driving, but if other offences such as dangerous or reckless driving are also included, then the fines imposed could be much higher.
SSP Arasaratnam says that usually, accidents involving drunken drivers are of a serious nature."Though the instances of drunk driving have decreased in urban areas, due to the vigilance of the police and its special operations, the situation in the outstations still remain a problem", he said.
Follow @timesonlinelk
comments powered by

Disqus