Cricket! Cricket! : T20 World Cup song CeeJay featuring Sunil Perera
By Sanath Weerasuriya
View(s):
'Cricket! Cricket!', the latest cricketing song in tribute to Sri Lanka cricket, hit the Sri Lankan charts last week in the midts of World T 20 Cricket Fever. 'Cricket! Cricket!', is a creation of Chris "CJ" Dhason of Wildfire fame along with two of his classmates from St.Thomas' College Mt.Lavania.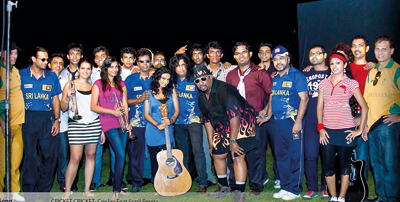 The brainchild of software consulting company Quantrax CEO Ranjan Dharmarajah and Roger Hatch wrote the lyrics and Chris "CJ" Dhason arranged and produced the music.
As the recording, which started off as a 'Fun' project developed, the song itself seemed to find a life of its own. Many exotic instruments have been used including Timbales, the Peruvian Cajon and the Brazilian Cuica.
Chris insisted on only hand percussion being used and every instrument has been played from start to finish with no machines or samples used. This says Chris is what gives the song and its groove such a natural swing.
The musicians who played on the song are: Chris Dhason all percussion and background vocals, Pathum "Malla" Fernando on guitar, Primal Liyanage guitar, Nilantha "Koba" Ariyaratne on Bass, Naveen Fenando on Trumpets, Kumar de Silva on Keyboards, Janaka Vithanage and Viraj Perera as backing Vocals.
'Cricket! Cricket!' mixed and Mastered by Ozzi NugaraOnce the track was completed, the writers looked for a very 'Sri Lankan' singer to sing it and found one in none other than the iconic Sunil Perera himself.'He is in my opinion like a Sri Lankan version of Bob Marley and Bob Dylan rolled into one and I have always admired him for his courage and honesty' said Chris.
Sunil did the English and Sinhala versions of the song in his own very recognizable and original style with lyrics in Sinhala coming from him in collaboration with Chandradasa Fernando.
Everyone involved felt the song was begging for a video with a "Fun" vibe. With the help of some dear friends including Ronnie Leitch, Derek Wickramanayake, Hashan Fernando (Street magician) Damian Wikkramatillake a very entertaining and humorous video came to life under the direction of Kasun Kavinda.
While the video will be shown on local TV, it can also be viewed on You Tube under 'Cricket, CeeJay feat. Sunil Perera'.
Follow @timesonlinelk
comments powered by

Disqus