How to defy the umpire's verdict and stay in the game
View(s):

Sunil has resumed his efforts to enter politics with renewed energy, much to the consternation of his mother. He now has new reasons for pursuing this career path. He says it is soon to be made compulsory for all government Members of Parliaments and high ranking officials to undergo intensive coaching in cricket.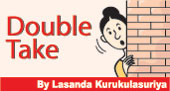 The government believes that these sporting skills have become necessary for parliamentarians in order to deal with the day to day contingencies they have to face. Sunil says he will have no difficulty enrolling because Mrs. Aandupaksa is in charge of the programme, which is in fact titled the 'Aandupaksa Cricket Training Programme.'
Mrs. Aandupaksa has explained to Sunil that with so many sections of the population taking to the streets in anti-government demonstrations nowadays, it was essential for government MPs to learn how to keep batting well even on a sticky wicket. This applied to all subject Ministers and Deputy Ministers (all 95 of them) and ordinary government MPs, not to mention Monitoring Ministers, Senior Ministers etc. etc. Mrs. Aandupaksa has lost count of the number. She only knows it is a very large team. Soon the training would be extended to Provincial Councilors and possibly members of Local Government bodies as well. These players are frequently in the media spotlight where they have to field uncomfortable questions from journalists, she said. They needed to upgrade their skills in delivering the spin in order to survive these encounters.
Mrs. Anumaana was not convinced. Weren't there enough spin doctors in the cabinet already? Weren't there enough politicians making unorthodox deliveries in parliament and at media briefings? Apparently not, says Sunil. The government's thinking was that players had to be all-rounders who could take the pressure not just locally but in regional and international arenas as well. How else could they face the Doosras coming at them every so often from the Delhi Daredevils, and the Chennai Super Kings? And how would they deal with the Chinaman? Would they be equipped to tackle Blake's Offspin, or Navi's Outswing?
In addition to bowling and batting skills participants would be taught how to queer the pitch before an anticipated encounter, in order to undermine the opponent, Sunil explained. A special component of the program was titled 'How to defy the Umpire's Verdict and Stay at the Wicket.'
This segment would include techniques to change the umpire if his verdict was unsatisfactory. Sunil says having an umpire who is favourably disposed towards the team is deemed to be a vital requirement for the game, in order to record successive wins. Games have been scheduled every few weeks and it was necessary to maintain the upper hand. Perhaps a well timed letter to the Umpires' Association would do the trick, he was told. They just could not afford to get no-balled at times when the pressure was building.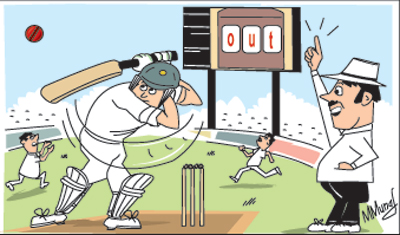 Sunil says one of the key attractions of the training programme is the fact that it would include overseas tours for the players as well as their family members. Such trips would be arranged at times when the climate at home became too hot for comfort and some form of escape was necessary.
A 'fitness examination' or a 'study tour' could be arranged at a suitably distant destination where the persons concerned could safely pass the time until local conditions improved for them to return. And all of this would be at state expense.
Sunil says the politicos thronging to get in to the Aandupaksa Cricket Training Programme outnumber the crowds outside Sri Lanka Cricket clamouring to get tickets for the match.
Follow @timesonlinelk
comments powered by

Disqus