'Lankawe Mehema Wenne Nehe' – I don't know why
By Feizal Samath
Taking a hard look at society
View(s):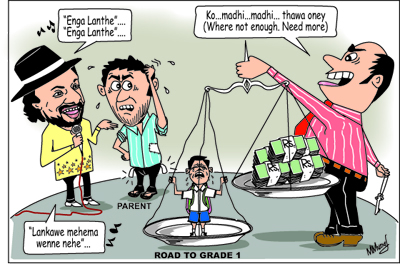 Sri Lanka – A Land like No Other: with apologies to Renton de Alwis, former Sri Lanka Tourism Chairman who helped create this slogan for tourism.
'Lankawe Mehema Wenne Nehe' – I don't know why with apologies to veteran singer and Gypsies band leader Sunil Perera who by the way, according to reports, is preparing another (one would expect blockbuster) album to mark his 60th birthday. Watch out for another round of satirical ('haeta paenna machan') lyrics and catchy songs from the master of modern Sri Lankan baila. These messages and pitches drew my attention as I contemplated the disastrous road that Sri Lankan politicians and policymakers are taking in development, values and ethics. Sunil's songs' says it all and in a comic way reflects the plight of Sri Lanka. Consider the lyrics of 'Lankawe Mehema Wenne Nehe":
'Hora chanda' and vote rigging . where? Of course in England.
Peaceful, decent voting . where? Of course in Sri Lanka.
Which country has solved the unemployment problem? Of course Sri Lanka.
Honest and courageous politicians where? Of course in Sri Lanka
Bribe-taking and corrupt ministers where? Of course in England.
Even if it happens in England it won't happen (ever) in Sri Lanka.
Another recent news item about commercial banks turning debt into profit also caught my attention. It simply doesn't make sense to any ordinary observer that to be in debt is being savvy and knowledgeable. How can debt be a good thing? During my time in the 1960s-1980s, debt was taboo, don't accumulate debts we were told. Now it's a different ball-game. Furthermore if someone does wrong and is not punished, then its' right (or correct) to do that 'wrong' thing again. The other day a public figure asked why he was being questioned over his assets and investments when many others in the same position were not questioned earlier. Why (only) me, he asks (irrespective of whether or not there is an issue with the assets/investments)!
The reality in today's world is that values, discipline and ethics doesn't matter; money and power does. Consider this:
In our world (I am talking of the 1960s-to-1980s), education was not a business; today it is and what a mess!
In our world, the underworld was taboo, illegal, the scum of the earth: Today, they are the heroes, have cellphones in prison and get first class treatment there while continuing to operate their 'business' within those, supposedly impregnable walls.
In our world, the leaders of the nation were not obliged to bigbusiness; today they are.
In our world, two wrongs don't make a right; today they do.
In our world, business stands for ethics; today there is a doubt.
In our world, social responsibility by business was not for financial gain: today it's mostly intended to make it to the annual report. Sincere? Just a few exceptions!
In our world, philanthropy was a silent way of helping society, the village you work in; Today it's a publicised event, aimed at profiting.
In our world (as journalists) being critical of unethical businesspersons accumulating wealth through ill-gotten means was welcome and such wealth was not the accepted norms of conduct: Today (as one powerful businessman said) such criticism is because some journalists are against wealth creation and don't want people to be rich or the wealthy to grow wealthier!
In our world women have grievances and were able to complain to theauthorities: Today they (even though victims) become the accused.
In our world a complaint of assault is seriously dealt with the law;Today the complainant becomes the accused and the offender is the victim!
In our world greed is frowned on and distained: In today's world, it adds to your CV as a favourable pursuit.
In our world, teachers were venerated: Now they are beaten up.
In our world, bribes were just that: Today they are commissions.
In our world positioning Sri Lanka for global recognition would be taking giant strides in education, social welfare, economic development, honesty, values and discipline: Today – making Sri Lanka famous or achieving Guinness World Records' status means making the world's largest Kottu, the world's largest tea cup, the world's biggest kiribath, creating the world's most deadliest terrorist, (achieving) the world's biggest suicide rate, etc ..
It's a society that is being built on wrong values, lack of discipline; A flippant society. So Sunil Perera's song is a reflection of society today. I myself am at a loss for words. I don't know why (this is happening).
(The writer is the business editor at
the Sunday Times)
Follow @timesonlinelk
comments powered by

Disqus