Beautiful, generous, loving and unworldly — Tissie was mother, sister, friend and counsellor
By Premil Ratnayake
Appreciation | Mallika Swarnapali Rajapakse
View(s):
A flower of nature, unsophisticated and enchanting, its tender petals just blooming – this was Mallika, who was far too young to leave us.
There was more – her natural talent, her generosity, her incredible love for children. She had a detachment towards worldly things that was almost renunciation – but she was very much a realistic wife and mother. She was a rare human being.
Tissie had great charm, but she was also pragmatic. When not burdened with domestic chores, she sought spiritual solace and sustenance in meditation and the observance of Sil.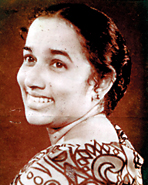 Malika Rajapakse (nee Devendra) was an aesthete. She wrote with remarkable proficiency in both languages. She penned short stories and magazine articles. She sang Hindi songs like a professional, in a sweet lilting voice (one of her memorable renditions was Lata Mangeshkar's film hit "Dil Apana Aur Preethi Parayi"). She played the piano untutored and drove her own car. These things did not make her an Upasika, but she did possess a rare talent.
Her disdain for possessions was as foolish as it was unique. When a sister admired something in her wardrobe, she would say, "Please take it." In her charity she was exceedingly generous. She gave as if she were a Dhaana Queen. She considered worldly, personal things a burden and a nuisance.
As an attractive maiden in Embuldeniya, Mallika was offered stardom in Sinhala movies. She was flattered and amused, but desisted. She preferred to teach.
Dressed in the modest attire of the Pitisara Guru Liya, she travelled daily by bus with her little niece Manohari to an unsung school on High Level Road, Nugegoda, where she taught toddlers. The monthly salary barely covered her travel expenses, but she loved her teaching job.
Tissie was a counsellor, friend, mother, sister. Children adored "Apey Tissie Aunty."When her own children began to arrive – Sandamali, Chinthaka and Amali – she left the school, but did not quit teaching. She couldn't. Teaching was her passion. Hundreds of poor children visited her home at Jubilee Post, in Mirihana. Neatly dressed, they lined up opposite her house. Her lawyer-husband D. P. R. Rajapakse said "people thought they were all my children."
Later, when stricken by illness, Mallika, good Buddhist that she was, took everything as a matter of course. She said, "I am not afraid of death."
Follow @timesonlinelk
comments powered by

Disqus