Pets can bite too and it can be deadly
By Nadia Fazlulhaq
View(s):
Pet dogs are causing more bites than strays with over 2,000 victims a day, a senior health official warned yesterday.
Public Health and Veterinary services Director Dr. P.A.L. Harischandra told the Sunday Times existing by- laws will be amended to deal with pet owners. His remarks came as reports of an increase in rabies formed the subject of discussion at Cabinet level recently.
He said the 1958 amendment to Rabies Ordinance and Dog Registration Ordinance vested powers in local authorities to look into pet welfare and the control of rabies.
"It is vital to establish responsible ownership. It is important to identify owners, potential owners and community carers. Most dogs, 'strays' have or have had some form of ownership.
"If there are fines imposed people may kill or hide their dogs which would reduce the vaccination coverage. All dogs regardless of registration status should be vaccinated both for rabies control and dog welfare," he said. At present the registration fee for a male dog is five rupees and Rs.7.50 for a female dog in Colombo city and less out of Colombo," he said.
Sri Lanka's dog population is about 2.5 to 3 million. Out of the 2000 bites reported daily, 90 percent can be attributed to pets and 10 percent to stray dogs. For this year, to date, 28 people have died of rabies and 500,000 vaccinated for rabies, he said.
A majority of the cases are reported from the districts of Batticaloa, Gampaha, Kurunegala and Colombo.
The State spends about Rs.300-400 million for rabies post-exposure treatment a year. This includes the Anti-Rabies Vaccine (ARV) and the Anti-Rabies Serum (ARS). The ARS treatment costs the Government Rs.35, 000 per person, while each ARV vaccine is Rs.5, 000. This year the Medical Supplies Division has issued 125,000 AVR vaccines.
He said, to date, this year 50,000 dogs dogs have been surgically sterilised at a cost of Rs. 77 million while last year the state bore a cost of Rs. 98, million to sterilize 106,000 dogs.
Dr. Harischandra said in the Western Province this year they could carryout only 34 percent of the vaccine coverage since many of the owners of pets were not in their homes.Dr. Chamith Nanayakkara of the Association of Veterinarians for the Humane Management of Animal Population said the poor garbage disposal system in Colombo and the Western Province in general was attracting stray dogs.
He also said the shortage of veterinary surgeons in the state sector especially in outstation areas was an issue in tackling the problem of rabies.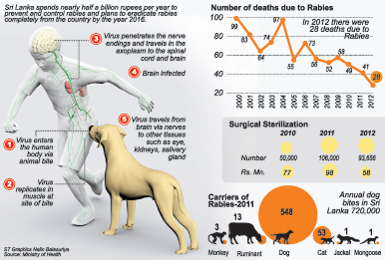 He said many people in outstation areas keep stray dogs at home and feed them. But the dogs are neither vaccinated nor sterilised and it was therefore important for veterinarians to get involved in awareness programmes at grass root level too.
People in these areas also tended to ignore dog bites he said, adding there were about 500 state and 800 private sector vet surgeons.
Dr. Omala Wimalaratne, Consultant Virologist and Head of Rabies and Vaccines at Medical Research Institute (MRI) said rabies caused by a virus attacks the central nervous system and a majority of the deaths occur in children under the age of 15.
In 2011 MRI identified 548 dogs, 53 cats, 13 ruminants (livestock), three mongoose, one monkey and one jackal infected with rabies.
She said humans who contract rabies experience fever, headache, sore throat, sweating, wide-eyed staring, aggression, a feeling akin to a bone being stuck in the throat, hypersalivation(saliva dripping from mouth), hyperventilation (difficulty in breathing), nervousness, confusion, pain or tingling sensation at the site of the bite, hallucination, hydrophobia (fear of water due to spasms in the throat) and progressive paralysis turning into a coma.
"Despite latest medical discoveries rabies is fatal if not treated immediately but is preventable too. Following an animal bite the wound should be washed immediately with soap and water for about five minutes and medical advice should be sought from the nearest hospital," she said.
Dogs suffering from rabies also show symptoms of aggression, choking, vomiting and pawing.Kumudini Saravanamuttu of Animal Welfare Trust (AWT) and Animal Welfare and Protection Association(AWPA) said health authorities should have more coordination with dog-owners to bring down the number of bites by pet dogs.
"In order to strengthen the anti-rabies programme in the Western Province, there should be days allocated for the inspection of dogs," she said adding that in most instances owners of the pets were not at home during visiting hours.
Ms. Saravanamuttu also said it was important to conduct awareness programmes as well as vaccination and sterilisation programmes in low-income housing areas where many stray dogs are found.
Follow @timesonlinelk
comments powered by

Disqus