Young voices say NO
By Anne Abayasekara
Schoolboys in a hands-on approach tackle the issue of sexual harassment on public transport

View(s):
It was at a lecture on Violence Against Women & Children given by Myrtle Mendis, a highly reputed Family Counsellor that I first heard the extraordinary story of a little-known aspect of "Sri Lanka UNITES – Youth Movement for Hope and Reconciliation". Mrs. Mendis said that groups of schoolboys who were members of this Movement, had actually boarded buses in Colombo and, with the consent of the bus drivers and conductors, had courageously spoken out against the sexual harassment of women on public transport.
Sri Lanka UNITES does great work bringing together hundreds of senior students from across the country as a means of building bridges of friendship that will pave the way towards forging a united Sri Lankan nation. But their taking a stand against sexual harassment of women on public transport was a new initiative.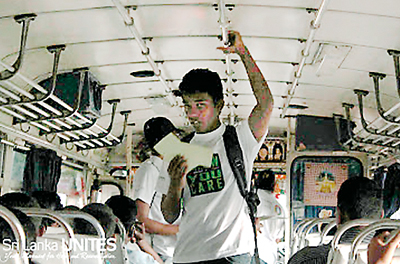 In June this year, they launched a campaign called "S.H.O.W You Care", (`S.H.O.W. being used as an acronym for "Stop Harassment Of Women") to promote the respectful treatment of women in public spaces. On June 21, a few hundred schoolboys from leading schools in Colombo, gathered in the Outdoor Auditorium of Viharamahadevi Park. They were given information regarding the present reality and a training in the ways they might combat this.
Then the young men were divided into teams of three, each with a mentor. They were to board buses and act as follows:
n Apologise on behalf of all men, to women in the buses for any sexual harassment suffered.n Hand out leaflets (in Sinhala & Tamil), giving information as to the legal recourse available.
n Make a general statement on the right of women to be treated with respect and urge the men to stand up against the sexual harassment of women if and when they witnessed it.
And so from Monday, June 25, to Friday, June 29, covering 1225 buses on 49 routes they spoke to over 30,000 commuters. They said the response from commuters of both sexes was "astounding" and that passengers were eager to engage in conversation and had commended their efforts, proof indeed that the organisers' belief that "Young men taking a stand of this nature would be more likely to bring about a consistent change in the way in which women are treated, especially on public transport".
These youngsters have shown that deeds count for more than mere words. They have set an example to us all of how we can act to make a difference in unacceptable situations.
Follow @timesonlinelk
comments powered by

Disqus