Weaving a Web TV
By Susitha R. Fernando, Pic by Alexander Balasuriya
View(s):
Suranga Deshapriya Katugampala who spent his childhood in Italy has come up with a novel idea to watch TV through internet. The first ever web TV in Sri Lanka introduced by him is to be named 'Freesh TV'. This new TV channel will begin releasing its programmes which can be watched by logging on to 'www.freeshTV.com' starting this week.
Suranga who is now stationed in Sri Lanka aims all Sri Lankans living here and away from their homeland as his main target audience.
"The idea of a web TV emerged when I was in Italy and the urge to know what was happening in Sri Lanka and the new developments in art and the music drove me to start a TV channel that could be watched by all Sri Lankans around the world," Suranga described how his concept of web TV came into being.
Graduated in computer science in Italy and cinematography in England, Suranga, the young Chief Executive Officer of Freesh TV began to like an audio-video medium from a very young age.
"Even though we wish to watch TV, on the traditional television system one has to avail himslef to watch programmes he is interested in at the times scheduled by the TV channel. But we cannot change our daily routines to suit the schedule of the TV station," Suranga explained.
He says that the most important advantage of the web based TV is that people can watch TV at the time they want, where they want, on a personal computer or a mobile phone, in Sri Lanka or in any part of the world. "WebTV is a platform where people can watch videos based "on-demand" such as say-philosophy. It's completely different from the traditional television," Suranga said.
However this 24-year-old computer wizard is strongly against the present trend of creating a so called web TV by pirating television programmes and uploading them to internet sites.
"There are many web sites which misuse the meaning of "webTV". They record programmes broadcast on TV, change the channel logo, imbed their advertisement and upload to the internet claiming it be webtv," Surang claimed.
This is a serious crime. WebTV is a platform where new audio-video productions are broadcast and not those pirated.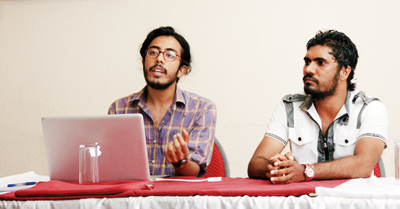 According to Suranga the web based TV is to shorten the distance between the viewers and the producers as viewers get the opportunity to express their opinions of the programmes, by expressing their "likes" or "dislikes" by just clicking a button to write their comments on the channel.
The programmes that is to be watched on 'Freesh TV' are mostly documentary based while a number of entertainment programmes including music and teledramas will also to be released.
"While giving priority to a young audience, our target is to a family audience. And the programmes that are multi-cultural, multi-religious and multi-ethnic can be watched by all Sri Lankans around the world," Suranga explained.
Follow @timesonlinelk
comments powered by

Disqus